NEW TOP RECOMMENDATION: If I Only Knew by Corinne Michaels (Read my Review)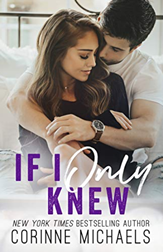 HOLY FREAKING SQUEEEEEEEEEE!!!!! This is now live and I was overflowing with HAPPY FEELS when I finished reading it because seriously the ending was just pure SWOOOOONY PERFECTION!!!!! Ahhhhh!!! This book was absolutely everything a romance should be — addictive, intense, unputdownable, sexy, swoooony, sassy, emotional, healing, it had EVERYTHING and I absolutely LOVE LOVE LOVED it!!!! Seriously, everything about this book worked so well — the writing was on point, there were deep feels that tugged my heart-strings, scenes that made me laugh-out-loud, complex characters with layers, and a believable love story that genuinely made my heart HAPPY!!! If you're looking for a FANTASTIC NEW BOOK to fall in love with, be sure to grab a copy!! It's LIVE! 😀

ANNOUNCED RECENTLY:  
WEEKLY NEW RELEASES RECAP

HOT NEW RELEASES (NOW LIVE):  
DETAILED LIST: NEW RELEASES
If I Only Knew by Corinne Michaels — New Release!!
Can standalone: "My life was perfect – until a shocking tragedy pulled the rug out from underneath me. My children were left without a father. I was without a husband and a provider. Instead of wallowing in my grief, I buried myself in my work at Dovetail Enterprises. Landing the promotion as the CEO's right hand was exactly what I needed. Getting saddled with Milo Huxley as an assistant is exactly the opposite. I can't stand him. He's arrogant, irresponsible, and out for my job. As if that's not bad enough, he has to be devastatingly sexy, and have a posh English accent that makes me squirm on top of it all. I've had enough unpredictability for one lifetime, thank you. But soon enough, we're fighting less and laughing more. He's there for me when no one else is. And those good looks aren't the only panty-dropping thing about him. If I only knew what to do about it…"
Free by Kristen Ashley — New Release!!
Series finale: "Through good times, bad times and times of war, Cole "Rush" Allen grew up in the Chaos Motorcycle Club. Along this journey, he watched his father, Tack, and his MC brothers fight, sweat, bleed and die to steer the Club to legitimacy. And they've got one more battle on their hands. A battle they have to win. But when Rush meets the woman who put herself right in the thick of it, he knows he has to stop at nothing to get her out. Rebel Stapleton has lost someone she loves to murder and she's the kind of woman who's going to do something about it. She puts her career on the line, and her life, to bring the man who did it to justice. That is, she does this until Rush Allen intervenes. Chaos is at war and they're about to face the ultimate showdown. They'll have to negotiate skeletons from the past, enemies becoming allies, and loved ones in the line of fire on their ride to be… Free."
99 Percent Mine by Sally Thorne — New Release!!
Standalone: "Crush (n.): a strong and often short-lived infatuation, particularly for someone beyond your reach… Darcy Barrett has undertaken a global survey of men. She's travelled the world, and can categorically say that no one measures up to Tom Valeska, whose only flaw is that Darcy's twin brother Jamie saw him first and claimed him forever as his best friend. Despite Darcy's best efforts, Tom's off limits and loyal to her brother, 99%. That's the problem with finding her dream man at age eight and peaking in her photography career at age twenty—ever since, she's had to learn to settle for good enough. When Darcy and Jamie inherit a tumble-down cottage from their grandmother, they're left with strict instructions to bring it back to its former glory and sell the property. Darcy plans to be in an aisle seat halfway across the ocean as soon as the renovations start, but before she can cut and run, she finds a familiar face on her porch: house-flipper extraordinaire Tom's arrived, he's bearing power tools, and he's single for the first time in almost a decade. Suddenly Darcy's considering sticking around to make sure her twin doesn't ruin the cottage's inherent magic with his penchant for grey and chrome. She's definitely not staying because of her new business partner's tight t-shirts, or that perfect face that's inspiring her to pick up her camera again. Soon sparks are flying—and it's not the faulty wiring. It turns out one percent of Tom's heart might not be enough for Darcy anymore. This time around, she's switching things up. She's going to make Tom Valeska 99 percent hers."

Moonlight Scandals by Jennifer L. Armentrout — New Release!!
Can standalone: "Even a ghost hunter like Rosie Herpin couldn't have foreseen the fateful meeting between two mourners that has brought her so intimately close to the notorious and seductive Devlin de Vincent. Everyone in New Orleans knows he's heir to a dark family curse that both frightens and enthralls. To the locals, Devlin is the devil. To Rosie, he's a man who's stoking her wildest fantasies. When a brutal attack on her friend is linked to the de Vincents, he becomes a mystery she may be risking her life to solve… Now, the legends surrounding the de Vincents may not be myths at all. But if she's to discover the truth, she must follow them straight into the arms of the man she can't resist—the handsome devil himself."
Not a Hero by Cherise Sinclair — New Release!!
Can standalone: "Gabe is done with being a hero. Wounded in body and soul, the retired SEAL simply wants to remain holed up in his isolated cabin. He sure doesn't want to be chief of police in some defunct town. But he has his orders. Audrey needs a place to hide. After the Chicago librarian discovers a horrendous crime, she wakes to an assassin in her bedroom. Injured and terrified, she flees, covering her trail every inch of the way. New name, new ID. New home. As Audrey learns to survive in Rescue, she begins to fall for the town…and the intimidating chief of police who protects it. Can the shy introvert and the deadly police chief find a life together?"
Catastrophe Queen by Emma Hart — New Release!!
Standalone: "One hot mess. One hot boss. One too many hot encounters… It's not you. It's me. No, seriously. It is me. Not only does my name literally mean "unfortunate," but that's the story of my life. Everything I touch turns to crap. An apartment fire–that I swear I was not responsible for–means I'm living back at home with my sex-mad parents. Yay, me! Which is why I need my new job as personal assistant to Cameron Reid to get back on my feet. Three months in this job and I can move back out and, hopefully, remember to turn off my flat iron once in a while. Ahem. On paper, my job is easy. Make coffee. Book appointments. Keep everything in order. Until I walk in on my boss, half-naked, wearing nothing but the kind of tiny white towel that dreams are made of. Now, nothing is easy–except our mutual attraction. But he's my boss, and you know what they say about mixing work and pleasure: unless you do p*rn, it's just not worth it. Or is it?"
Anton by Brenda Rothert — New Release!!
Can standalone: "The brooding, sexy captain of the NHL's Chicago Blaze has a reputation for…not having a reputation. Just like his diet and sleep routines, celibacy is part of his on-ice mojo. Or so they say. He stays mum on the subject. If the world thinks he chooses to abstain from sex, so be it. Better that than the truth getting out: there is a woman he burns for, but he can never have her. She's his teammate's wife, after all. She is finally on her own. Now that she and her husband are living apart, she's finding the peace she was desperate for. She spends her days in classes and late nights bartending, making her own way in the world at last. After what she's been through, as long as her husband leaves her alone, she doesn't plan to rock the boat. He still has the power to hurt those dearest to her, and she can't demand a divorce with such a high cost. A chance encounter with her has him hoping for a shot he never thought he'd get. And while she's drawn to the intense, serious hockey center, she's leery about playing with fire. That's all he has ever known for her, though—a living, burning desire that won't be denied—no matter the cost."
Juicy Rebound by Toni Aleo — New Release!!
Can standalone: "Chandler Moon's career as a defensemen for the IceCats is on fire. However, his marriage has gone up in flames…literally. He's resigned himself to the single life and being the best dog dad he can be, but he still holds out hope that one day he'll find "The One." So, imagine his surprise when he runs into "The One Who Got Away." Amelia Justice. His best friend's baby sister. AKA: "The One Who Is Totally Off-Limits" Amelia is broken. The punches that life, and her ex-husband, have thrown at her have her down for the count. She's cut herself off from her family and friends as she works to rebuild her self-esteem and her spirit. Hidden away in a small town, she never expects to reconnect with "The One She Should Have Chosen." Chandler is so much more than he was in college: more handsome, more muscular, more tattooed… It was supposed to be a casual fling while Amelia and Chandler worked to put the pieces of their lives back together. But as every good hockey player knows, a rebound can turn into one hell of a goal."
Tainted Forever by Terri Anne Browning — New Release!!
Can standalone: "Through ups and downs, he and I have faced everything head on. Until he started keeping secrets.
I loved him too much to just give up on us, but when I was confronted with proof I could no longer ignore, I left. Yet having him clear up what he was hiding didn't magically mend my heart back together. His secrets broke us completely.
Now the forever I dreamed of us having was tainted."
Crazy Cupid Love by Amanda Heger — New Release!!
"Eliza Herman (a.k.a. The World's Worst Cupid) has spent her entire life carefully avoiding her calling as a Descendant of Eros. After all, happily-ever-afters are nothing but a myth. But when a family crisis requires her to fill in at the local Cupid-for-hire shop, Eliza finds herself enchanting couples under the watchful eye of her assigned mentor, Jake Sanders…the one man she could never get out of her head. Before long, Eliza is rethinking her stance on romance—until things start going terribly wrong with her enchantments. Now Eliza and Jake must fight to unravel a conspiracy that could destroy thousands of relationships, including their own…and spell the end of Love itself. No pressure, right?"
LATEST BOOK SALES
UPCOMING BOOK RELEASES
BOOKWORM STORE
WHAT KIND OF BOOKS ARE YOU LOOKING FOR?
__________________________________
Let me know if there are any other books you're loving right now too!!
LET'S STAY CONNECTED
To get these lists sent to you every week, subscribe by email.
FOLLOW THE BLOG
Facebook | Twitter | Instagram | Pinterest | BlogLovin' | Google+ | Goodreads