FIRST FAVORITE OF 2019: The Au Pair by Emma Rous (Read my Review)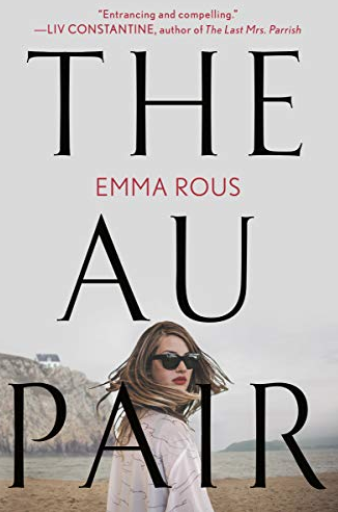 SQUEEE!!!!! This is officially my FIRST FAVORITE BOOK of 2019!! And it's totally not my normal type of book either — it's actually a family mystery — but it was seriously so GRIPPING, COMPELLING, and ADDICTIVE! I was SO intrigued by the blurb and as soon as I started reading the book, I couldn't put it down and I literally just read the whole thing in one sitting and it was SO GOOD!!!!! It was deeply family-centric and character-driven and the mystery was full of TWISTS and kept me guessing right up until VERY satisfying ending!!! All my questions were answered and it was such a GREAT READ!!! Just read the blurb and you'll see what I mean. It's SO intriguing!!!! And if you're in the mood for something DIFFERENT but a truly fantastic read that'll keep you glued to the page, try this book!!!
WEEKLY NEW RELEASES RECAP

HOT NEW RELEASES (NOW LIVE):  
DETAILED LIST: NEW RELEASES
Faking It by K. Bromberg — New Release!!
Standalone: "Zane Phillips mistook me for his dog walker. It shouldn't surprise me that the man with a suit more expensive than my rent would assume that I was there to serve him. The positive? I put him in his place. The negative? I missed my job interview because of it.
Now I find out he's a rich Australian entrepreneur, and he wants to make up for tanking my interview. Yes, he's impossibly hot – but he's also an arrogant jackass—so… no thanks.
But after a little white lie I tell spirals out of control, I'm somehow offered the chance to play Zane's girlfriend to help promote his new dating website – and the best part? He can't say no because he'll get caught in his lie too.
Little did I know this would entail sharing a tour bus with him for the next few months. The fact that the bus has just one bed isn't the most ideal of circumstances, but this spokesperson gig might be the kick in the pants my career needs, so why not take a chance? 
Famous last words.
Now I'm crisscrossing the country–and sharing that bed—with the one guy I can't stand. And even worse, my traitorous body is wondering at every turn what it's like to be down under the gorgeous Australian. But as the miles unfurl, so does our passion…and if I'm not careful, I might end up believing that fairytales really do come true."
The Au Pair by Emma Rous — New Release!!
Standalone: "Seraphine Mayes and her twin brother, Danny, were born in the middle of summer at their family's estate. Within hours of their birth, their mother threw herself from the cliffs, the au pair fled, and the village thrilled with whispers of dark cloaks, changelings, and the aloof couple who drew a young nanny into their inner circle.
Now an adult, Seraphine mourns the recent death of her father. While going through his belongings, she uncovers a family photograph that raises dangerous questions. It was taken on the day the twins were born, and in the photo, their mother, surrounded by her husband and her young son, is smiling serenely and holding just one baby… Who is the child, and what really happened that day?"
Finding Alexei by Kendall Ryan — New Release!!
Standalone: "He's bossy, moody, and overprotective.  He's also a pro athlete who needs to focus on winning games and staying out of the headlines. I'm fiercely independent and need a man like I need a second period each month. So when our worlds collide, I never expected him to be the one to jump in and save me. Especially not when my roommate disappears, leaving me with her baby.
I'm clueless about babies—and it shows. Good thing he isn't. With six nieces and nephews and an apparent hero complex, the dude is both sexy and more than capable. It's a combination that makes it easy to forget we're just playing house."
Repeat by Kylie Scott — New Release!!
Standalone: When a vicious attack leaves 25-year-old Clementine Johns with no memory, she's forced to start over. Now she has to figure out who she was and why she made the choices she did – which includes leaving the supposed love of her life, tattoo artist Ed Larsen, only a month before.
Ed can hardly believe it when his ex shows up at his tattoo parlor with no memory of their past, asking about the breakup that nearly destroyed him. The last thing he needs is more heartache, but he can't seem to let her go again.
Should they walk away for good, or does their love deserve a repeat performance?
Prisoner of Night by J.R. Ward — New Release!!
Can standalone: "An unforgettable story of passion and vengeance in the Black Dagger Brotherhood world. — When Ahmare's brother is abducted, there is nothing she won't do to get him back safely. She is unprepared, however, for the lengths she will have to go to save his life. Paired with a dangerous but enticing prisoner, she embarks on an odyssey into another world.
Duran, betrayed by his father, imprisoned in a dungeon for decades, has survived only because of his thirst for vengeance. He has been biding his time to escape and is shocked to find an unlikely and temporary freedom in the form of a determined young female.
Battling against deadly forces and facing unforeseen peril, the pair are in a race to save Ahmare's brother. As time runs out, and the unthinkable looms, even true love may not be enough to carry them through."
Damien by J. Kenner — New Release!!
"I am Damien Stark. From the outside, I have a perfect life. A billionaire with a beautiful family. But if you could see inside my head, you'd know I'm as f-ed up as a person can be. Now more than ever.
I'm driven, relentless, and successful, but all of that means nothing without my wife and daughters. They're my entire world, and I failed them. Now I can barely look at them without drowning in an abyss of self-recrimination.
Only one thing keeps me sane—losing myself in my wife's silken caresses where I can pour all my pain into the one thing I know I can give her. Pleasure. 
But the threats against my family are real, and I won't let anything happen to them ever again. I'll do whatever it takes to keep them safe—pay any price, embrace any darkness. They are mine.
I am Damien Stark. Do you want to see inside my head? Careful what you wish for."
Promises by Aleatha Romig — New Release!!
"I'm Sterling Sparrow. You've no doubt heard my name or read it on the top of tall buildings. There's more to my business—my realm—than what is seen aboveground. 
Within the underbelly of one of America's largest cities lives a world where a man's word is either his most valuable tool or his most respected weapon. When my father ruled that world and that city, he promised me someone who would one day make my reign complete. 
Since that day, long ago, Araneae McCrie has been mine.
She just didn't know.
My father is now gone. 
The city and the underbelly are now mine.
The time has come for me to collect who was promised to me, to shred her life of secrets and make her who she's always been—mine."
Reckless Love by Kelly Elliott — New Release!!
Can standalone: "The first time I kissed her, I knew I was in trouble. 
The night I slept with her, my life changed forever. 
The day I found out I was going to be a father, I ran from her. 
Now that I've been given a second chance I won't be so reckless.
Will my love be enough to prove to her that even in the darkest times I won't repeat the past?"
In Paris with You by Clémentine Beauvais — New Release!!
Standalone: "Eugene and Tatiana could have fallen in love, if things had gone differently. If they had tried to really know each other, if it had just been them, and not the others. But that was years ago and time has found them far apart, leading separate lives.
Until they meet again in Paris.
What really happened back then? And now? Could they ever be together again after everything?"
Evidence of Desire by Lexi Blake — New Release!!
Can standalone: "She knows she's in over her head. As [a] former all-star linebacker's personal lawyer, she's used to handling his business dealings and private financial matters, not murder charges. She needs to find an experienced criminal attorney who speaks her client's language. David Cormack is exactly what she needs in the courtroom–and the only man she wants in the bedroom.
For David, taking on the case means diving back into a world he thought he'd left behind and colliding head on with tragic possibilities he's in no mood to face. There's a reason professional football is in his past and no matter how close she gets to the truth he intends to leave it there.
But long days working on the case together lead to hot nights in each other's arms. As their feelings grow, the case takes a deadly twist that could change the game between the two lovers forever."
Match Me If You Can by Tiana Smith — New Release!!
Standalone: "Mia's best friend Robyn is known for her matchmaking skills, which is perfect, because homecoming is just around the corner. But Robyn refuses to set Mia up with the guy of her dreams, which forces Mia to take matters into her own hands. She uses Robyn's matchmaking service to make sure popular Vince Demetrius falls for her.
Vince asks her out, but Mia doesn't count on Logan, the persistent school newspaper photographer who seems to like her out of the blue. Now she has to choose between Vince – the guy she knows is right for her – and Logan, who insists that she give him a chance. And she needs to make sure Robyn doesn't find out that Mia's been matchmaking behind her back.
Mia has two weeks before homecoming. Can she fix the mess she made or will she have to kiss her perfect match goodbye forever?"

Thinking About You by Monica Murphy — New Release!!
Can standalone: "One minute I'm minding my own business at a party and the next I meet this woman who blows my mind. She's beautiful. Smart. Funny. A little shy. I'm immediately drawn to her. We make an instant connection.
The problem? She lives in London.  I live in California. I play professional football. She works part-time at an art gallery and lives off her family's money.  Her family is nobility. I come from a single mom who always scraped to get by.
She and I should have nothing in common. But when we're together, it's… electric.
What are we supposed to do? Can we really make this work? I can't give up my career. And I can't ask her to move to California for me. All I know is, I want her in my life."
Trails of Love by Melissa Foster — New Release!!
Can standalone: "When Graham Braden travels to Oak Falls, Virginia to attend the wedding of his buddy Reed Cross to Grace Montgomery, he sticks around to help with renovations to Reed's new theater. The last thing he expects is to be asked to assess and possibly invest in Grace's sister Morgyn's business endeavor. Graham is a careful, keen businessman, and Morgyn is impulsive, disorganized, and more interested in the energy flow in her eclectic retail shop than in the accuracy of her records. While Graham isn't ready to open his pockets to the sassy, sexy business owner, he may be ready to open his heart."
LATEST BOOK SALES
UPCOMING BOOK RELEASES
BOOKWORM STORE
WHAT KIND OF BOOKS ARE YOU LOOKING FOR?
__________________________________
Let me know if there are any other books you're loving right now too!!
LET'S STAY CONNECTED
To get these lists sent to you every week, subscribe by email.
FOLLOW THE BLOG
Facebook | Twitter | Instagram | Pinterest | BlogLovin' | Google+ | Goodreads