FIRST 5 STAR FAV OF 2018: The Bitterroot Inn by Devney Perry (Read my Review)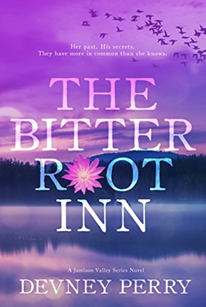 HOLY FREAKING SQUEEEEE!!! OMG. OH MY GOD. OH. MY. GOD!!!!!!!!! This was an absolutely PERFECT BOOK. I had happy tears POURING down my face when I finished it. My heart was RACING. I seriously was just OVERFLOWING with emotion because this book was INCREDIBLE!!! Pure swoon-filled ALPHA MALE ROMANCE PERFECTION with a very strong single mom heroine, her utterly adorable little son, and one of the SEXIEST, SWOONIEST, most PROTECTIVE HEROES you'll ever read about!!!! I can't recommend this highly enough. IT WAS AMAZING!!!! I LOVE LOVE LOVED IT!!!! This is EASILY a 5 STAR TOP FAVORITE!!!! And best of all, this book is almost here so be sure to pre-order a copy!!!!
Note: this is the last standalone in the amazing Jamison Valley series which is a series of interconnected standalone romances and is one of the only series EVER that I have rated EACH BOOK 5 STARS!
WEEKLY NEW RELEASES RECAP
NEW RELEASES (NOW LIVE):  
MIDNIGHT RELEASES (PRE-ORDER NOW):  
DETAILED LIST: NEW RELEASES
Something So Irresistible by Natasha Madison — New Release!!
Can standalone: "Never fall in love with a sports star. That's what my stepfather always said. He told me athletes are complicated and moody—that the higher their paycheck, the lower their morals. As public relations for the New York Stingers I know exactly what he means, but I can't seem to say no to a friendship with one beautiful, damaged man. What started out as hate turned into something else. We tried to stay away, to keep our distance, but the pull was too strong. Something forbidden turned into something so irresistible…"
Most Likely To Score by Lauren Blakely — New Release!!
Standalone: "It should have been a simple play…
She needed a football player to step up and be the star for a charity calendar. I needed a sharp and savvy publicist to manage a new sponsorship deal. I scratched her back. She scratched mine. And oh hell, did she ever drag her nails down my back on one hell of a hot night. Okay fine, it was several hot nights on the road… Now we're back to when we were simply player and publicist. Given the way the last few years have gone, I can't risk this deal, so it's hands off for us once again. Trouble is, I want more than than just another night with her. What's a guy to do when he's always been most likely to score, but the woman he's falling for is just out of bounds?"
Hot Shot by Karina Halle — New Release!!
Can standalone: "She has a secret. She's been in love with her best friend and the boy next door, since she was six years old. And while most of her friends and family know about her unrequited crush, [he] remains oblivious. To her, it's better this way. She'd rather pretend that they're just friends, even though her feelings for the moody, rugged mountain man are anything but tame.
He has a secret too. As a wildland firefighter, he parachutes into danger every day he's on the job, risking all… But while his job is only for the brave, inside he realizes she is the only one who can put out the flames. As the two friends grow closer – and more intimate – than ever before, the more complicated their relationship becomes. And she has one more secret to reveal. A secret that will change both their lives forever…"
Blood Fury by J.R. Ward — New Release!!
"A vampire aristocrat, Peyton is well aware of his duty to his bloodline: mate with an appropriate female of his class and carry on his family's traditions. And he thought he'd found his perfect match—until she fell in love with someone else. Yet when his split-second decision in a battle with the enemy endangers the life of another trainee, Peyton has to face the idea that his future, and his heart, actually lie with another.
Novo, as a female in the Black Dagger Brotherhood's training program, feels like she has to prove herself to everybody—and she has no interest in being distracted by falling in love. But when Peyton proves to be so much more than a rich playboy, she is forced to confront the tragedy that has broken her soul and closed her off from love…"
The Wright Secret by K.A. Linde — New Release!!
Can standalone: "I was just his best friend's little sister.
But he was always more than that to me.
After twelve years of pining over his easy smile, baby blues, and captivating charm, I decide to take matters into my own hands and completely blow my chance. Who knew a self-proclaimed manwhore would decide to be a gentleman the first time I'm naked in his bed? Definitely, not me. But when I land there again, neither of us has any intention of stopping. There's only one problem: nobody can know. Especially not my three older brothers. If they found out, all hell would break loose. So I'm willing to keep our secret…"
Fake Wife by Stacey Lynn — New Release!!
Standalone: Him: To receive my inheritance, I have to get married within six months. Me, the guy who's never dated a girl for more than six minutes. Now I need to find a woman I can trust. So when I'm rear-ended by a Prius, I figure it's a sign that I'm supposed to meet this gorgeous, down-to-earth girl.
Her: First I lose my job. Then I come home and find out that my boyfriend is a cheating jerk. And then I speed off and nearly kill Portland's sexiest bachelor. He should be pissed. Instead, he offers me more money than I've ever seen in my life to marry him and live together in a mansion for two years. No sex. No feelings. Just cash—enough to make all my dreams come true. Then we go and break all our rules… and I realize I'm falling in love with my fake fiancé.
Uncharted by Julie Johnson — New Release!!
Standalone: "When we crash-landed on the island, I thought my story was over. Turns out, it was about to begin."
He was an asshole from the first moment we met. I took one look at the stranger in the airport terminal and knew he was exactly the kind of man my mother spent seventeen years warning me against. Gruff, grumpy, and far too good-looking to stare at without experiencing heart palpitations. Thankfully, I'd never see him again. Or so I thought.
I couldn't have known our plane would crash.
I couldn't have predicted we'd be the only survivors.
I couldn't have ever, in my wildest dreams, anticipated that the asshole from the airport would become my only source of solace in the darkness.
It's so wrong to want him, for so many reasons. But as the months slip by and our hopes of rescue grow dimmer… the spark between us kindles into something impossible to ignore.
Sometimes, survival requires swimming in uncharted waters.
But if salvation doesn't come soon…
I might just drown in him."
My Enemy Next Door by Nicole London & Whitney G. — New Release!!
Standalone: "You were a cocky, arrogant jerk and I sincerely wish you misery for the rest of your life…" That's the last line I wrote in his yearbook before graduating high school. Since he made my life a living hell and I couldn't wait to leave him and our small hometown behind.
Ten years later, I've graduated from Harvard Law at the top of my class, and I'm a few years into working at the law firm of my dreams… Until I find out that he has graduated from law school, too. Until I realize that he'll be working at the same exact firm, right beside me. And if that isn't awful enough, I've just found out that he moved in next door…"
Love Between Enemies by Molly E. Lee — New Release!!
Can standalone: She is ready to put an end to her decade-long rivalry with Gordon Meyers. They've traded top spot between valedictorian and salutatorian for years, but all that's over now. Right? But after a crazy graduation speech prank gets out of hand, suddenly their rivalry turns into all-out war. Time to make peace with a little friendly payback.
So what if he's cute? (Okay, hot.)
So what if he's charming? (Heaven help her, tempting.) So what if he apologizes? (That has to be fake.) She knows the real him. And no matter how much her heart begs her to stop, there's no turning back…
Executive Ink by Carrie Ann Ryan — New Release!!
Can standalone (novella): "She didn't want him… she craved him. That was her first mistake, but not her last. She's the boss of her life and decisions. She doesn't have time for a bearded, inked man. But he may just make her yearn for it.
He thought it would only be for one night but now he wants more. She's the straight-laced executive to his leather-and-jeans life, and she makes him desire more. She is so much more. But how much, he may never know."
Author Note: [this] is shorter than my other novellas at only ~12,000 words. It has a complete HEA, and is perfect for a steamy evening, one-sitting read.
Man Candy by Jessica Lemmon — New Release!!
Can standalone: "After spending months buried up to my eyeballs in my family's affairs, I'm ready for a break. The kind of break where I can spend two solid weeks camping and fishing in the company of absolutely no one. Then I find myself directly in the path of a drop-dead gorgeous tornado by the name of Becca Stone.
Who can resist a night with a damsel in distress? The last thing I expect is for Becca to show up on my cabin doorstep the next night, shivering in the rain and ready for seconds…"
Learning to Love the Heat by Everly Lucas — New Release!!
Standalone: "When she escapes her overheated apartment to spend a day at the park, the last thing she expects is for a gorgeous guy to chat her up. But his sweet smile and nerdy charm are impossible for even her to resist.
For Ben, she is the One, but there's a small snag—she's terrified of a man's touch. But now that he's found her, he'll never let her go, even if he never gets to hold her. Another snag? Her obvious attraction to his best friend… He respects her firm boundaries, but [his best friend] crashes right through them. He's arrogant, crude, a total jackass… and criminally sexy. Even if she can fix what's broken inside her, how will she choose between the delicious slow burn she feels with Ben and the explosive inferno Andy ignites in her? Can they find their happy ending without three hearts going up in flames?
The English Wife by Lauren Willig — New Release!!
Annabelle and Bayard Van Duyvil live a charmed life in New York: he's the scion of an old Knickerbocker family, she grew up in a Tudor manor in England, they had a whirlwind romance in London, they have three year old twins on whom they dote, and he's recreated her family home on the banks of the Hudson and renamed it Illyria. Yes, there are rumors that she's having an affair with the architect, but rumors are rumors and people will gossip. But then Bayard is found dead with a knife in his chest on the night of their Twelfth Night Ball, Annabelle goes missing, presumed drowned, and the papers go mad. Bay's sister, Janie, forms an unlikely alliance with a reporter to uncover the truth, convinced that Bay would never have killed his wife, that it must be a third party, but the more she learns about her brother and his wife, the more everything she thought she knew about them starts to unravel. Who were her brother and his wife, really? And why did her brother die with the name George on his lips?
Bayside Passions by Melissa Foster — New Release!!
Can standalone: Over the holidays [she] meets sinfully hot Dean Masters, who's as easy on the eyes as he is to talk to. After returning home, what starts as a flurry of late-night flirtations quickly turns into a deep connection and unexpected friendship… After months of sharing their lives, and their secrets, over video chats and phone calls, he's ready to move things to the next level. The fact that she seems oblivious to the sparks between them just means he'll have to bide his time.
When she finds a naked man in her kitchen the first morning she's there, he doesn't hesitate to move her into his guest room. Maybe now she will see what's right before her eyes—although that guy she's got a date with might be a problem…

The Hail You Say by Lani Lynn Vale — New Release!!
Can standalone: "Get out! He yelled those words at the love of his life twelve years ago, and to this day, he regrets them. He's always been the type of person to speak before he thinks, and apologies have never come easy. It's been over a decade since she was his, and he stubbornly thinks that he can keep on living without her. He couldn't be more wrong.
Just when she thinks things can't get worse, she's sees his sexy, bearded face over the top of her paper gown, and she's lost all over again… One single second in time shows him what he's missing and suddenly he's back at square one. The only problem with being back at square one? He won't be able to leave her a second time. Especially since the first time around he didn't have a child with her to consider."
LATEST BOOK SALES
UPCOMING BOOK RELEASES
BOOKWORM STORE
WHAT KIND OF BOOKS ARE YOU LOOKING FOR?
__________________________________
Let me know if there are any other books you're loving right now too!!
LET'S STAY CONNECTED
To get these lists sent to you every week, subscribe by email.
FOLLOW THE BLOG
Facebook | Twitter | Instagram | Pinterest | BlogLovin' | Google+ | Goodreads