JUST ANNOUNCED: The Hawks: A Novel by SD Hendrickson (standalone)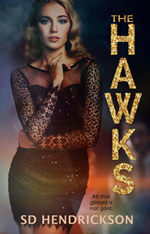 OMG. I'm so excited to read this! It was just announced! — "He warned me. Said hawks were dangerous birds. Their majestic beauty could blind your eyes as they picked the flesh from your bones. But even hawks have enemies. And they eventually came for the Hawthorn family. Held us hostage. Demanded retribution. But I wasn't a Hawthorn. No, I was just the help. Caught in the turmoil of a tragic family…. And then I met Javier Hawthorn… Like a moth to a burning flame, I gravitated toward him. He was so different than my world. Irresistible. Charming. He brought a calmness to the chaos. But that was before the intruders busted into the house. Tied us up. Hurt us. We struggled to get away. We fought to survive. But who were the men behind the masks? Did we know them? Because someone who got this close to the family at night must be even closer during the day." — The author describes this herself as a "Standalone, Romantic Suspense, Mystery Thriller, Family Drama involving the mysterious and eccentric Hawthorn family and their staff. A sultry summer of parties. An out of control matriarch. The personal assistant who falls for the forbidden grandson. But everything comes to a deadly halt when intruders hold the family hostage in their very own ballroom." Be sure to pre-order a copy as it releases soon!

TOP RECOMMENDATION & ANNOUNCEMENT: Mister Romance by Leisa Rayven (My Review)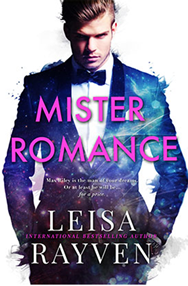 Ok so I'm bringing this back from last year as a Top Recommendation because the second standalone, Professor Feelgood by Leisa Rayven was JUST ANNOUNCED and HOLY FREAKING SQUEEEEEEEEE this (first) book was AMAZING so I'm crazy excited for the next one!! They're both standalones and this one was the absolute perfect balance between sexy steamy ROMANCE, laugh-out-loud HUMOR, strong FEELS, and intense ANGST!!!!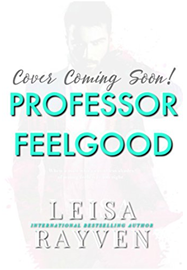 I seriously adore this author's writing and I have soooooo many quotes highlighted through the book!!! The story was ADDICTIVE, intriguing and totally unputdownable!! The hero was mysterious, elusive, and heart-stoppingly swoooooony, while the heroine was strong, sassy, and very real. I loved them together and I LOVED this book! I read it in one non-stop sitting and it's easily my new top favorite recommendation for everyone who loves reading romance!!!! They can both standalone so be sure to start reading and grab a copy of Mister Romance and then pre-order Professor Feelgood!! Happy reading! 😀
WEEKLY NEW RELEASES RECAP

HOT NEW RELEASES (NOW LIVE):  
DETAILED LIST: NEW RELEASES
Kissing Jenna by Kristen Proby — New Release!!
Can standalone: "She owns and manages vacation rentals [and has] just completed the construction of her most exhausting project, the one she's put her heart and soul into. The inviting, opulent cottages are the first ski in/ski out tree houses in the world. Her biggest dream is about to come true, and she can't let anything distract her.
He is Hollywood's it actor. If the magazines are to be believed, he's the sexiest man on earth. He's preparing for the biggest movie role of his life, and his agent has booked him in a hot new ski lodge in Montana, tucked away from crazy fans. He can't wait for the break.
But what he isn't prepared for is her. With a face that could easily co-star with him in a movie and her ambition to put her stamp on Cunningham Falls, he can't stay away. But even more intriguing than her beauty is the fact that she's not at all impressed with his celebrity status, only turned on by the man behind the fame.
The love they've found is perfect—but time is running out before real life intrudes. Can they survive with both their dreams—and hearts—intact?"
The Real Deal by Lauren Blakely — New Release!!
Standalone: "April Hamilton wants you to know she hasn't been on Craigslist since that time she sold her futon after college. She doesn't even spend that much time online. And even if she did, she would not be looking up personal ads. But going home alone for her family's summer reunion is an invitation for every single relative to butt into her personal life. She simply can't handle another blind date with the butcher, the baker or the candlestick maker from her hometown. So when she finds the Craigslist ad for a boyfriend-for-hire, she's ready to pay to play…
She only wanted to show her family once and for all that she had no need to settle down. He didn't expect to have the time of his life at her parent's home. They didn't plan on loving every single second of the game. But can a masterful game of pretend result in true love?"
Broken Love Story by Natasha Madison — New Release!!
Can standalone: Her: "I had the perfect life; a husband who loved me, and two kids who were my world.  Until someone else answered his phone and my perfect life shattered.  When he died, I was left with answers he couldn't give me and a box full of lies. He left me broken."
Him: "I fell in love when I was fifteen, knowing she was the one. For five years, she was my everything—my every breath, every heartbeat, every thought. She made me promise to move on, promise to find love again, but I broke those promises because I can't move on."
Two broken souls brought together by tragedy and heartbreak. Can a broken love story be fixed?"
Heart of Glass by Nicole Jacquelyn — New Release!!
Can standalone: "Henry Harris was living his dream as a staff sergeant in the Marines. When he's killed in action, his devastated family is in for one more shock: he had a daughter they never knew about.
Morgan Riley has been raising Etta on her own, and that's always been fine by her – until Henry's brother Trevor arrives on her doorstep, willing to do anything to help and make up for his brother's mistakes. Their attraction feels wrong, but Morgan can't seem to turn him away.
Trevor is suddenly in too deep. He has always wanted a family, but Etta and Morgan come with complications. Yet as Etta brings them closer together, Trevor begins to imagine giving Morgan and Etta the life his brother never could. But he wonders if Morgan will ever learn to trust another man with her heart, especially a man whose last name is Harris."
The Accidentals by Sarina Bowen — New Release!!
Standalone: "I've been listening to my father sing for my whole life. I carry him in my pocket on my mp3 player. It's just that we've never met face to face. My mother would never tell me how I came to be, or why my rock star father and I have never met. I thought it was her only secret. I was wrong.
When she dies, he finally appears. Suddenly I have a first class ticket into my father's exclusive world. A world I don't want any part of – not at this cost. Only three things keep me going: my singing group, a swoony blue-eyed boy named Jake, and the burning questions in my soul."
I Think I Love You by Lauren Layne — New Release!!
Can standalone: "She knows that dating in New York City is hard—she just hoped to have it mastered by age thirty. But after yet another promising suitor says they have no sparks, she decides it's time to torch her dating game and try a new plan. And who better to coach her through the art of seduction than the guy who first gave her the "let's be friends" card?
 
He always figured there's nothing his best friend can do to surprise him. But her request is a surprise he doesn't see coming—and one he's definitely not prepared for… The fake dates and faux flirting are starting to feel like the real deal. And soon he realizes he has taught her too well. Not only has she become an expert at seduction, the man becoming thoroughly seduced is him."
Charmed at First Sight by Sharla Lovelace — New Release!!
Can standalone: "A hot mess runaway bride and a smokin' hot biker lock eyes at a red light. Lord have mercy . . . is our little town ready for this? 
 
Never one to do things by the book, she couldn't just chalk it up to bridal jitters, or even quietly call off her wedding to her long-time fiancé. No, she has to high-tail it out of the church sporting a dress that cost more than her car, and jump on the back of a smoking-hot stranger's motorcycle. Her knight in all-black is headed to a town called Charmed, so that's where she'll go and try to lay low. Except their appearance raises plenty of eyebrow… and a sudden, intense attraction she has no business exploring. "
Knuckle Down by Chantal Fernando — New Release!!
Can standalone: "As a single father of two girls and the sergeant at arms for the Cursed Ravens Motorcycle Club, Jack "Knuckles" Chester doesn't have much free time. And having earned his road name from his reputation as a fighter, Knuckles isn't one to back away from a challenge.
But what he'll never admit out loud is that his two daughters have changed him irrevocably, softened him even. And these two girls are the only women who will ever hold his heart forever. That is, until he meets Celina."
Walk the Line by J. Kenner — New Release!!
Can standalone: "She's my boss's daughter and my babysitter. That's beyond complicated. And I'm not even looking for a relationship—but I can't deny the attraction that sizzles between us. I need to ignore it. A single dad, all I want is to take care of my little girl, do my job, and enjoy my friends. Anything more is asking for complications I can't afford. Asking to be hurt again. Trouble is, I want her, too. And when our flirty sparks turn to flames, I give in to temptation. Our secret fling is scorching hot, better than I'd even imagined. But secrets get out, and I could lose my job and my reputation. And I'm starting to realize she's the one thing I'm not willing to lose."
Freed by Carly Phillips — New Release!!
Can standalone: "In the personal protection business, he thinks nothing of taking on a job to watch over a city girl in town for the summer. If her father wants to know his daughter is safe, it's no problem and an easy way of earning a paycheck. Except he doesn't count on falling for her. Watching her experience her firsts, getting an apartment, finding a job, meeting up with her lost sisters, soon his brand of protection becomes a little too personal. He's mixing business with pleasure and lying to a woman he's coming to care deeply about."
Buckled by Pam Godwin — New Release!!
Can standalone: "I protect what's mine. The ranch, my family, our buried secrets. Nothing will stop me from reassembling the life that went terribly wrong. Not the law. Not our enemies. Not even Maybe Quinn. The gorgeous, quarrelsome journalist shouldn't have meddled. I shouldn't have let her stay. But she's hiding something in those deceptive blue eyes. Something deeper than her thirst for a news story. I make a deal with her to buy time. To unravel her lies. To play with her. To satisfy my darker appetites. When she buckles beneath my belt, I'll send her away. Unless I buckle first…"
LATEST BOOK SALES
UPCOMING BOOK RELEASES
BOOKWORM STORE
WHAT KIND OF BOOKS ARE YOU LOOKING FOR?
__________________________________
Let me know if there are any other books you're loving right now too!!
LET'S STAY CONNECTED
To get these lists sent to you every week, subscribe by email.
FOLLOW THE BLOG
Facebook | Twitter | Instagram | Pinterest | BlogLovin' | Google+ | Goodreads