JUST ANNOUNCED: Loose Ends by Kristen Ashley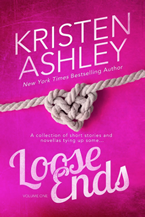 As so many of you know, Kristen Ashley is one of my FAVORITE AUTHORS EVER and she writes some of the best Alpha male romance of all time!! Loose Ends is her first ever anthology to be released and it features characters and series in the KA universe!! No Clue, a short story with Joe and Vi from At Peace. The Stars Aligned, a novella – the long-awaited love story of Hap and Luci, introduced in Heaven and Hell. The Favor, a short story with Deacon and Cassidy from Deacon. Rock Chick Renewal, a short story in the Rock Chick series featuring Todd and weddings. More Than Everything, a novella following Diesel, Maddox and Molly from The Greatest Risk. I couldn't be more excited!!! Be sure to catch up on your Kristen Ashley books and preorder Loose Ends!! SQUEEEEEEEEEEEEEEEEEE!!!!!!
RARE SALE + MOVIE DEAL + FAVORITE: Roomies by Christina Lauren (Read my Review)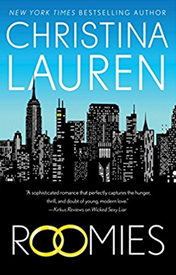 I loved this book AND it just went on sale for $1.99 AND it has a movie deal starring Jenna Dewan and the screenplay is being written by the authors Christina Lauren!! I read this addictive book in one sitting last year and FELL IN LOVE with the story and the characters who engage in an unexpected "pretend marriage of convenience" that unexpectedly for them develops into a very deep and true love for each other! The writing was fantastic and strong. It constantly kept me smiling, swooning, or just made my heart race! The story was sweet, heart-warming, and hit all the right notes for me. If you're looking for a WELL-WRITEN, SEXY, FUN, ANGSTY romance, this is it!! Grab a copy while it's on sale to read before the movie! — "I've never done this before. I just know I'm falling for the girl I married."

MORE BOOKWORM NEWS:
Pucked Love by Helena Hunting was just announced! This is the final standalone in the Pucked series! — "As an NHL player, relationships haven't been my thing. Shrouded in secrecy and speculation, they never last very long. But then that's what happens when you require an NDA before the first date. Until Charlene. She's like a firefly. She's elusive, and if you catch her she'll burn bright, but keeping her trapped dulls her fire and dims her beauty. I caught her. And as much as I might want to keep her, I'll never put the lid on her jar. Not at the risk of losing her. So I've let her set the rules in our relationship. But as long hidden secrets expose us both, I discover exactly how fragile Charlene is, and how much I need her. We're all broken. We're all messed up. Some more than others. Me more than most."
WEEKLY NEW RELEASES RECAP

NEW RELEASES (NOW LIVE):  
LATEST BOOK SALES
UPCOMING BOOK RELEASES
BOOKWORM STORE
WHAT KIND OF BOOKS ARE YOU LOOKING FOR?
__________________________________
Let me know if there are any other books you're loving right now too!!
LET'S STAY CONNECTED
To get these lists sent to you every week, subscribe by email.
FOLLOW THE BLOG
Facebook | Twitter | Instagram | Pinterest | BlogLovin' | Google+ | Goodreads