TOP FAVORITE – NOW LIVE: A Wish For Us by Tillie Cole (Read my Review, standalone)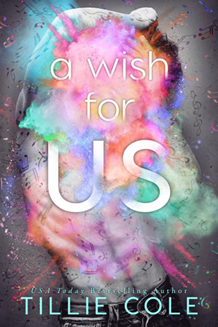 OHHH MY GOSH, this was the most BEAUTIFUL book!!!!! I'm still wiping away happy tears. Early this morning, I wanted to start a book and I read this straight through without stopping because IT WAS AMAZING!!! A truly unique and EMOTIONAL LOVE STORY that brought music and colors to life in a way that just blew me away. The hero is a BROKEN BAD BOY with the deepest pain imaginable, and the heroine is a STRONG college student who just wants to help him heal… but she too is hiding the biggest secret of all. I read the second half of this book in a single breath. I COULDN'T STOP READING. I needed to know what happened. And for any of you who are a little worries, DON'T BE. I promise you'll love the ending. This is a truly BEAUTIFUL, HEALING romance and I LOVED IT!! Be sure to grab a copy!!!
JUST ANNOUNCED (PRE-ORDER NOW):
Cry Baby by Ginger Scott was just announced for this week!! I love this author's writing style! — "He loyal to his brothers. He doesn't really have a choice, born into a gang that has a chokehold on every kid that roams its streets. He gave his life to them willingly, knowing if he did then one day this kingdom, led by boys drunk with power and ruled by fear, would all be his. He was loyal through it all. Loyal when prison took his dad away. Loyal when his face was touched by the cold metal of the rival gang's gun. Loyal even though his mom begged him to run the moment she returned home from rehab. He thought about becoming someone else. It was hard not to crave the life of a regular 17-year-old. It's the only reason he stayed in school—to pretend. But he always fell back in line. Loyal. She didn't belong in his real world. She should have only been part of the fantasy, one of the many faces he got to pretend with amidst rows of metal chairs and desks and whiteboards with assignments. But there she was, moving boxes from the back of an old pick-up into a house he had shot up on a dare with his friends only a few months before… She challenged him. She needed him. He liked it. And when her pale blue eyes stared into his, he quit wanting to pretend. He couldn't ask her to leave because she'd only dig her heels in deeper. He couldn't ask because he didn't want her to go. She was blurring his lines. She was testing his loyalty. He was falling in love. And it was going to tear him apart."
WEEKLY NEW RELEASES RECAP

HOT NEW RELEASES (NOW LIVE):  
DETAILED LIST: NEW RELEASES
A Wish For Us by Tillie Cole — New Release!!
TOP FAVORITE!! Standalone: "A Wish For Us. A story of music. A story of healing.
A story of love conquering all.
— Nineteen-year-old Cromwell Dean is the rising star of electronic dance music. Thousands of people adore him. But no one knows him. No one sees the color of his heart. Until the girl in the purple dress. She sees through the walls he has built to the empty darkness within.
When Cromwell leaves behind the gray skies of England to study music in the South Carolina heat, the last thing he expects is to see her again. And he certainly doesn't expect that she'll stay in his head like a song on repeat.
Bonnie Farraday lives for music. She lets every note into her heart, and she doesn't understand how someone as talented as Cromwell can avoid doing the same. He's hiding from his past, and she knows it. She tries to stay away from him, but something keeps calling her back.
Bonnie is the burst of color in Cromwell's darkness. He's the beat that makes her heart skip.
But when a shadow falls over Bonnie, it's up to Cromwell to be her light, in the only way he knows how. He must help her find the lost song in her fragile heart. He must keep her strong with a symphony only he can compose.
A symphony of hope.
A symphony of love.
A symphony of them."
More Than Words by Mia Sheridan — New Release!!
Standalone: "The moment she met Callen Hayes, eleven-year-old Jessica Creswell knew he was a broken prince. Her prince. They became each other's refuge, a safe and magical place far from their troubled lives. Until the day Callen kissed her—Jessica's first real, dreamy kiss—and then disappeared from her life without a word.
Years later, everyone knows who Callen Hayes is. Famous composer. Infamous bad boy. What no one knows is that Callen's music is now locked deep inside, trapped behind his own inner demons. It's only when he withdraws to France to drink his way through the darkness that Callen stumbles into the one person who makes the music return. Jessica. His Jessie. And she still tastes of fresh, sweet innocence… even as she sets his blood on fire.
But they don't belong in each other's worlds anymore. There are too many mistakes. Too many secrets. Too many lies. All they have is that instinctive longing, that need—and something that looks dangerously like love."
Unconscious Hearts by Harper Sloan — New Release!!
Can standalone: "Ari Daniels didn't count on her whole world tumbling down around her in a mess of shredded promises, broken love, and unbelievable heartbreak. Alone and stricken with grief, she shouldered the blame and eventually closed her heart off, refusing to open it for another.
A bet and one steamy night with a stranger force her to confront all she's been hiding behind. She tries to move on, but he refuses to stand down, wanting what she is terrified to give—herself. This man may very well destroy her in the end, especially when it's clear he has his own demons. What happens when two broken souls come together, finally allowing themselves to believe in the beauty of love … only to have to fight harder than ever to keep it "
Atticus: A Woman's Journey with the World's Worst Behaved Dog by Sawyer Bennett & S. Bennett — New Release!!
Standalone: A heart-warming and deliciously funny story about the world's worst behaved dog and how he trained his human how to love herself again.
Through the haze of vodka and self-loathing, Hazel Roundtree saw the poor creature lying in a ditch.
One brown eye. One blue.
Covered in mud and crying from pain, the puppy was desperately trying to free itself from a hopeless situation.
She almost kept walking by. She had her own problems and besides… no one had ever stopped to help her.
Who we're ultimately meant to be is a journey without end, but there's always a defined start…
Hazel had no idea the dog would be her beginning, her second chance, the miracle she never saw coming. She named him Atticus. He grew up to be a very bad–and completely awesome–dog. He took Hazel on a life-changing journey filled with mischievous adventure and painful heartbreak. In the end, Hazel grew up to be completely awesome, too.
Whiskey Reveals by Carrie Ann Ryan — New Release!!
Can standalone: "He likes his life just the way it is. His siblings are falling in love all around him, but he'd much rather focus on his next story than on a serious relationship. However, when his latest one-night stand returns to town—this time for good—he'll need to learn to trust his instincts to figure out if he can live without her in his life.
She is finally ready to settle down in her grandmother's small hometown. Bad decisions and fateful nights have changed her path more than once, but now she's focused on one thing: opening her own dance studio. But fate is a funny thing, and once again, she'll be forced to learn that actions have consequences and some repercussions can not only change your life forever, they can also come back to haunt you…one broken promise at a time…"
Knocked Up by Stacey Lynn — New Release!!
Standalone: First comes love. Then comes marriage. Then comes baby in a baby carriage. Just not necessarily in that order…
 
"I should probably be dead or in jail right now. Instead, thanks to some tough love, I worked my ass off and now I own a string of tattoo parlors throughout the Pacific Northwest. And yet the one thing I've always wanted—a family—still seems out of reach. When my best friend gets married, I'm just hoping to blow off some steam with the super-hot maid of honor. But after she tracks me down to tell me she's pregnant, she's more surprised than I am when I tell her I'm all in…"
End Game by Toni Aleo — New Release!!
Can standalone: "This is going to be his year. It's his last year of college and his last year as a hockey player. He's making all the plays in preparation for achieving his dream of being drafted into the NHL… This is her beginning. She is starting her college career as a star member of a brand-new gymnastics team. She's going to tumble her way to success, first in school and then by realizing her dream of opening her own gym.
They didn't see each other coming, but once they meet, they can't look away. Their dreams are destined to take them in opposite directions. But it doesn't take them long to realize that waking up to reality together may be better than dreaming alone."

In Too Deep by J. Kenner — New Release!!
Can standalone: "She's not my type. Intellectual and career-focused, she's a lawyer, and an intimidatingly beautiful one, at that. I'd rather pump iron than open a book, and the only reason I'd go to court would be for a traffic ticket. She's the most gorgeous woman I've ever seen. So how can I turn down her plea that I pretend to be her fiancé for one weekend?
But I never expected our pretend kisses to feel so real … or for it to lead to a wild night in bed that will forever stand out as the highlight of my sex life… I can't imagine ever being good enough for her, but I'm hooked. And now I'm determined to do whatever it takes to make this fake engagement real."

Tied Down by Chelle Bliss & Eden Butler — New Release!!
Can standalone: "She's a silver-tongued mafia princess, master manipulator, and the only woman I've ever loved. But she's also smokin' hot and my ex-wife.
When she led me straight into a trap and pleaded for my help, I couldn't say no. She thought she had the upper hand, but this time, I was in control and planned to make her beg… They say all's fair in love and war and turnabout's fair play, but what starts out as a wickedly seductive ploy turns into a twisted game of the heart."
Captivated by Tessa Bailey & Eve Dangerfield — New Release!!
Standalone: "Secret aspiring comedian Autumn Reynolds is a girl gone…not wild exactly. More like lazy. Since her boyfriend abandoned her in New York City for a bunch of improv groupies she's had two priorities; sucking the nitrous out of whipped cream cans and making sex comics about her mysterious landlord.
Blake hates people—and sunlight—with good reason. Imagine his surprise when he finds himself lusting after his upstairs tenant, a sunny, Australian people pleaser down on her luck. Turns out his ability to terrify with a single scowl comes with an advantage. Autumn seems to like it. A lot. As evidenced by the prisoner-captive comic Blake was never meant to see. 
As they embark on a three-date arrangement the rules are clear; filthy, ground breaking sex, no feelings or commitment required."
Tell Me Lies by Carola Lovering — New Release!!
Standalone: "A thrilling, sexy coming-of-age story exploring toxic love, ruthless ambition, and shocking betrayal, this novel is about that one person who still haunts you—the other one. The wrong one. The one you couldn't let go of. The one you'll never forget.
Tell me you'll love me.
Tell me you'll need me.
Tell me I'm yours.
Tell me it's not over.
Tell me you'll change.
Tell me lies."

Little Big Love by Katy Regan — New Release!!
Standalone: "About a Boy meets Parenthood in this smart, big-hearted love story about a family for whom everything changed one night, a decade ago, and the young boy who unites them all.
Ten-year-old Zac Hutchinson collects facts: octopuses have three hearts, Usain Bolt is the fastest man on earth. But no one will tell him the one thing he wants to know most: who his father is and where he went. .. When Zac's mother, Juliet, inadvertently admits that his dad is the only man she's ever loved, Zac decides he is going to find him and deliver his mom the happily ever after she deserves…"
Survival of the Richest by Skye Warren — New Release!!
Standalone: "My story starts with a plunge into the cold water of Manhattan's harbor.
A strong hand hauls me back onto the deck of the luxury yacht. Christopher was supposed to be my enemy. Instead he protects me with fierce determination. That should have been my happily ever after, but then Sutton appeared—ruthless and seductive. He doesn't care that my heart belongs to someone else, because he's determined to win. No matter the cost. It's an impossible choice, but I can't have them both…"
Wild Card by Lila Monroe — New Release!!
Can standalone: "Is there anything worse than playing maid-of-honor to your bitchy college nemesis? Try it when she's marrying your DAD! Olivia Danvers doesn't know what she's done to deserve this karmic retribution, but she needs a date to the wedding from hell – and fast. She's used to matchmaking billionaires, but now she needs a Prince Charming of her own. Someone handsome and famous enough to make bridezilla and her minions drool with envy…
Someone like hottie ex-NFL star Ryan Callahan.
Ryan is looking for love. Well, the fake kind. He needs the perfect woman on his arm to woo investors for his superstar new business venture, but nobody is scoring that touchdown… until elegant, sophisticated Olivia comes to him with a proposition. She'll play his perfect date – if he'll play hers…"
Ace of Hearts by Chantal Fernando — New Release!!
Can standalone: "She had the perfect life growing up in a perfect home with a perfect family. But after learning that the man she's called "dad" her whole life isn't actually her biological father, she is determined to find the man who is.
Armed with her original birth certificate, she finds her father, but begins questioning if her mom had been right all along to keep this information buried. It turns out he is the president of a motorcycle club, which could not be further from the life she leads. But, she's determined to get to know the man who she gets her striking blue eyes from. Despite getting what she wants and finding her biological father, it's the slightly older, much rougher but an incredibly sexy biker that catches her eye."
LATEST BOOK SALES
UPCOMING BOOK RELEASES
BOOKWORM STORE
WHAT KIND OF BOOKS ARE YOU LOOKING FOR?
__________________________________
Let me know if there are any other books you're loving right now too!!
LET'S STAY CONNECTED
To get these lists sent to you every week, subscribe by email.
FOLLOW THE BLOG
Facebook | Twitter | Instagram | Pinterest | BlogLovin' | Google+ | Goodreads