NEW 5 STAR FAVORITE: Tattered: A Lark Cove book by Devney Perry (Read my Review)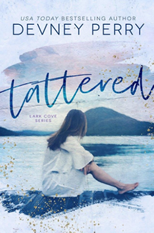 HOLY FREAKING SQUEEEEEEEE!!!!! This was one of the very BEST BOOKS I'VE READ ALL YEAR!!! Oh my SWOOOOOOON it was AMAZING!!!! It features a INCREDIBLY STRONG single mom unexpectedly reunited with the sexy but mysterious father of her child after half a decade apart!! OH MY GOSH, THE FEELS!!!!! Not only was this a BEAUTIFUL love story filled with heart-warming emotions and healing, but it was also a gorgeous portrayal of motherhood in it's purest form. I LOVED EVERY SINGLE WORD OF THIS BOOK!!! It was so beautiful to watch the hero and heroine have a second chance at falling in love, and it was adorable to see the hero try so hard to be the best dad he could for the daughter he just found out about. I HIGHLY RECOMMEND THIS BOOK!!! It can be read as a complete STANDALONE so be sure to a pre-order a copy!!! 5 STARS!!!

NEW FAVORITE – NOW LIVE: The One You Can't Forget by Roni Loren (Read my Review)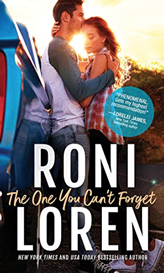 YES YES YES!!!! I read this AMAZING new book this week and loved it!! It's actually the second one I've read by this author and I have to say I LOVE HER WRITING STYLE!!! The characters are STRONG, the romance is HOT, the story is so well balanced between HEART-WARMING, EMOTIONAL, and INTENSE feels, and I think the most important thing was that it truly made me CARE!!! It's a bit of a second chance story… this heroine is just so STRONG and a survivor in every sense, but the hero comes to her rescue one night, but little does he realize that he actually knows her from a long time ago… GAH!!! THIS BOOK WAS SERIOUSLY SO GOOD!!! It's a new TOP FAV recommendation AND it can fully standalone and it's LIVE so be sure to grab a copy!
Scroll down for a huge list of new releases that are all now LIVE!!!
WEEKLY NEW RELEASES RECAP

HOT NEW RELEASES (NOW LIVE):  
DETAILED LIST: NEW RELEASES
The One You Can't Forget by Roni Loren — New Release!!
MY FAVORITE!! Can standalone: "The world admires her as a survivor. But that impression would crumble if people knew her secret. She didn't deserve to be the one who got away. But nothing can change the past, so she's thrown herself into her work. She can't dwell if she never slows down.
He is trying to get back on his feet after losing his dream restaurant, his money, and half his damn mind in a vicious divorce. But when he intervenes in a mugging and saves her—the attorney who helped his ex ruin him—his simple life gets complicated… Their attraction is inconvenient and neither wants more than a fling. But when her secret is put at risk, both discover they could lose everything, including what they never realized they needed: each other…"
Only Him by Melanie Harlow — New Release!!
Can standalone: "He was my first crush, my first kiss, my first everything. But I'm not a lovesick teenager anymore, and I refuse to let him break my heart again.
So when he shows up out of the blue asking me to take a road trip with him "for old time's sake," I say I will. After all, it's been ten years. I'm stronger and smarter, full of inner peace and harmony… Except he's still got eyes that make me weak. Kisses that steal my rational thoughts. Tattoos that declare war on my senses and a body that renders me completely defenseless. We're just as good together as we were back then—better, even—and I'm willing to give the only man I've ever loved another chance. But he's got to tell me the truth."
The Girl and Her Ren by Pepper Winters — New Release!!
Series finale: "What do you do when you write down all your secrets… and the one person who should never read them does? I'll tell you what you do. You hope.
I was stupid to write down my secrets, but I'd been stupid before, so it was nothing new.  I couldn't blame him, hate him, fix him.  I tried to move on without him.  But no matter what I did, I couldn't seem to delete the secrets I'd written.  Until something happened.  Until he came back and read my stupid secrets… And nothing was the same after that."
Unexpected Love Story by Natasha Madison — New Release!!
Can standalone: Her: "I was the strong one, they said, until two words brought me to my knees. It was a secret I didn't share with anyone. A secret that made me promise I'd never fall in love. I no longer wanted that white picket fence of every woman's dreams. Until the unthinkable happened."
Him: "I thought I had it all with the best medical practice in the state and the woman of my dreams. I wore a smile on my face every single day. I couldn't wait to watch her walk down the aisle and start our forever, except she never did. My runaway bride made me realize love isn't worth it."
What happens when your dreams unexpectedly come true? This is the story of unexpected love.
In Bed with the Beast by Tara Sivec — New Release!!
Can standalone: "A tale as old as time: she needs a place to stay, he's a grump with a secret and an extra room…can love find a way?
— Living in her overprotective dad's basement, shy Belle lives her life through books. Being a part of the Naughty Princess Club is the first adventure she's ever had, plus she desperately needs the money to save one of her favorite places – the local library But when she's kicked out of her dad's house, Belle is rescued by the surly Vincent "Beast" Adams who invites her to be his house guest until she gets back on her feet. Despite his attitude problem and long list of rules, Belle finds herself warming to the muscled man with a penchant for growling and starts seeing a gentle side to him that wasn't there before…"
Even Money by Alessandra Torre — New Release!!
Duet: Sometimes it only takes a minute. A connection of eyes across a room, a quickened heartbeat, and everything changes.
I was a cocktail waitress with a fondness for partying and meaningless hook-ups.
He owned half of Vegas, with the reputation to match.
I should have turned away. Instead, I stepped closer.
Then, the lies started.
Rumors spread.
Stalking commenced.
And someone died.
It didn't stop me from falling in love.
The Lies I've Told by J.L. Berg — New Release!!
Can standalone: "Everything was going according to plan… But just like that, my life was destroyed with a single career crushing email. Now, I am headed back home to help run the family inn while my sister is on maternity leave. After all, what is family for? Plus, a few days at the beach could definitely help uncomplicate this crazy life of mine. Enter Aiden Fisher.
He's wicked hot, a huge flirt and has one of the sexiest British accents I've ever heard. But beyond all that, I see a darkness in his soul, as if he's carrying a great weight upon his shoulders.
I find myself pushing back my trip home to Florida in hopes that maybe I'll look into those hazel brown eyes and finally see truth shining back instead of lies. That maybe he'll stop running and tell me the truth for once.
But you know what they say about liars? It takes one to know one and I've been telling the biggest lie of all – I've fallen hopelessly in love with him…"
The Chateau: An Erotic Thriller by Tiffany Reisz — New Release!!
As the Jack-of-All-Wicked-Trades for a secretive French military intelligence agency, Lieutenant Kingsley Boissonneault has done it all–spied, lied, and killed under orders. But his latest assignment is quite out of the ordinary. His commanding officer's nephew has disappeared inside a sex cult, and Kingsley has been tasked with bringing him home to safety.
The cult's holy book is "Story of O," the infamous French novel of extreme sado-masochism. Their château is a looking-glass world where women reign and men are their willing slaves. Or are they willing? It's Kingsley's mission to find out.
Once inside the château, however, Kingsley quickly falls under the spell cast by the enigmatic Madame, a woman of wisdom, power, and beauty. She offers Kingsley the one thing he's always wanted. But the price? Giving up forever the only person he's ever loved.
The Kiss Quotient by Helen Hoang (P) — New Release!!
Standalone: "She thinks math is the only thing that unites the universe. She comes up with algorithms to predict customer purchases—a job that has given her more money than she knows what to do with, and way less experience in the dating department than the average thirty-year-old.
It doesn't help that she has Asperger's and French kissing reminds her of a shark getting its teeth cleaned by pilot fish. Her conclusion: she needs lots of practice—with a professional. Which is why she hires escort Michael Phan. He can't afford to turn down her offer, and agrees to help her check off all the boxes on her lesson plan—from foreplay to more-than-missionary position…
Before long, she not only learns to appreciate his kisses, but crave all of the other things he's making her feel. Their no-nonsense partnership starts making a strange kind of sense. And the pattern that emerges will convince her that love is the best kind of logic…"
Tall, Dark and Charming by Erika Wilde — New Release!!
Can standalone: "He loves life as a bachelor and has no intentions of settling down anytime soon. He has a great job and a career he enjoys, and women adore him… except for Daisy Parker, who doesn't seem fazed by his flirtatious attempts or the sexy smile that normally has panties dropping to the floor. She's a tougher nut to crack, but the fact that she seems immune to his charm only fascinates him more… until one hot unexpected encounter with her blows his mind and gives them both more than just a night of pleasure. Because she is now his baby momma, and his life is about to change in ways he'd never anticipated."
Dirty-Talking Cowboy by Stacey Kennedy — New Release!!
Can standalone: "She's returned to Colorado, after the death of her grandmother. Now she's inherited a farm full of abused animals and the last thing she wants in her life is a man, as she's still recovering from a recent heartbreak. But when a sensual and powerful cowboy enters her life, she begins to want things she shouldn't.
He knows sex shouldn't be on his mind. He's got a world of responsibility on his shoulders. He's attempting to save his late father's cattle ranch from foreclosure. But her heated reactions to his touch make ignoring her impossible. She's the perfect distraction…
The Ever After by Sarah Pekkanen — New Release!!
Can standalone: "Josie and Frank Moore are happy…at least she thinks they are. As parents of two young girls in the Chicago suburbs, their days can be both busy and monotonous, and sometimes she wonders how she became a harried forty-something mother rather than the driven career woman she once was. But Frank is a phenomenal father, he's handsome and charismatic, and he still looks at his wife like she's the beautiful woman he married more than a decade ago. She isn't just happy—she's lucky.
Until one Saturday morning when she borrows her husband's phone to make a quick call—and sees nine words that shatter her world…"
Misadventures with a Rock Star by Helen Hardt — New Release!!
Can standalone: "She isn't exactly thrilled to accompany her groupie roommate to a concert. She'd rather be home with a good book. After Susie pleads with her, though, she relents. What the heck? Maybe a change of scenery is just what she needs…
After the performance, the lead singer and guitarist for the band, isn't up for the party scene. He's grown tired of being mauled by horny devotees… until she catches his eye. Though she initially rebuffs his advances, he's determined not to take no for an answer. Sparks erupt between them, but he knows better than to fall in love. A secret from his past could destroy him—and everyone close to him—if he does."

LATEST BOOK SALES
UPCOMING BOOK RELEASES
BOOKWORM STORE
WHAT KIND OF BOOKS ARE YOU LOOKING FOR?
__________________________________
Let me know if there are any other books you're loving right now too!!
LET'S STAY CONNECTED
To get these lists sent to you every week, subscribe by email.
FOLLOW THE BLOG
Facebook | Twitter | Instagram | Pinterest | BlogLovin' | Google+ | Goodreads