NEW TOP RECOMMENDATION: Worth The Risk by K Bromberg (Read my Review)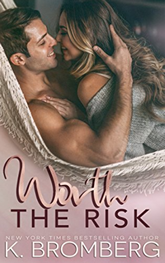 SQUEEEEEEEEEEEE!!!!!! OMG!!!! I read this AWESOME new book in one sitting and LOVE LOVE LOOOOVED it!!! It had ALL THE SWOON. ALL THE SEXY. ALL THE SWEETNESS!!!! And just the most amazingly heart-felt romance!!! It wasn't really a "second chance" romance but it kinda felt like one and it had FEEEEEELS!!! The hero is a single dad and an real-life professional HERO with a little kid who will MELT YOUR HEART!!! It's a bit of a second chance story… not specifically the romance, but the hero and heroine do share a history from their high school days, so they had a lot of things to unpack and explore between them. I absolutely adored this book and HIGHLY RECOMMEND it to anyone looking for a GORGEOUS NEW READ!!!! It can standalone and it's LIVE so be sure to grab a copy!!!! 😀

BOOKWORM NEWS:
WEEKLY NEW RELEASES RECAP

HOT NEW RELEASES (NOW LIVE):  
DETAILED LIST: NEW RELEASES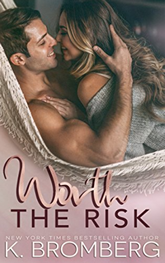 Worth The Risk by K. Bromberg — New Release!!
Standalone: "This whole contest was supposed to be easy. I know, I know. Famous last words. It's a long story, but I messed up at work. Big time. To earn back the trust of my boss, I promised to save one of our magazines. Yep. That Hot Dad contest you've seen advertised all over the place was my idea. And if I'm successful, if I'm able to increase our online readership, then I get a shot at my dream job. But the one thing I never expected to happen, happened: Contestant number ten, Grayson Malone. Hello, Mr. Difficult. And did I mention sexy as hell? Unfortunately he knows me. The old me, anyway. And while we might be older now, I remind him of before. Of the woman who broke his heart, who hardened him, and who left him alone to raise the cutest little boy I've ever seen. But I don't want a relationship. And I definitely don't fall for single dads with baggage. Even ones with chiseled abs and killer smiles. But he got to me. They got to me. He and his son and their messy, crazy life. But I got to him too. I see the stolen glances. I feel the walls he built start to crumble. I recognize that there's an unexpected beauty to the chaos in his life. And now that the contest is about to end, we're left to decide whether the last six months were just fun or if what we have is worth risking it all?"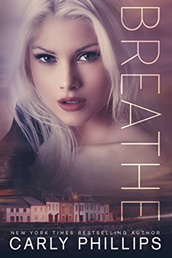 Breathe by Carly Phillips — New Release!!
Can standalone: "He's turned his life around from his time in foster care. Divorced and single, he juggles his time between his daughter and his work. Next on his agenda, a new project that is his chance to prove his worth at the job he loves. Except he never anticipates that the only girl he's ever loved and lost as a teen is now a grown and beautiful woman in charge of the project.
She has survived and conquered a painful past that includes foster care and becoming a teenaged mom. She wants nothing more than to focus on the present but it's hard when she looks into the eyes of her son, knowing she's tried and failed to find his father… Until a client meeting brings her face to face with her first love. A boy… now a sexy man she thought she'd never see again … and the father of her child."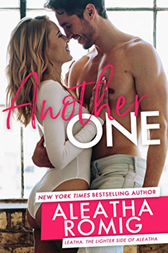 Another One by Aleatha Romig — New Release!!
Can standalone: "He's sexy, sweet, and oh so fun. He's also my best friend's brother-in-law. That should mean he's off-limits, or that I should be off-limits to him… Someone probably should have told us that before my best friend married his brother, before the morning of the wedding when we woke in each other's arms with gaping holes in my memory.
They didn't.
We did.
The hilarious truth behind our crazy, secret adventure secured this handsome, off-limits man in my heart. But alas, life goes on. After our one secret night, we went back to our lives—our hardworking, solitary lives.
And then it happened.
My phone began to buzz. Each night with thousands of miles between us, we laughed, talked, and shared. And then, the phone stopped ringing.
Before it did, I knew one thing…
Our secret one had bloomed and blossomed, and now that our circumstances have changed I want another one…"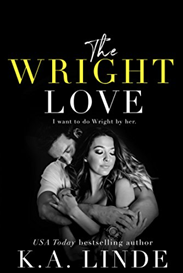 The Wright Love by K.A. Linde — New Release!!
Duet: "I have the perfect life.
Until the day my husband tragically dies.
Being a single mom and widow was never part of the plan.
When David Calloway enters my life, I have no room for love in my heart. But he's determined to do right by me.
Could he be the Wright love?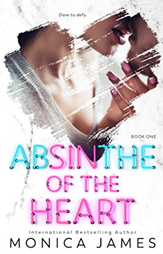 Absinthe Of The Heart by Monica James — New Release!!
Duet: "Two households, unlike in dignity, in the City of Angels is where we lay our scene…
London Sinclair was the boy my mother warned me about for as long as I can remember. His name alone has brought my family nothing but shame and suffering, so it's no surprise we've been sworn enemies since the first moment we met.
With his bedroom eyes and cocky smile, he has all the girls under his spell. I have one more year of school left, and then I'm home free because I'm guarding a secret, one I'm ashamed to keep.
The boy who is completely off-limits is the one who drives me, Holland Brooks, wild. I want London, and I think…he wants me, too.
Some may compare it to a Shakespearian tragedy, as our surnames have fated our future, but when a single night changes my life forever, I can't leave the City of Angels fast enough.
Ten years later, I have atoned for my sins and return to Los Angeles a changed woman. I've come home to get married. But the moment London walks back into my life, one thing is clear. Ten years can't undo that night—that single, sinful night when I gave into temptation—because I want to do it again…"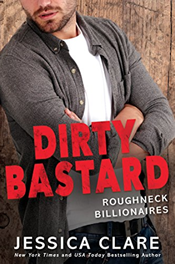 Dirty Bastard by Jessica Clare — New Release!!
Can standalone: "He has always fallen short in comparison to his brothers. The odd man out in the ultra-wealthy but rather unique family. It's not that he hates people—it's that humanity always disappoints him. When you become an oil-rich, Texan billionaire overnight, people treat you a certain way. Just once he'd like to meet someone that isn't dazzled by his wallet.
Then, he meets struggling yoga teacher Lexi Brandon. She's weird. She's unpredictable and tends to say strange things. She lurks in the bushes and dresses in all black. She loves when people cross the street to get away from her. she's definitely not his type, but she's also the first one to ever truly see him and not just another rich, dirty Price."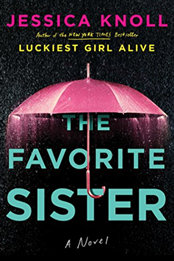 The Favorite Sister by Jessica Knoll — New Release!!
Standalone: "A blisteringly paced thriller starring two sisters who join the cast of a reality TV series. One won't make it out alive. So…who did it?
When five hyper-successful women agree to appear on a reality series set in New York City called Goal Diggers, the producers never expect the season will end in murder…
The Favorite Sister explores the invisible barriers that prevent women from rising up the ranks in today's America—and offers a scathing take on the oft-lionized bonds of sisterhood, and the relentless pressure to stay young, relevant, and salable."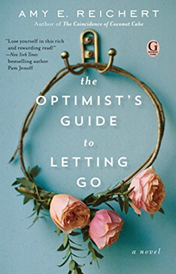 The Optimist's Guide to Letting Go by Amy E. Reichert — New Release!!
Standalone: "Three generations. Seven days. One big secret. A mother-daughter story told by three women whose time to reckon with a life-altering secret is running out.
Gina Zoberski wants to make it through one day without her fastidious mother, Lorraine, cataloguing all her faults, and her sullen teenage daughter, May, snubbing her. Too bad there's no chance of that… But when Lorraine suffers a sudden stroke, Gina stumbles upon a family secret Lorraine's kept hidden for forty years. In the face of her mother's failing health and her daughter's rebellion, this optimist might find that piecing together the truth is the push she needs to let go…"
I Have Lost My Way by Gayle Forman — New Release!!
Standalone: "A fateful accident draws three strangers together over the course of a single day: Freya who has lost her voice while recording her debut album. Harun who is making plans to run away from everyone he has ever loved. Nathaniel who has just arrived in New York City with a backpack, a desperate plan, and nothing left to lose.
As the day progresses, their secrets start to unravel and they begin to understand that the way out of their own loss might just lie in help­ing the others out of theirs… An emotionally cathartic story of losing love, finding love, and dis­covering the person you are meant to be."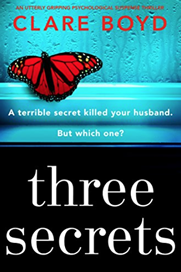 Three Secrets by Clare Boyd — New Release!!
Standalone: "A terrible secret killed her husband… but which one?
Robert kisses his wife on the head before heading out to the shop for more wine; he walks up the hill, takes a left across the footbridge and jumps to his death on the busy motorway below… Two years later, Francesca and her young daughter are leaving London for a fresh start, money is tight and Robert's mother has found them a little cottage in her village. Francesca is grateful for the help, but why does Robert's mother want to keep them so close? Does she know about what Francesca did in the hour before Robert's death?
Soon Francesca begins to suspect there was more to her husband's death than she realised, that there might be even darker secrets hiding in his past than her own… The closer gets to uncovering the truth, the more she asks: is her own life in danger now too?"
LATEST BOOK SALES
UPCOMING BOOK RELEASES
BOOKWORM STORE
WHAT KIND OF BOOKS ARE YOU LOOKING FOR?
__________________________________
Let me know if there are any other books you're loving right now too!!
LET'S STAY CONNECTED
To get these lists sent to you every week, subscribe by email.
FOLLOW THE BLOG
Facebook | Twitter | Instagram | Pinterest | BlogLovin' | Google+ | Goodreads