NEW FAVORITE – NOW LIVE: I Flipping Love You by Helena Hunting (My Review)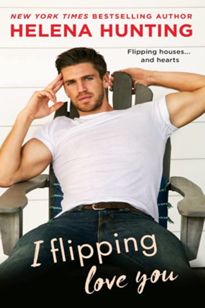 WOOHOOOOOO!!!! It's finally live! I read this romantic comedy that's described as "a love story about flipping houses, taking risks, and landing that special someone who's move-in ready" in one sitting and it was so fun!! The hero and heroine were complete opposites — the hero was sweet, swoony, and a little cocky, while the heroine was smart and sassy! While most of the book was filled with light-hearted fun flirty banter and romance, I also really liked that towards the end, it developed a bit of an angsty edge… This was a GREAT READ and it you're looking for a romance that'll make you smile, definitely grab your copy because it's JUST WENT LIVE!! Oh, and it can totally standalone!

LATEST BOOK NEWS:
It Seemed Like A Good Idea At The Time by Kylie Scott (standalone) just had its cover announced!! — "Returning home for her father's wedding was never going to be easy for Adele. If being sent away at eighteen hadn't been bad enough, the mess she left behind when she made a pass at her dad's business partner sure was. Fifteen years older than her, Pete had been her crush for as long as she could remember. But she'd misread the situation—confusing friendliness for undying love. Awkward. Add her father to the misunderstanding, and Pete was left with a broken nose and a business on the edge of ruin. The man had to be just as glad as everyone else when she left town. Seven years later, things are different. Adele is no longer a kid, but a fully grown adult more than capable of getting through the wedding and being polite. But all it takes is seeing him again to bring back those old feelings. Sometimes first loves are the truest."

The Girl He Used To Know by Tracey Garvis Graves was just announced!! It's a "compelling, hopelessly romantic novel of unconditional love."– "Annika (rhymes with Monica) Rose, is an English major at the University of Illinois. Anxious in social situations where she finds most people's behavior confusing, she'd rather be surrounded by the order and discipline of books or the quiet solitude of playing chess… Jonathan Hoffman joined the chess club and lost his first game–and his heart–to the shy and awkward, yet brilliant and beautiful Annika. He admires her ability to be true to herself, quirks and all, and accepts the challenges involved in pursuing a relationship with her… Jonathan and Annika bring out the best in each other, finding the confidence and courage within themselves to plan a future together. What follows is a tumultuous yet tender love affair that withstands everything except the unforeseen tragedy that forces them apart, shattering their connection and leaving them to navigate their lives alone. Now, a decade later, fate reunites Annika and Jonathan in Chicago. She's living the life she wanted as a librarian. He's a Wall Street whiz, recovering from a divorce and seeking a fresh start. The attraction and strong feelings they once shared are instantly rekindled, but until they confront the fears and anxieties that drove them apart, their second chance will end before it truly begins."

Nine Perfect Strangers by Lianne Moriarty was just announced!! — From #1 New York Times bestselling author Liane Moriarty, author of Big Little Lies, comes her newest novel, Nine Perfect Strangers: Could ten days at a health resort really change you forever? These nine perfect strangers are about to find out…
WEEKLY NEW RELEASES RECAP

HOT NEW RELEASES (NOW LIVE):  
DETAILED LIST: NEW RELEASES
I Flipping Love You by Helena Hunting — New Release!!
Can standalone: "She grew up with the finer things in life. Spending summers in the Hamptons was a normal occurrence for her until her parents lost everything years ago. Now she and her sister are getting their life, and finances, back on track through real estate. But when she catches the attention of a sexy stranger who snaps up every house from under her, all bets are off…
He doesn't normally demo kitchens, install dry wall, or tear apart a beautiful woman's dreams. He's just a down-on-his-luck lawyer who needed a break from the city and agreed to help his brother work on a few homes in the Hamptons. When he first meets her, the attraction is undeniable. But when they start competing for the same pieces of prime real estate, the early sparks turn into full-blown fireworks. Can these passionate rivals turn up the heat on their budding romance—without burning down the house?"
Stay With Me by Kristen Proby — New Release!!
Can standalone: "Amelia Montgomery has left her past behind her. With a career that's skyrocketing and a loving family around her, everything else is just junk in the rearview mirror. Until it's not. When she has to drop out of the public eye, her cousin offers her a new, temporary life…
Wyatt Crawford can't figure out the enigmatic beauty who's living next door. As an architect, he's usually good at looking beneath the surface—but she barely even leaves her house. Until she needs his help. When she knocks on his door, how can he resist? It isn't long before Wyatt and Amelia become more than just neighbors. But when he finally learns the truth, will the skeletons in her closet be too much for him to handle, or will he stay?"
Speakeasy by Sarina Bowen — New Release!!
Can standalone: Her: "Did you hear the one about the girl who walks into a bar and catches her live-in lover kissing someone else? No? You're the only one in town who missed it. Luckily Alec is there to wrap me up in strong arms and carry me out the door before things get too ugly. And that's not all he's good at. Our unexpected chemistry makes him the perfect rebound guy."
Him: "I should know better than to hook up with my rival's little sister, but the fiery look in her eyes really turns my crank. She needs cheering up, and I'm just the guy for the job. It's not like I'll fall in love. So this is the perfect arrangement, for both of us. Nobody would approve, but nobody has to know…"
The Wright One by K.A. Linde — New Release!!
Duet finale: "Secrets swarm all around.
My world is crumbling under the strain.
I don't know if we can survive this.
My heart is in the Wright place.
But is his?"
All Night Long by J. Kenner — New Release!!
Can standalone: With an election coming up, and an office I want to fill, it isn't the right time to get involved with a free-spirited girl with a wild streak. A girl who doesn't abide by the rules. A girl who could get me noticed in all the wrong ways.
A girl who makes me crazy … in all the right ones.
Now I'm going to have to decide: Walk the straight and narrow? Or have the hottest, wildest affair of my life with the sexiest woman I've ever known?"
Making Up by Lucy Parker — New Release!!
Can standalone: Once upon a time, she was the best [circus artist] around. Her spark vanished with her confidence, though, and reclaiming either has proved…difficult. So when she is unexpectedly thrust into the spotlight, it's exactly the push she needs. But the joy over her sudden elevation in status is cut short by a new hire on the makeup team… [He's a] complete dickhead and—in an unexpected twist—an enragingly good kisser.
To him, something about her is…different. Lovely. Beautiful, even though the pint-size, pink-haired former bane of his existence still spends most of her waking hours working to annoy him. They've barely been able to spend two minutes together for years, and now he can't get enough of her.
Screwed by Kelly Jamieson — New Release!!
Can standalone: "Cash has been in love with his best friend's wife forever. Now Callie and Beau are divorced, but she's still way off-limits. Dating her would betray his friendship with Beau. And Cash is nothing if not loyal.
Callie is starting over. The end of her marriage was just one more way she failed to live up to her wealthy family's expectations, so from now on she's not even going to try. It's time to live her life the way she wants. And she wants Cash…"
The Red Ledger 2 by Meredith Wild — New Release!!
Series: "Six years ago, Tristan Stone was everything to me. My whole heart, my future. We were unshakeable, bound tighter by any force that tried to drive us apart. Then he disappeared from my life, leaving me in tatters, broken and running away to one of the most intense cities in the world. Somehow he found me, but now nothing is the same…
Tristan claims someone wants me dead. He's scarred and dangerous, but all of that seems to melt away when we touch. I might be the only one who can give him his memories, but I want more. The lover I could never forget is trapped inside the heartless man he's become. I won't stop until I reach him. I won't stop until I find the answers he's not giving me."
The Death of Mrs. Westaway by Ruth Ware — New Release!!
Standalone: "On a day that begins like any other, Hal receives a mysterious letter bequeathing her a substantial inheritance. She realizes very quickly that the letter was sent to the wrong person—but also that the cold-reading skills she's honed as a tarot card reader might help her claim the money.
Soon, Hal finds herself at the funeral of the deceased…where it dawns on her that there is something very, very wrong about this strange situation and the inheritance at the center of it.
Full of spellbinding menace, this is an unputdownable thriller from the Agatha Christie of our time."
Part-Time Husband by Noelle Adams — New Release!!
Can standalone: "On a Wednesday afternoon, I ask Trevor Bentley to marry me. He might be the most arrogant, obnoxious man I know, but I need him to be my husband for a year.
There are reasons. He's not going to be a real husband. Just part-time. Yes, I have to live with him. And, okay, I also have to share his bed. And, sure, he's the hottest and most exciting thing to ever happen to my controlled, organized life. But still… It's only a part-time marriage. I'm not going to give him my heart. I know what I'm doing, and I'm too smart to fall for my husband. I hope."
Part-time Lover by Lauren Blakely — New Release!!
Stanalone: "I'll say this about him — he made one heck of a first impression. When I first saw the strapping man, he was doing handstands naked on a dock along the canal… so I did what any curious woman would do — I took his photo. I might have looked at the shot a few dozen times. Little did I know I'd meet him again, a year later, at a secret garden bar in the heart of the city, where I'd learn that his mind and his mouth were even more captivating. But given the way my heart had been trampled, I wanted only a simple deal — No strings. No expectations. Our arrangement worked well enough until the day I needed a lot more from him…"
Mogul by Katy Evans — New Release!!
Can standalone: "He's my most delicious secret. The hot Suit I had a one-night stand with one evening. I didn't know anything about him, not even his name. Only that we shared a taxi, and he was staying at the hotel where I worked. We met in room 301. Where he commanded not only my body but my soul. The next day he was gone and I only had a memory of him. I could still taste his kisses, feel his demanding touch. I searched for him for months. Daydreaming about him. Wondering if I'd ever find him. Until the day I find myself staring face to face with his jeweled black eyes again… He says lets keep it casual, and my heart knows that falling for this workaholic in a three-thousand-dollar suit is off the table. Because he has a secret. One that's a deal breaker for me. My Suit has a name. Ian Ford. And this is our story."
LATEST BOOK SALES
UPCOMING BOOK RELEASES
BOOKWORM STORE
WHAT KIND OF BOOKS ARE YOU LOOKING FOR?
__________________________________
Let me know if there are any other books you're loving right now too!!
LET'S STAY CONNECTED
To get these lists sent to you every week, subscribe by email.
FOLLOW THE BLOG
Facebook | Twitter | Instagram | Pinterest | BlogLovin' | Google+ | Goodreads