COVER ANNOUNCED: Free by Kristen Ashley (Chaos series #6)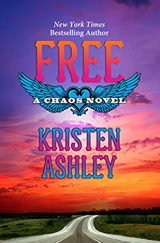 OMG! This is the final book in an amazing biker romance series! — "Through good times, bad times and times of war, Cole "Rush" Allen grew up in the Chaos Motorcycle Club. Along this journey, he watched his father, Tack, and his MC brothers fight, sweat, bleed and die to steer the Club to legitimacy. And they've got one more battle on their hands. A battle they have to win. But when Rush meets the woman who put herself right in the thick of it, he knows he has to stop at nothing to get her out. Rebel Stapleton has lost someone she loves to murder and she's the kind of woman who's going to do something about it. She puts her career on the line, and her life, to bring the man who did it to justice. That is, she does this until Rush Allen intervenes. Chaos is at war and they're about to face the ultimate showdown. They'll have to negotiate skeletons from the past, enemies becoming allies, and loved ones in the line of fire on their ride to be… Free." — Be sure to pre-order your copy and check out this full list of KA books!
Scroll down for this week's new releases list!
WEEKLY NEW RELEASES RECAP

HOT NEW RELEASES (NOW LIVE):  
DETAILED LIST: NEW RELEASES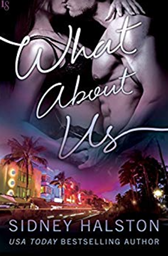 What About Us by Sidney Halston — New Release!!
Can standalone: Him: "I hate doing business in clubs. I'm here to seal a deal, not indulge in whatever hedonistic illusion they're selling. Until, through all the skin and sex on display, I see her. The girl who once filled my youthful fantasies, whose name is now synonymous with pain. Her father's lies destroyed my family, leaving me with nothing to lose. And yet I can't deny my electric response to her touch… or my urge to protect her when I see the bruise on her face."
 
Her: "Growing up, life prepared me for society galas and powerful men, not minimum-wage jobs or drunk exes with anger issues. But I'm a survivor. So here I am, practically naked, serving drinks at a nightclub. I don't mind the stares. Apparently, he does. After twelve years, we aren't exactly friends, but money is something we both understand. Something he knows I need. I'll be his personal assistant, even if it means working with the man I hate… and the man I still want."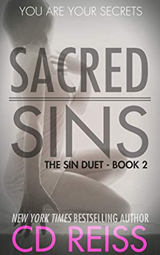 Sacred Sins by CD Reiss — New Release!!
Duet: "You know what they say about family. Blood is thicker than water. The apple doesn't fall far from the tree. A house divided cannot stand. She is the keeper of her family's secrets. Six sisters and one brother. Billions in assets. Generations of malfeasance. And one heartbreaking secret three people keep.
Margie. Her father, Declan. And Drew—the man she loves. You know what they say about secrets. Three can keep them if two are Drazens. There's never been a Drazen who went down without a fight. And there's never been one who didn't fight for love.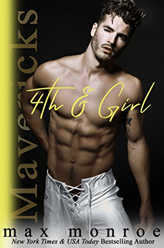 4th & Girl by Max Monroe — New Release!!
Can standalone: "I'm one of the best shutdown cornerbacks in the nation, and the New York Mavericks' first round draft pick… But professional football is on a whole other level from college, and as the new guy, I've got everything to prove. No problem. All I've got to do is focus, right? Too bad life's got other plans. 
Blond hair, long lashes, and criminal blue eyes, there's a pint-sized bombshell that I can't stop thinking about.  I don't even know her name, but she's completely screwing up my game plan. It's too late to turn back now though. I have my eye on the prize, and I won't settle for anything less."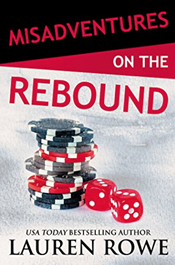 Misadventures on the Rebound by Lauren Rowe — New Release!!
Can standalone: "After getting canned from her dream job this morning and played in spectacular fashion by her boyfriend this afternoon, she is having a truly awful day. Which is why she's currently drowning her sorrows in whiskey and self-pity in a shabby bar along the route to Las Vegas.
In light of today's double whammy, she isn't sure why she's still heading in the direction of her five-year high school reunion. The only reason she'd wanted to attend the reunion in Vegas in the first place was to show the captain of the football team, the guy who took her virginity and then promptly rejected her…
But when a gorgeous stranger with sandy hair, a leather jacket, and motorcycle helmet walks into the bar, Her awful day suddenly looks a whole lot brighter…"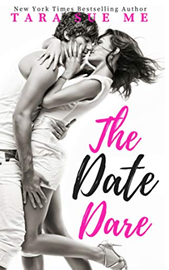 The Date Dare by Tara Sue Me — New Release!!
Standalone: "Who knew three words held such destructive power? No, not THOSE three words. I'm talking about the evil word trio [that] stole my best friend, and took away the only woman I've ever loved: I dare you.
I was six when she moved next door. By the time we were eight, we were best friends. At fifteen, I gave a classmate a black eye for calling her names. At sixteen, she talked me through asking my crush to prom. I helped her get over her first heartbreak at nineteen. Two years later, she returned the favor. It wasn't until I was twenty-nine I realized I loved her. And because I was too stupid to do anything about it, at thirty, I lost her for good on a dare."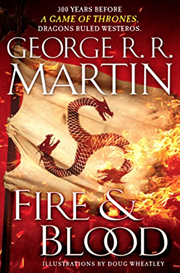 Fire & Blood: 300 Years Before A Game of Thrones by George R. R. Martin — New Release!!
"Centuries before the events of A Game of Thrones, House Targaryen—the only family of dragonlords to survive the Doom of Valyria—took up residence on Dragonstone. Fire & Blood begins their tale with the legendary Aegon the Conqueror, creator of the Iron Throne, and goes on to recount the generations of Targaryens who fought to hold that iconic seat, all the way up to the civil war that nearly tore their dynasty apart. What really happened during the Dance of the Dragons? Why was it so deadly to visit Valyria after the Doom? What were Maegor the Cruel's worst crimes? What was it like in Westeros when dragons ruled the skies? These are but a few of the questions answered in this essential chronicle…"
LATEST BOOK SALES
UPCOMING BOOK RELEASES
BOOKWORM STORE
WHAT KIND OF BOOKS ARE YOU LOOKING FOR?
__________________________________
Let me know if there are any other books you're loving right now too!!
LET'S STAY CONNECTED
To get these lists sent to you every week, subscribe by email.
FOLLOW THE BLOG
Facebook | Twitter | Instagram | Pinterest | BlogLovin' | Google+ | Goodreads