NEW RECOMMENDATION: Not Until You by Corinne Michaels (Read my Review)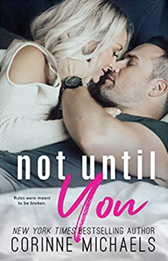 SQUEEEEEE!!!! OMG I had a big silly grin on my face when I finished reading this brand new book because the epilogue and ending were PERFECT!!!!! Not only was the hero SWEET, SEXY, SWOONY, and purely heart-melting, but the true star of this book was the heroine who was FIERY, SMART, utterly unapologetic and I loved how she just was who she was and literally did not care what anyone thought. It's just really wonderful to read a book with such a STRONG heroine!!! She was totally determined at first that marriage and babies and that whole deal wasn't in the cards for her, but then a crazy hot Brit showed up and challenged all her life plans!! I read this book in one sitting and LOVED it!!! If you're looking for something new to read, definitely TRY THIS!!!! It just went live early and can completely standalone so be sure to grab a copy!!!
WEEKLY NEW RELEASES RECAP

HOT NEW RELEASES (NOW LIVE):  
LATER WEEK RELEASES (PRE-ORDER NOW):  
DETAILED LIST: NEW RELEASES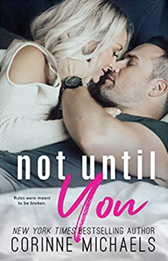 Not Until You by Corinne Michaels — New Release!!
Can standalone: "I have two rules in life: 1. No relationships, falling in love or attachments. 2. No sleeping with clients of my interior design firm. Since the last guy turned out to be married, they've been easy to follow. Until him.
Callum Huxley is a ridiculously sexy Brit, and the connection we have the moment our eyes lock scares the ever-loving hell out of me. Thank God I came to my senses before going back to his hotel where I would've ended up naked, panting, and unable to forget him.
Thinking I walked away from that night unscathed was stupid. Sure enough, at the biggest meeting of my career waits the CEO —him. It might be the most embarrassing moment of my professional life. And breaking my no-client rule might just be the hottest moment of my personal life.
Learning to trust has never felt so good, but falling has never hurt so bad."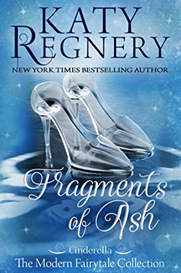 Fragments of Ash by Katy Regnery — New Release!!
Can standalone: "My name is Ashley Ellis… I was thirteen years old when my mother – retired supermodel, Tig – married Mosier Răumann, who was twice her age and the head of the Răumann crime family.
When I turned eighteen, my mother mysteriously died. Only then did I discover the dark plans my stepfather had in store for me all along; the debauched "work" he expected me to do.
With the help of my godfather, Gus, I have escaped from Mosier's clutches, but his twin sons and henchmen have been tasked with hunting me down. And they will stop at nothing to return my virgin body to their father…dead or alive."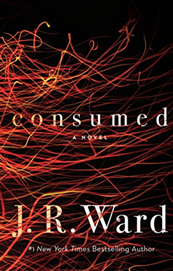 Consumed by J.R. Ward — New Release!!
"Anne Ashburn is a woman consumed… By her bitter family legacy, by her scorched career as a firefighter, by her obsession with department bad-boy Danny McGuire, and by a new case that pits her against a fiery killer.
Strong-willed Anne was fearless and loved the thrill of fighting fires, pushing herself to be the best. But when one risky decision at a warehouse fire changes her life forever, Anne must reinvent not only her job, but her whole self.
Shattered and demoralized, Anne finds her new career as an arson investigator a pale substitute for the adrenaline-fueled life she left behind. She doesn't believe she will ever feel that same all-consuming passion for her job again–until she encounters a string of suspicious fires setting her beloved city ablaze.
Danny McGuire is a premiere fireman, best in the county, but in the midst of a personal meltdown. Danny is taking risks like never before and seems to have a death wish until he teams up with Anne to find the fire starter. But Danny may be more than a distraction, and as Anne narrows in on her target, the arsonist begins to target her.
From the creator of the bestselling Black Dagger Brotherhood, get ready for a new band of brothers. And a firestorm."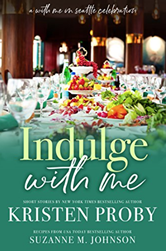 Indulge With Me by Kristen Proby & Suzanne M. Johnson — New Release!!
The beloved Montgomery Family, from New York Times Bestselling author Kristen Proby's With Me In Seattle series, is big, and it just keeps growing! There are parties and celebrations taking place at every turn, and we are delighted to invite you to all of the festivities!
Whether it's a brunch hosted by Nate and Jules McKenna, or a fancy dinner party hosted by Luke and Natalie Williams, you won't want to miss all we have in store for you! Each all-new story will feature shenanigans, laughter, love and lots of food. And let's not forget cocktails!
Kristen, along with USA Today Bestselling author Suzanne Johnson, have teamed up to bring you this cookbook, celebrating family, love, and absolutely delicious foods, perfect for any occasion. So sit back, or march straight into the kitchen, and get ready to indulge. We hope you're hungry!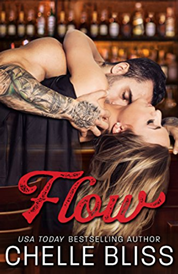 Flow by Chelle Bliss — New Release!!
Can standalone: "The moment I looked into his eyes, I knew I was in trouble. 
The second I heard his name, I knew I should stay away. 
Our fathers were mortal enemies—Chicago crime bosses from rival families. But that didn't stop him from pursuing me.  Being together was dangerous, reckless, and totally hot. He wanted me. I wanted him.
What could possibly go wrong?"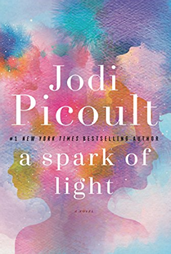 A Spark of Light by Jodi Picoult — New Release!!
Standalone: "The warm fall day starts like any other at a women's reproductive health services clinic—its staff offering care to anyone who passes through its doors. Then, in late morning, a desperate and distraught gunman bursts in and opens fire, taking all inside hostage.
After rushing to the scene, Hugh McElroy, a police hostage negotiator, sets up a perimeter and begins making a plan to communicate with the gunman. As his phone vibrates with incoming text messages he glances at it and, to his horror, finds out that his fifteen-year-old daughter, Wren, is inside the clinic.
But Wren is not alone. She will share the next and tensest few hours of her young life with a cast of unforgettable characters: A nurse who calms her own panic in order to save the life of a wounded woman. A doctor who does his work not in spite of his faith but because of it, and who will find that faith tested as never before. A pro-life protester, disguised as a patient, who now stands in the cross hairs of the same rage she herself has felt. A young woman who has come to terminate her pregnancy. And the disturbed individual himself, vowing to be heard.
Told in a daring and enthralling narrative structure that counts backward through the hours of the standoff, this is a story that traces its way back to what brought each of these very different individuals to the same place on this fateful day.
One of the most fearless writers of our time tackles a complicated issue in this gripping and nuanced novel. How do we balance the rights of pregnant women with the rights of the unborn they carry? What does it mean to be a good parent? This book will inspire debate, conversation . . . and, hopefully, understanding."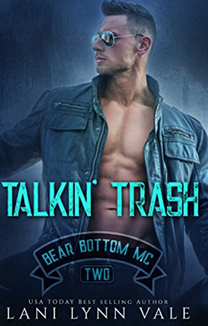 Talkin' Trash by Lani Lynn Vale — New Release!!
Can standalone: "He has two very important things on his mind—professional football and his motorcycle club. What he does not have on his mind is the woman that drives him crazy and makes him want to do stupid things, like throw caution to the wind. Nope, not him. At least, that's the lie he tells everyone. In reality, every time her name is mentioned, he squirms. She's everything that he wants, wrapped up in a cute little package that is stamped 'hands freakin' off.' She's four years younger than him, in school to be a doctor, and thinks football is stupid. Even more, they get along like oil and water. There's not a single second that they're in each other's presence that they're not at each other's throats. But all it takes is hearing that she's in trouble for him to drop every single thing—football and MC duties alike—and head to her side. A side that he'll remain at until they either kill each other, or finally give into the heat between them…"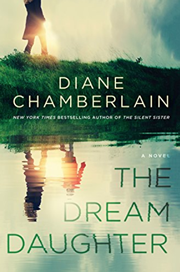 The Dream Daughter by Diane Chamberlain — New Release!!
Standalone: "A thrilling, mind-bending novel about one mother's journey to save her child. — When a young woman widowed by the Vietnam war, receives the news that her unborn baby girl has a heart defect, she is devastated. It is 1970, and she is told that nothing can be done to help her child. But her brother-in-law, a physicist with a mysterious past, tells her that perhaps there is a way to save her baby… What he suggests is something that will shatter every preconceived notion that she has. Something that will require a kind of strength and courage she never knew existed. Something that will mean an unimaginable leap of faith on her part. And all for the love of her unborn child."
LATEST BOOK SALES
UPCOMING BOOK RELEASES
BOOKWORM STORE
WHAT KIND OF BOOKS ARE YOU LOOKING FOR?
__________________________________
Let me know if there are any other books you're loving right now too!!
LET'S STAY CONNECTED
To get these lists sent to you every week, subscribe by email.
FOLLOW THE BLOG
Facebook | Twitter | Instagram | Pinterest | BlogLovin' | Google+ | Goodreads