NEW RECOMMENDATION: Without Merit: A Novel by Colleen Hoover (Read my Review)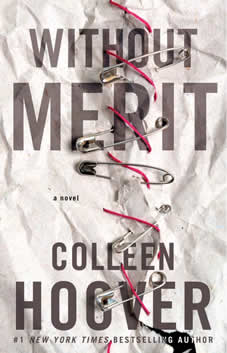 It's finally here!!! Colleen Hoover has been one of my all-time favorite authors for many years and this this completely UNLIKE anything else she's written and yet I also loved it! The story takes you by surprise. It's slow building with huge impact. The most important thing to remember when reading this book is that PERSPECTIVE changes everything. The story shows you that. It doesn't tell. It show you. It's real, raw, and painful. And yet also incredibly heartwarming and healing. It has an incredibly STRONG, POWERFUL MESSAGE that is relatable and relevant. It's a book I'd want every teen to read, but it's a book everyone can enjoy. It handles tough subjects with grace and goes right into the dark, but brings you back and leaves you smiling. This is a standalone so be sure to grab a copy as it's now LIVE!

BOOKWORM NEWS:
Holding Onto Forever by Heidi McLaughlin was just announced! This is a spin-off of Forever My Girl about the son of that couple! — The road for him has been carved out for him, long before he knew who his father was. Making sure he worked hard to deserve the opportunities provided to him, he is where he's dreamed of being [as] quarterback. Life can't get much better. Except that standing in his path is his life-long friend and the one woman he can never have. She dreams of having a successful sports journalism career once she graduates college. After being given the assignment to cover a professional game from the sidelines, she believes that everything is going to plan. Until one fateful night changes her life…
Dignity by Jay Crownover was just announced! It can standalone and sounds amazing! — "Looks can be deceiving… I was hardwired to be a thinker, not a fighter. I should have chosen to use my brain and talents to be one of the good guys, a hero, a man with dignity and worth. I turned my back on dignity and sold my soul to the highest bidder. I couldn't figure out how to help myself, so there was zero chance I knew how to save someone else. That someone else was her… I shut the door in her face, but now she's gone…vanished…disappeared without a trace. It took less than a second for me to realize that I wanted her back. When a woman comes along that melts all the frozen things you're made of; you'll do anything you have to, to bring her home." — First standalone in Honor: The Breaking Point (which I loved and is also ON SALE) so be sure to grab that and pre-order Dignity!! You can however read either book alone if you choose.

Bountiful by Sarina Bowen was just announced! It's the latest standalone in the True North series! A surprise pregnancy with a hockey star romance! — "Once upon a time a cocky, copper-haired tourist sauntered into her bar. And even though she knew better, she indulged in a cure for the small-town blues. It was supposed to be an uncomplicated fling—a few sizzling weeks before he went back to his life, and she moved on. Until an accidental pregnancy changed her life. Two years later, she's made peace with the notion that he will never be found. Until one day when he walks into her coffee shop, leveling her with the same hot smile that always renders her defenseless…
WEEKLY NEW RELEASES RECAP
NEW RELEASES (NOW LIVE):  
LATER WEEK RELEASES (PRE-ORDER NOW):  
DETAILED LIST: NEW RELEASES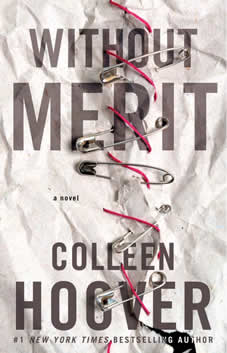 Without Merit: A Novel by Colleen Hoover — New Release!!
TOP FAVORITE! Standalone: "Not every mistake deserves a consequence. Sometimes the only thing it deserves is forgiveness."
"The Voss family is anything but normal. They live in a repurposed church… the mother lives in the basement, the father is married to the mother's former nurse, the little half-brother isn't allowed to do or eat anything fun, and the eldest siblings are irritatingly perfect. Then, there's Merit.
Merit Voss collects trophies she hasn't earned and secrets her family forces her to keep. While browsing the local antiques shop for her next trophy, she finds Sagan. His wit and unapologetic idealism disarm and spark renewed life into her—until she discovers that he's completely unavailable. Merit retreats deeper into herself, watching her family from the sidelines, when she learns a secret that no trophy in the world can fix.
Fed up with the lies, Merit decides to shatter the happy family illusion that she's never been a part of before leaving them behind for good. When her escape plan fails, Merit is forced to deal with the staggering consequences of telling the truth and losing the one boy she loves…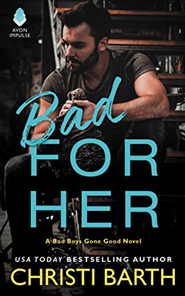 Bad For Her by Christi Barth — New Release!!
Can standalone: She loves the tight-knit community of her tiny town. But she's not a fan of the limited dating options… until a deliciously handsome man she's never seen before stops to help her fix a flat tire.
As an ex-mobster, he's no saint. But he's trying to turn over a new leaf. Although he probably shouldn't kiss the hot doctor on the side of the highway. Or suggest a no-strings fling with a woman he has no business pursuing. His life is too complicated for love—his new identity doesn't fit him at all and there's a U.S. Marshal watching his every move. He can't tell her the truth… but their chemistry is scorching and being good doesn't mean he can't be a little bad…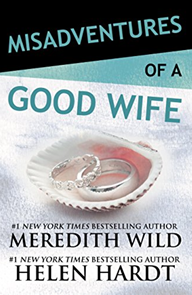 Misadventures of a Good Wife by Meredith Wild & Helen Hardt — New Release!!
Can standalone: They had the perfect marriage. But when his work takes him overseas and his plane goes down, their happily-ever-after goes down with it.
A year later, she is still trying to cope. She's tied to her grief as tightly as she was bound to him. When her sister-in-law coaxes her into an extended girls' trip—three weeks on a remote island—she agrees. At a villa as secluded as the island, they're the only people in sight, until she sees a ghost walking toward them on the beach. Her husband is alive…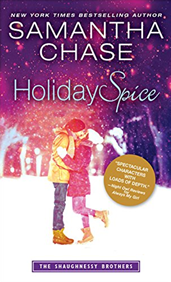 Holiday Spice by Samantha Chase — New Release!!
Can standalone: "She has gotten used to her overbearing brothers chasing away any man she wants to date. But a chance meeting with a brooding and deliciously handsome artist is about to make this holiday season one to remember.
There's only one thing he loves more than his woodcarving: solitude. Then he gets snowed in with her in his cozy cabin in the woods, and their heated feelings begin to melt the icy barrier between them… With his need for privacy and her love of family and social life, will opposites still attract once the snow clears and the holiday festivities come to an end?"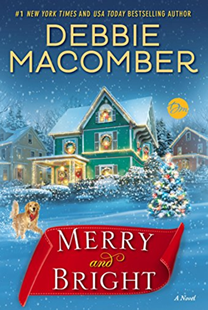 Merry and Bright by Debbie Macomber — New Release!!
Standalone: Merry Knight is pretty busy these days. She's taking care of her family, baking cookies, decorating for the holidays, and hoping to stay out of the crosshairs of her stressed and by-the-book boss at the consulting firm where she temps. Her own social life is the last thing she has in mind, much less a man. Without her knowledge, Merry's well-meaning mom and brother create an online dating profile for her—minus her photo—and the matches start rolling in. Initially, Merry is incredulous, but she reluctantly decides to give it a whirl.
Soon Merry finds herself chatting with a charming stranger, a man with similar interests and an unmistakably kind soul. Their online exchanges become the brightest part of her day. But meeting face-to-face is altogether different, and her special friend is the last person Merry expects—or desires. Still, sometimes hearts can see what our eyes cannot. In this satisfying seasonal tale, unanticipated love is only a click away.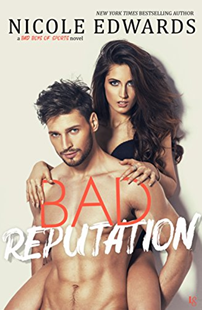 Bad Reputation by Nicole Edwards — New Release!!
Can standalone: Meet the most wanted players in sports…
They call me the bad boy of hockey. Opponents curse me. Fans scream my name—in the arena and in other, much more private places. Penalties or not, I'm not afraid to dish out a little pain. But pleasure? That's my weakness. And no one knows it better than my best friend. I'd have to be blind not to notice her. So when she invites me along on a trip to Vegas, my curiosity isn't the only thing that's aroused… but after a week, I might never want to go back to the real world.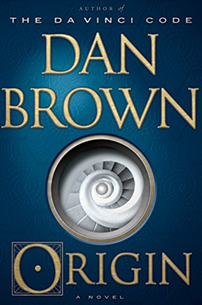 Origin: A Novel by Dan Brown — New Release!!
Can standalone: "Whoever You Are. Whatever You Believe. Everything Is About To Change. The stunningly inventive new novel from Dan Brown.
Robert Langdon, Harvard professor of symbology and religious iconology, arrives at the ultramodern Guggenheim Museum Bilbao to attend a major announcement—the unveiling of a discovery that "will change the face of science forever." The evening's host is Edmond Kirsch, a forty-year-old billionaire and futurist whose dazzling high-tech inventions and audacious predictions have made him a renowned global figure. Kirsch, who was one of Langdon's first students at Harvard two decades earlier, is about to reveal an astonishing breakthrough… one that will answer two of the fundamental questions of human existence.
But the meticulously orchestrated evening suddenly erupts into chaos, and Kirsch's precious discovery teeters on the brink of being lost forever. Reeling and facing an imminent threat, Langdon is forced into a desperate bid to escape Bilbao. With him is Ambra Vidal, the elegant museum director who worked with Kirsch to stage the provocative event. Together they flee to Barcelona on a perilous quest to locate a cryptic password that will unlock Kirsch's secret…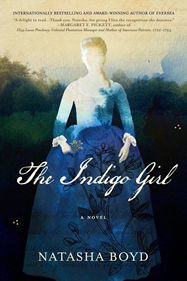 The Indigo Girl by Natasha Boyd — New Release!!
Standalone: "A deeply-researched and powerfully-written work of historical fiction, based on the untold story of Eliza Lucas, an extraordinary sixteen-year-old girl in Colonial-era South Carolina, whose actions were before their time: the story of the indigo girl.
In 1739, bright and determined sixteen-year-old Eliza Lucas is charged with keeping her family's struggling plantations afloat, in her father's absence. Learning of the high value of indigo, Eliza becomes determined to learn the secret of growing the enigmatic crop, believing it to be her family's salvation, but everyone tells Eliza growing indigo in the region is impossible. Thwarted at nearly every turn, even by her own family, Eliza finds her only allies in an aging horticulturalist, an older and married gentleman lawyer, and a slave with whom she strikes a dangerous deal: teach her the intricate thousand-year-old secret process of making indigo dye and in return—against the laws of the day—she will teach the slaves to read. So develops an incredible story of romance, intrigue, hidden friendships, threats, ambition, betrayal, and sacrifice…"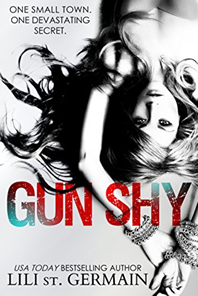 Gun Shy by Lili St. Germain — New Release!!
Standalone: "In the middle of a fierce snowstorm, a teenage girl disappears without a trace. The second girl in nine years. Identical cases. Identical conditions. Only last time, the girl was found. Dead, stuffed in a well beside the creek that feeds the town's water supply. The killer was never found.
As the small town mobilizes and searches for newly vanished Jennifer Thomas, one suspect comes to the fore. But did he do it? Or is there something else at play? Something nobody could have anticipated?"
LATEST BOOK SALES
UPCOMING BOOK RELEASES
BOOKWORM STORE
WHAT KIND OF BOOKS ARE YOU LOOKING FOR?
__________________________________
Let me know if there are any other books you're loving right now too!!
LET'S STAY CONNECTED
To get these lists sent to you every week, subscribe by email.
FOLLOW THE BLOG
Facebook | Twitter | Instagram | Pinterest | BlogLovin' | Google+ | Goodreads