NEW TOP RECOMMENDATION: Cuffed (Everyday Heroes) by K. Bromberg (Read my Review)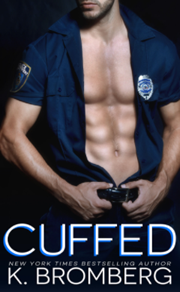 YOU GUYS!!! I read this AMAZING new book in one non-stop sitting!!!! Honestly, I kind of expected it to be more of a light hearted storyline (not even sure why) but HOLY FEELS!!!!!! Yes, it was hot and sexy and had some great banter but the EMOTIONAL depth took me by surprise and I absolutely LOVED IT!!!!!! The heroine was strong and feisty and OH-MY-SWOON this hero will straight-up MELT YOUR HEART. He's a hero's hero. A good guy. A protector. They'd been best friends as children but when a nightmare came into her life, they'd been torn apart. Years later when he sees her again, he knows he'll do anything to have her back in his life. This is a ROMANCE WITH HEART!!! It's definitely a new TOP FAVORITE!!! It can standalone and has an epilogue! Be sure to grab your copy!

JUST ANNOUNCED: More Than Words by Mia Sheridan (standalone)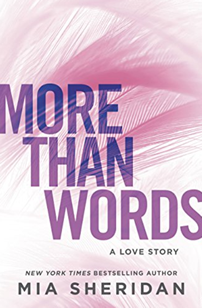 WOW!! This brand new standalone by Mia Sheridan, one of my favorite authors, was just announced!! — "The moment she met Callen Hayes, eleven-year-old Jessica Creswell knew he was a broken prince. Her prince. They became each other's refuge, a safe and magical place far from their troubled lives. Until the day Callen kissed her—Jessica's first real, dreamy kiss—and then disappeared from her life without a word… Years later, everyone knows who Callen Hayes is. Famous composer. Infamous bad boy. What no one knows is that Callen's music is now locked deep inside, trapped behind his own inner demons.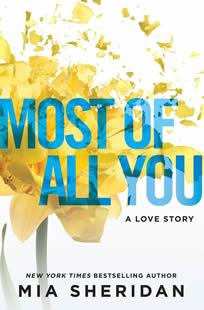 It's only when he withdraws to France to drink his way through the darkness that Callen stumbles into the one person who makes the music return. Jessica. His Jessie. And she still tastes of fresh, sweet innocence… even as she sets his blood on fire. But they don't belong in each other's worlds anymore. There are too many mistakes. Too many secrets. Too many lies. All they have is that instinctive longing, that need—and something that looks dangerously like love." — Sounds amazing! Be sure to pre-order a copy! And if you haven't read her other new release standalone Most Of All You: A Love Story (my review) yet, I highly recommend checking it out!! It's a beautiful, healing, slow-burning romance!

JUST ANNOUNCED: The Bitterroot Inn by Devney Perry (can standalone)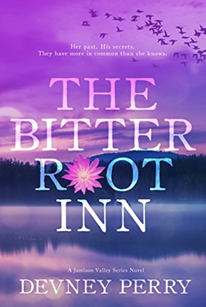 OMG. OMG. OMG. THIS IS WORTH ALL THE SHOUTY CAPS BECAUSE THIS NEW BOOK WAS FINALLY ANNOUNCED AND I'M SO EXCITED FOR IT!! But seriously though. The Bitterroot Inn will be the last standalone in the Jamison Valley series which is quite literally MY FAVORITE SERIES OF THE YEAR!! Each book is about a different couple so you can read them separately but they're all interconnected and EVERY ONE IS AMAZING!!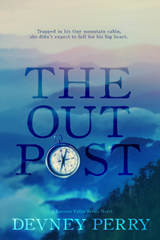 Seriously. Shouty caps amazing. They're GORGEOUS, SEXY, ADDICTIVE Alpha romances that are always full of heart and deep feels!! I can't recommend them highly enough! This one is about a single mom: "She happily content with the life she's built for herself and her young son… But when a handsome stranger walks into the lobby of her motel, her simple life is swept up in a wave of affection for his gentle heart…" — If you haven't read them yet, here's the order: The Coppersmith Farmhouse, The Clover Chapel, and The Lucky Heart are all available. Then, The Outpost releases very soon, and now The Bitterroot Inn is up for pre-order. SQUEEEEEEE!!!

MORE BOOKWORM NEWS:

KRISTEN ASHLEY AUDIOBOOK DISCOUNTS: If you already own the Rock Chick eBooks, the audiobooks are priced at only $1.99 each which is a pretty fantastic deal!!! 😀
WEEKLY NEW RELEASES RECAP
DETAILED LIST: NEW RELEASES
Cuffed by K. Bromberg — New Release!!
TOP FAVORITE! Standalone: "I hate you. I never want to see you again." He's not the reason I moved back — at least that's what I tell myself. Yet, those parting words I said to him back in third grade, ring in my ears… I thought time had healed my wounds. I was wrong. Nothing could have prepared me for how I felt when I finally saw him again.
Twenty years does a lot to turn a boy into a man. One who hits all my buttons—sexy, funny, attractive, and a police officer. But he's off limits because he knows too much about my past. But I'm drawn to him. That damn uniform of his doesn't hurt either. It'll be my downfall. I know it. What's one night of sex going to hurt… right?
Move the Stars by Jessica Hawkins — New Release!!
Series finale: "When I close my eyes, I can no longer see her. The decisions I made were to push her in the right direction–away from me. But now that she's gone, would I have made those same choices?
I'd walked away like I was supposed to. I'd kept my distance. I'd bent over backward to keep her pure, but she's no longer that girl, and I don't know if I can stay away anymore. I only know I don't want to. She's still everything I want and nothing I should ever have, but if anyone can move the stars, it's her…
The Final Fight by JB Salsbury — New Release!!
Can standalone: "On a weekend visit to Las Vegas, Marine Braeden Daniels meets a woman who challenges him in ways he can't deny. The best part is she wants what he wants. No strings. No feelings. Just fun…
A few stolen weekends and neither can deny the feelings quickly growing between them. But the obstacles that keep them apart become more devastating when the Marine Corps calls him away for a six-month deployment… It's only six months. What could possibly happen?"
Hard Wood by Lauren Blakely — New Release!!
Standalone: Women often say a good man is hard to find. And a hard man is even better. That's why I'm quite a catch — good, hard, loaded, and wait for it… I'm ready to settle down too. But the woman I want to pitch my tent with lives clear across the country. Neither of us wants to get lost in those woods. All I have to do is resist her for the week she's in town. I try. I swear I try. But yeah, that doesn't work out.
And after one fantastic night, I'm ready to give her years of nights under the stars. What's a few thousand miles when love's involved? But there's a hitch in my plans — she just hired my adventure tour company. If there's one thing I'm committed to, it's running a squeaky clean business. Number one on my list of iron-clad rules?
Falling Fast by Aurora Rose Reynolds — New Release!!
Can standalone: "He's relieved to be back home. After a year of rehabilitation, losing his career as a Marine along with his fiancé, he's had to learn quickly what's really important. He grew up wanting to serve his country. Managing his parents' biker bar was never part of his plan, but after meeting her, he's beginning to think that's exactly where he's meant to be.
After weeks of sidestepping him, things get out of hand, and before she knows what's happening, she's spending her nights in his bed and her mornings in his kitchen. And as he cleans out drawers and makes room in his closet, she starts to wonder if she's falling too fast.
Alpha Mail by Brenda Rothert — New Release!!
Standalone: "She knows her alpha males. 
They brood. They growl. They love the word "mine".
After spending her early twenties in and out of relationships with alphas, she used her knowledge to found a booming business that allows women to sign up for emails, letters, and texts from their own brooding, red-blooded man. [But then] a mysterious man starts messaging her about the true nature of an alpha. She's got it all wrong, he says, and he's willing to show her how a real man makes women respond…"
Acquisition by Chelle Bliss — New Release!!
First in duet: A one-night stand with a handsome stranger wasn't a problem—until he tries to steal her company.
Ambitious, high-powered CEO Lauren Bradley is one press release away from catapulting her company to new heights. Rival CEO, Antonio Forte is arrogant, controlling, and sexy. She should know, since he's a one-night stand she thought she'd never see again. He wants to take over more than her company, he wants her as part of the Acquisition.
Let the games begin…
A Little Too Late by Staci Hart — New Release!!
Standalone: I wasn't supposed to fall in love with the nanny.
When my wife left, she took the illusion of happiness with her, and I've been caught in a free fall ever since. For nine long months, I've been fighting to figure out how to be a single dad, how to be alone. For nine long months, I've been failing… When she walked through the door, I took my first breath since I'd found myself on my own. She slipped into our lives effortlessly, showing me what I've been missing all these years. She was only supposed to be the nanny, but she's so much more…
Tainted Butterfly by Terri Anne Browning — New Release!!
Can standalone: We have a history.
His childhood was full of darkness and all I have ever wanted was to give him the light. Now he puts that darkness into his music, and protecting the girl who has always worshiped him.
But time changes people. It has changed me. I'm no longer the little caterpillar he has always called me. I know he needs me—I need him too. Now I have to make a choice… Stay and pretend like he hasn't eviscerated my heart. Or let go of him completely.
London, Can You Wait? by Jacquelyn Middleton — New Release!!
She loves him. He loves her. But is love enough?
Since moving to London from the US, she seems to have it all: a coveted job writing for the theatre, supportive friends, and the man of her dreams gorgeous Irish actor, Mark Keegan. But in the year since the acclaimed debut of her play, their lives have been turned upside down.
Thanks to his role on a hit TV show, he is catapulted to stardom. She couldn't be happier until her boyfriend's popularity and insatiable drive to succeed means they're apart more than they're together. Forced to share him with showbiz heavy-hitters, intrusive press, and unrelenting fangirls, her hopes for a stable and committed life with him start to fade [which] make her wonder: how much more can she bend before she breaks?
Go to Hail by Lani Lynn Vale — New Release!!
Can standalone: Everybody has problems. He has so many problems that he finds it hard to breathe sometimes. He spends five years catering to his ex-wife's every want and need—all to make it possible to continue to see his child.
He isn't supposed to fall in love with a woman, but he does. He isn't supposed to find someone that is willing to put up with his ex-wife's crazy antics, but he has. He isn't supposed to be happy, but he is… She's done everything in her power to keep everyone happy, but the more she tries, the harder his ex-wife pushes. Until one day, there's nothing left to push. But he fights back…
LATEST BOOK SALES
UPCOMING BOOK RELEASES
BOOKWORM STORE
WHAT KIND OF BOOKS ARE YOU LOOKING FOR?
__________________________________
Let me know if there are any other books you're loving right now too!!
LET'S STAY CONNECTED
To get these lists sent to you every week, subscribe by email.
FOLLOW THE BLOG
Facebook | Twitter | Instagram | Pinterest | BlogLovin' | Google+ | Goodreads