JUST ANNOUNCED: Letters To Molly by Devney Perry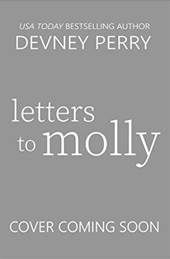 OMG!!!! Letters To Molly was just announced and I CAN'T WAIT for it because I have literally loved EVERY SINGLE BOOK this author has ever written!!! This is a standalone novel, interconnected with The Birthday List (my review) and it sounds amazing! — "Molly and Finn Alcott had the picture-perfect marriage. With two gorgeous children, a lovely home and their own business, they were the couple others aspired to be. But when news of their divorce spreads through town like wildfire, it sends their beautiful image up in flames.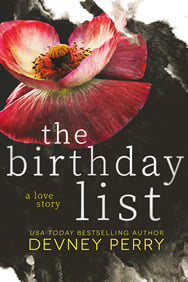 Molly spends years mending her broken heart. She finds joy in a life centered around her kids and career. Her happiness has a different picture now. Then one day, she finds a letter in her mailbox. Written in Finn's handwriting, dated over fifteen years ago, it's a letter he wrote Molly after their first date. Week after week, Finn's letters appear. Each marks a date in their history. Each holds the confession of the man who still owns Molly's heart. Each heals a wound from their past. It's just too bad Finn isn't the one sending them…" — Be sure to pre-order a copy!! And if you want something to read now, grab a copy of The Birthday List!!! These are both standalone novels about different couples!

RECENTLY ANNOUNCED: Tinsel: A Lark Cove Novel by Devney Perry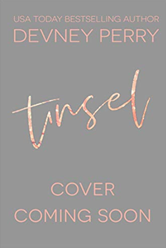 AHHH!!!! *HAPPY DANCE* This will be the final standalone in the Lark Cove series which I have LOOOVED every book of!! — "Sofia Kendrick has always cherished her tiara. As the youngest daughter of a wealthy New York family, she's lived the life of an American princess. But after two scandalous divorces and a breakup smear her name across the society rags, the shine from her crown has dulled. People call her superficial, even gaudy.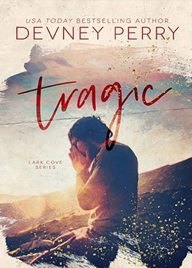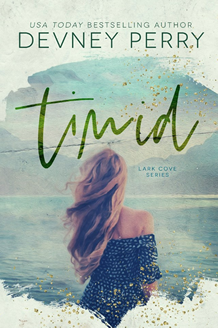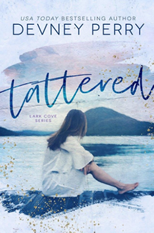 She's nothing more than tinsel. Desperate for escape and starving for peace, Sofia heads to Montana for a holiday weekend with her brother. But she doesn't get the relaxing vacation she planned. Instead, she's put to work in a bar alongside Dakota Magee—a man who does not want her help. A man who is set on teaching her a few lessons about real life and hard work. But Sofia has a couple of life lessons of her own to teach. Like how to fall in love." — — Be sure to read Tattered (AMAZING!!) and Timid (also AMAZING!!) and pre-order Tragic (CAN'T WAIT!!) and now you can pre-order Tinsel (LAST ONE!!) too!!
WEEKLY NEW RELEASES RECAP

HOT NEW RELEASES (NOW LIVE):  
DETAILED LIST: NEW RELEASES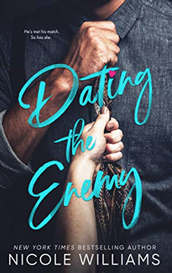 Dating the Enemy by Nicole Williams — New Release!!
Standalone: "She believes in true love and soul mates. He believes love is a term humanity has assigned to the primal instinct to procreate… The two writers couldn't be more polarized on relationships. They're professional rivals, and philosophical antagonists… For eight years, their battles have been fought with words and ink. That changes when they apply for the same position and find themselves face-to-face for the first time…
In lieu of competing for the promotion traditional ways, the two writers are presented with playing the leading roles in a social experiment unlike any before. Can a person be tricked into falling in love? She knows the answer. So does he…
Agreeing to the terms, the two set out on a three-month dating experiment, live-streamed for the world to watch. All she has to do to win is not fall in love with the narcissistic brute. All he has to do is get the starry-eyed dreamer to fall in love with him…
The answer is one neither of them saw coming."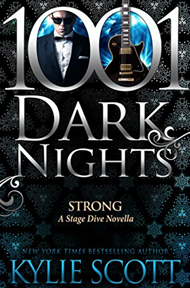 Strong by Kylie Scott — New Release!!
Can standalone: "As head of security to Stage Dive, one of the biggest rock bands in the world, he has plenty of experience dealing with trouble. But she just might be the worst thing he's ever encountered. The beautiful troublemaker claims to have reformed, but he knows better… Unfortunately, it's not so easy to make his heart fall into line.
She had her sights on the seriously built bodyguard for years. Quiet and conservative, he's not even remotely her type. So why the hell can't she get him out of her mind? There's more to her than the party-girl of previous years, however. Maybe it's time to let him in on that fact and deal with this thing between them."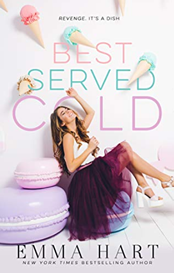 Best Served Cold by Emma Hart — New Release!!
Standalone: "Revenge is a dish best served cold. Which is a real problem when the attraction runs red-hot.
Trust me. I know. The only reason I decided to renovate my family's ice-cream store was to serve up a sundae full of revenge for my a-hole ex who opened an ice-cream store right next to mine. It was supposed to be simple.  Renovate. Reopen. Put his peachy butt out of business. Until he decided to get under my skin—and broke my toe.  Now, I'm stuck with him in my store every day, helping me renovate. But he's also in my head, and I'm spending a little too much time up against his abs.
Not that it's the worst place to be. 
But it doesn't change anything.
I still hate him, and I'm still going to get my revenge.
Right?"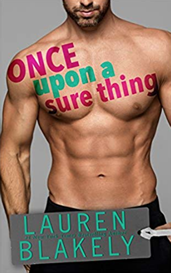 Once Upon A Sure Thing by Lauren Blakely — New Release!!
Can standalone: "It's so easy being best friends with a gorgeous, talented, charming guy." Said no woman ever. Except me.
My friendship with Miller is a sure thing — he's my plus one, my emergency contact, and my shoulder to lean on. He's also been by my side helping me raise one helluva awesome kid who's the center of my world.
Nothing will change our easy breezy friendship. Until I have the bright idea to convince him to start a new band with me.
Trouble is, our sizzling chemistry in the recording studio is getting harder to ignore, no matter how risky it might be."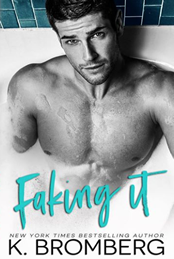 Faking It by K. Bromberg — New Release!!
Standalone (audiobook): "He mistook me for his dog walker. It shouldn't surprise me that the man with a suit more expensive than my rent would assume that I was there to serve him. The positive? I put him in his place. The negative? I missed my job interview because of it.
Now I find out he's a rich entrepreneur, and he wants to make up for tanking my interview. Yes, he's impossibly hot – but he's also an arrogant jackass—so … no thanks.
But after a little white lie I tell spirals out of control, I'm somehow offered the chance to play his girlfriend to help promote his new dating website – and the best part? He can't say no because he'll get caught in his lie too.
Little did I know this would entail sharing a tour bus with him for the next few months. The fact that the bus has just one bed isn't the most ideal of circumstances, but this spokesperson gig might be the kick in the pants my career needs, so why not take a chance?
Famous last words.
Now I'm crisscrossing the country–and sharing that bed—with the one guy I can't stand. And even worse, my traitorous body is wondering at every turn what it's like to be down under the gorgeous Australian. But as the miles unfurl, so does our passion…and if I'm not careful, I might end up believing that fairytales really do come true."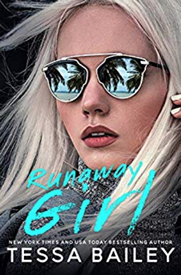 Runaway Girl by Tessa Bailey — New Release!!
Can standalone: "It's her big day. Her dream wedding. And she's outta here. One moment. A chance meeting of gazes through the church window pane with someone familiar who radiates intrigue. Independence. It's the final push she needs to realize…she's boring. A blonde, cookie cutter, well mannered trophy wife-to-be. How can she expect to lead a fulfilling married life when she's never lived? 
Special Forces diver Jason Bristow needs a beauty pageant coach. Not for himself—although the tattooed bruiser could definitely use some charm. For his little sister who he has returned to raise. When a beautiful southern debutante lands on his doorstep, she awakens a hunger that won't be ignored. If only she wasn't planning on winning back the ex-fiancé she left at the altar…"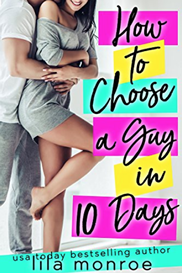 How to Choose a Guy in 10 Days by Lila Monroe — New Release!!
Can standalone: "Stylist Gemma Jones is competing for a once-in-a-lifetime promotion. All she has to do is take some fashion-backward guy from geek to GQ-worthy. The only problem? The man in question is her hairy manwhore of a next-door neighbor. AKA Bigfoot.
Zach Morrison has zero interest in being her makeover mannequin. Sure, it's fun getting his smart-mouthed neighbor all riled up, but after cashing out of his tech start-up and going through an ugly break-up, he's taking a permanent vacation. If he wants to wear sweatpants and sleep on a mattress in the corner of an empty apartment—
OK. Maybe he needs a little push in the right direction. But as she races the clock to win her bet, she finds that Bigfoot's been hiding a few things under his baggy flannel shirts. Like abs of steel, and a surprisingly big…
Heart. He has a big heart.
Soon, sparks are flying between this unlikely couple, but can he embrace a fresh start – however manscaped it might be? And will she beat out her Instabitch rival for the top spot – and keep the truth about their bet from him?"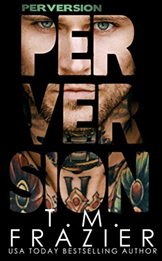 Perversion by T.M. Frazier — New Release!!
Series: "Love is supposed to be a fairy tale.
Ours is a death wish.
I'm the executioner for the Bedlam Brotherhood.  She's a con artist working for my greatest enemy.
I use her. 
She manipulates me.
We find ourselves on opposite sides of a bloody war.
My heart and head tell me I have to stay away. 
My lust for her doesn't give a sh*t.
Nothing's fair in love and gang war."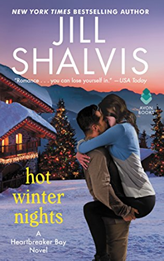 Hot Winter Nights by Jill Shalvis — New Release!!
Can standalone: "Most people wouldn't think of a bad Santa case as the perfect Christmas gift. Then again, she isn't most people, and she could really use a distraction from the fantasies she's been having since spending the night with her very secret crush. Nothing happened, not that he knows that—but she just wants to enjoy being a little naughty for once…
 
Whiskey and pain meds for almost-healed bullet wounds don't mix. He needs to remember that next time he's shot on the job, which may be sooner rather than later if her brother finds out about them. He can't believe he's drawing a blank on his (supposedly) passionate tryst with the hottest, smartest, strongest woman he's ever known. Strong enough to kick his butt if she discovers he's been assigned to babysit her on her first case. And hot enough to melt his cold heart this Christmas…"
UPCOMING BOOK RELEASES
BOOKWORM STORE
WHAT KIND OF BOOKS ARE YOU LOOKING FOR?
__________________________________
Let me know if there are any other books you're loving right now too!!
LET'S STAY CONNECTED
To get these lists sent to you every week, subscribe by email.
FOLLOW THE BLOG
Facebook | Twitter | Instagram | Pinterest | BlogLovin' | Google+ | Goodreads