❤ SPOILER-FREE REVIEW ❤
6 stars
Holy hell. HOLY. HELL.
I can't stop living, breathing and feeling this story. Losing Hope was just absolute, beautiful perfection.
I thought I already loved Dean with all my heart, but now I love him more. So. Much. More. I now understand every part of him. Everything he experienced, I went through it with him. The bracelet… finding the letter… needing space… needing her. Finding her. Wow.
I felt this book with every single part of my heart and soul. I swear, it owns a piece of me now.
It. Was. Perfect.
So much of Losing Hope is new. It's not just an alternate perspective, it's actually a whole different part of the story entirely. But if you piece it together with Hopeless, you just get EVERYTHING.
Losing Hope took me through all the same emotions of Hopeless but they were magnified because every single thing that happened now carried the weight of the emotion you already knew from Hopeless PLUS the new emotions created by all the new things we learned in Losing Hope about Holder.
This is Holder's story. You need to understand just how much I mean those words. This is HIS story. This isn't just Hopeless from Holder's POV, this is his story during Hopeless, his story before Hopeless, and his story apart from Hopeless.
We see a lot of his past – it's heart breaking and devastating but we live it with him. I went through everything with him. I felt his anger, his loss, his fears. When he fucked up, I cringed. When he was happy, my heart overflowed.
You know, it's funny 'cuz you think you know a character. I mean, after reading the whole of Hopeless, I really felt like I knew him. But now I'm just realizing that there was so much more going on. And I loved that it didn't change him, just… I guess connected me with him more.
There were times when I had to just stop and read a single sentence over and over again because it was so beautifully written. There were scenes that gave me full body chills – from head to toe.  There were moments where I just closed my eyes and sat there sobbing, letting the emotions sink in.
I read Losing Hope as slowly as I could because I just didn't want it to ever end. I was WITH the characters every single step of the way. Totally connected. Totally involved. Totally absorbed in every aspect of the story.
I didn't just read this book, I lived it.
I have to say that in all honesty, even though I knew all the twists from reading Hopeless, each one of them hit me as though it was the first time in Losing Hope. Probably because it wasn't as though I was just re-reading them, I was actually re-experiencing them through Holder's eyes. And I loved that there were new twists too – things that were going on with just him personally that took me by surprise in the most wonderful way.
While so much of this book is just completely new, even the scenes that are the same as in Hopeless feel SO special when you read them because a) they are just awesome scenes to relive period, and b) the slightly different angle on them gives them just enough of a twist to make you fall in love with them all over again.
Colleen Hoover's talent for writing vivid and effortlessly beautiful stories is astounding. The level of emotions conveyed in each chapter just took my breath away over and over again. She has a gift for bringing everything to life with her words and can write even the simplest scene in such a way that the words just sink right into your heart.
Pain. Devastation. Love. Loss. Hope. Losing Hope. Finding Hope. Closure. This book has it all.
When I was finished reading I just sat there hugging my book, letting the emotions sink it, letting the tears flow, and letting myself just FEEL.
This is a must-read for every fan of Hopeless. It truly completes that story.
I can't wait for the world to really meet Dean Holder ❤
6 stars – A must read of 2013!
Book #1 : HOPELESS
If you haven't read Hopeless yet, it is currently available, can be read as a standalone and I'd highly recommend bumping it to the top of your to-read list!
"And once again in my new world full of heartache and lies, this hopeless boy somehow finds a way to make me smile."
Kindle | Paperback | My 5-star review
FAVORITE QUOTES from LOSING HOPE
"What are the chances that the only two girls in my life I've ever loved… I've lost? It's killing me piece by piece every single day."
❤
"Thirteen years. I've been looking for her for thirteen years… I'm not sure that I'm ready for her to remember me yet."
❤
"It's causing my hands to shake and my heart to pound and my chest to ache because all I want to do is wrap my arms around her and hold her and thank God we finally found each other again."
❤
"If I could trade lives with her  I would do it in a heartbeat, just so she'd never have to feel what it is she's feeling right now."
❤
"I'm scared if I kiss her too soon, it'll feel like every other kiss she's ever received. She'll feel nothing. I don't want her to feel nothing when I kiss her. I want her to feel everything."
❤
"I let everything I'm seeing sink in because this is what I want to remember the most. I want to remember exactly what she looks like the second she hands over a piece of her heart."
❤
"Fuck all the firsts, Sky. The only thing that matter to me with you are the forevers."
❤
 ❤  HUGE SIGNED GIVEAWAY from COLLEEN HOOVER ❤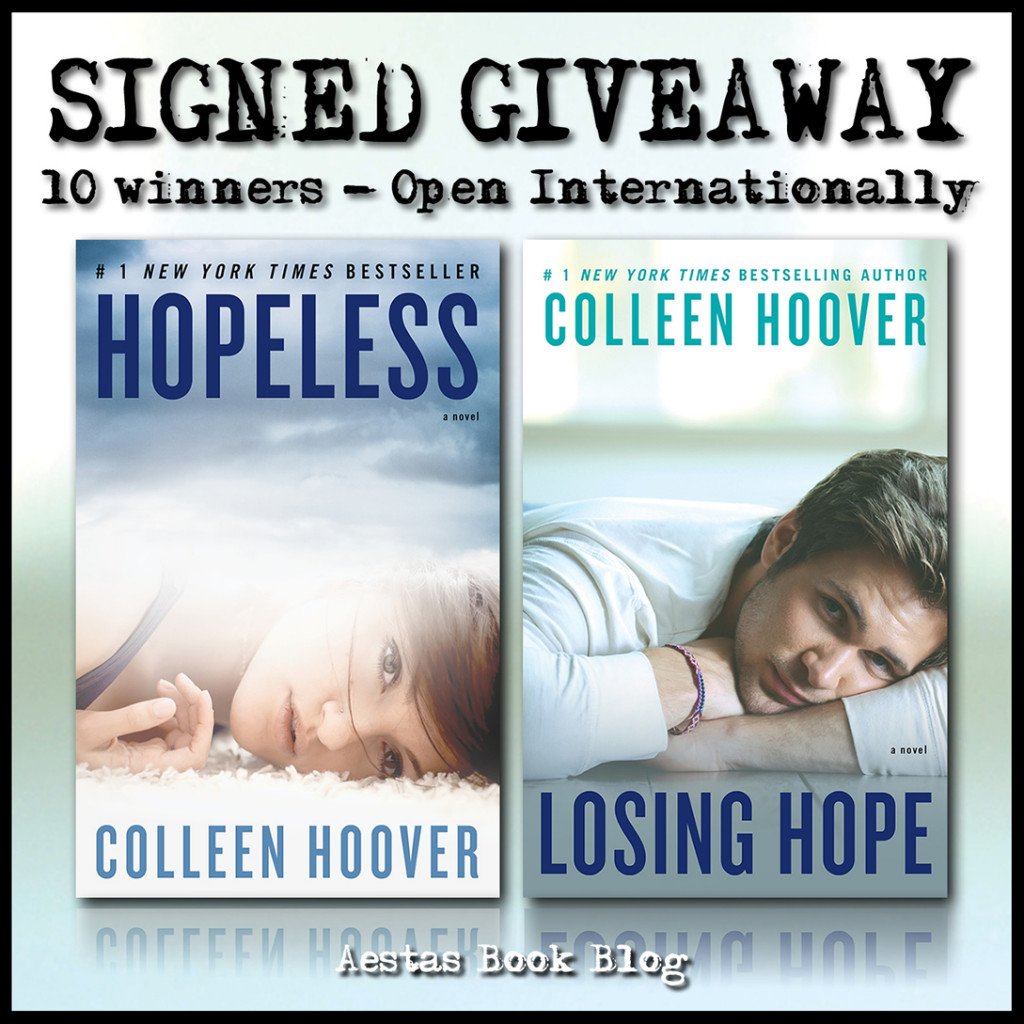 Open Internationally. Void where prohibited. Must be over 18 to enter.
If you choose to win HOPELESS, you will get your copy immediately.
If you choose to win LOSING HOPE, you will get your copy in Oct, 2013 when the paperbacks are released.
 ❤