NEW RECOMMENDATION & REVIEW: Fighting for Everything by Laura Kaye (Read my Review)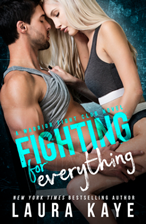 WOOHOOO!! I just finished reading this beautiful, healing, INTENSE friends-to-lovers romance and totally loved it!!! I read it in one sitting and it was just one of those books that I didn't want to put down. The hero was BROKEN, TORTURED and heroine was STRONG and had been his best friend since childhood. After returning home from duty, he felt like everything in his life was falling apart but she was determined to help him heal. This story was not only SWEET, but also HOT and SEXY!!! It was a well-rounded read and I'd definitely recommend it!!! Best of all, it JUST WENT LIVE so be sure to grab a copy!!!! — "Don't you understand that you're everything to me?" she asked… "No matter how fucked up you think you are, no matter what problems you're facing, you're already enough for me!"

NEW BOOK ANNOUNCEMENTS:
WEEKLY NEW RELEASES RECAP

HOT NEW RELEASES (NOW LIVE):  
DETAILED LIST: NEW RELEASES
Rebel Heart by Penelope Ward & Vi Keeland — New Release!!
Series finale: "How to screw up a great summer in the Hamptons:
Sleep with your boss. Check.
Blow all your money on a rental you can't afford. Check.
How to walk away from a man you fall in love with at the end of a summer:
…I'll let you know when I figure it out."
Fighting for Everything by Laura Kaye — New Release!!
Can standalone: Home from the Marines, Noah has a secret he doesn't want his oldest friend, Kristina, to know. It kills him to push her away, especially when he's noticing just how sexy and confident she's become in his absence. But, angry and full of fight, he's not the same man anymore either. Which is why Warrior Fight Club sounds so good.
Kristina loves teaching, but she wants more out of life. She wants Noah—the boy she's crushed on and waited for. Except he is all man now—in ways both oh so good and troubling, too. Still, she wants who he's become—every war-hardened inch. And when they finally stop fighting their attraction, it's everything she never dared hope for.
But he is secretly spiraling, and when he lashes out, it threatens what they have found. The brotherhood of the fight club helps him confront his demons, but only he can convince the woman he loves that he's finally ready to fight for everything."
Tethered Souls by Beth Flynn — New Release!!
Can standalone: "My family has secrets. I'm always the good girl, doing what's necessary to keep my loved ones safe. I've kept the darkest secrets from everyone I know… I haven't seen my closest childhood friend, Christian Bear, since I was a teenager—he hasn't changed a bit. He's still temperamental and plays by his own rules with the law following two steps behind him.
Christian remembers me. But he doesn't know the first thing about me anymore. I should've shared my feelings with him the day before I moved away with my family, promising him I'd stay in touch. It broke my heart when he didn't keep his end of the bargain. As a consequence, we haven't spoken in years. Even though Christian and I have always had undeniable chemistry, I won't let him shatter my heart a second time.
Christian has shown up in my life again with secrets of his own, and demanding answers. That doesn't mean I'm willing to give them. He'll know my secrets when I'm ready.
Our secrets, the risks we're taking, and the danger he imposes make it impossible to know what our future holds.
Either our tethered souls will bind back together, or our secrets will separate us forever."
Marek by Sawyer Bennett — New Release!!
Can standalone: "He's used to delivering blows, not receiving them. But when he gets tipped off by an anonymous email about his ex-girlfriend, the news leaves him ice cold—and it's not because she's getting married to a total jerk. It's the fact that he has a three-year-old daughter he never knew about.
Now he's going back home, not to play knight in shining armor but to make damn sure that no man takes what's his. For the first time, there might be something more important than hockey…"
Rogue Royalty by Meghan March — New Release!!
Series finale: "Unthinkable. Unbelievable. Inconceivable. I don't recognize what my life has become. I can't tell where the lies end and the truth begins anymore.
He came into my world and urged me out of my safe little corner. All my dreams are coming true except the one thing I want most—my own happy ending.
But I'll fight for it.
For now.
For always."
The Controversial Princess by Jodi Ellen Malpas — New Release!!
"Princess Adeline refuses to bow to the royal expectations her title carries [and] she will never surrender to the King's demand to marry a man she does not love…
That is until she meets Josh Jameson. Drawn in by his confidence, she is soon captivated by the scandalously sexy American actor. His ability to penetrate her defences overwhelms her – his touch is pure fire, and his allure overpowering. Nothing has ever made her feel so alive in a world where she's otherwise slowly drowning. However, while he may be Hollywood royalty, he's not actual royalty, and she knows the King and his advisors will do everything in their power to keep them apart. But Josh Jameson becomes the princess's ultimate vice. And although she bows to no one, she bows to him."
The Red Ledger by Meredith Wild — New Release!!
"The series follows Tristan Red, an assassin robbed of his memory after a military mission gone wrong. Not much gets his adrenaline going, but when his latest mark, Isabel Foster, she says his name seconds before he's ready to pull the trigger, he's gripped by a desire to know more.
She knows him, which means she knows things about his past that have been beyond reach for as long as he can remember."
The Outsider by Stephen King — New Release!!
Standalone: "An unspeakable crime. A confounding investigation. At a time when the King brand has never been stronger, he has delivered one of his most unsettling and compulsively readable stories.
An eleven-year-old boy's violated corpse is found in a town park. Eyewitnesses and fingerprints point unmistakably to one of Flint City's most popular citizens. He is Terry Maitland, Little League coach, English teacher, husband, and father of two girls. Detective Ralph Anderson, whose son Maitland once coached, orders a quick and very public arrest. Maitland has an alibi, but Anderson and the district attorney soon add DNA evidence to go with the fingerprints and witnesses. Their case seems ironclad.
As the investigation expands and horrifying answers begin to emerge, King's propulsive story kicks into high gear, generating strong tension and almost unbearable suspense. Terry Maitland seems like a nice guy, but is he wearing another face? When the answer comes, it will shock you as only Stephen King can."
Innocent Target by Katie Reus — New Release!!
Can standalone: He wasn't supposed to fall for her…
She was a target. A contract that came across his desk by mistake. Axel was simply going to warn her that she was in danger and get out. Then he got a taste of her and fell hard. But they're from two different worlds. Not only is she innocent, she's out of his league. He should keep his distance, but he can't. Not when someone wants her dead. Now he's driven to protect her, to keep her safe.

Dirty Rich Cinderella Story by Lisa Renee Jones — New Release!!
Can standalone: With only nine months left at Stanford, and despite being top of her law school class, Lori Havens takes leave to care for her sick mother. That means she juggles three jobs, the best of which is researcher for novelist, and syndicated columnist of "Cat Does Crime," Cat Summer.
One evening after finishing up her work at Cat's apartment building, Lori has an encounter with a sexy stranger, and does something out of character. She goes home with him. The night is perfect, he's perfect, wealthy, powerful and from out of town. Morning comes, and despite their connection, Lori leaves before he finds out she's far from the equal he believes her to be. She's not a charity case and she's not after his money. She will make her own. In other words, she leaves before her prince charming finds out she's no princess.
Flash forward a few months, Lori's mother is healing, and Cat's husband, Reese, has merged his firm with another and Lori lands an internship there, with school credit and scholarship money.. Everything is falling into place. That is until fate reveals a wicked twist of events and Lori walks into a conference room to find her new boss, Cole Brooks, one of the partners, is her one-night prince charming. One sizzling shared look across a boardroom, and it's clear: this man is not done with her. It's not long before Lori is informed that she'll be working high profile cases with her one night prince charming which will require long nights and travel, starting immediately.
Cocktales by Penny Reid, Nana Malone, Dylan Allen, Jana Aston, Whitney Barbetti, Sawyer Bennett, K.F. Breene, Ruth Clampett, L.H. Cosway, Mariah Dietz, Amy Daws, BB Easton, Jaymin Eve, Emma Hart, Staci Hart , Jessica Hawkins, Julie Johnson , Karpov Kinrade, Adriana Locke, Lex Martin, Aly Martinez, Kayti McGee, Corinne Michaels, Liv Morris, Red Phoenix , Daisy Prescott, Jessica Prince, Meghan Quinn, CD Reiss, Julie A. Richman, Aleatha Romig, Kennedy Ryan, Kylie Scott , Sierra Simone, Tara Sivec, Kate Stewart, Leia Stone, Karla Sorensen, Rachel Van Dyken, and April White — New Release!!
'Cocktales' is a limited-release anthology (available *only* from May 26 – August 26, 2018) of original, never before published material, some of which is raw and unedited. Each story was specifically written for this anthology.
The goal of the Cocktales Anthology is to raise funds to fight against obstruction of creative expression. Specifically, what we believe are obstruction attempts through the trademarking of common (single) words for titicular use in books / or as a book series (eBooks, print, and audio).
*ALL* net profits will be donated to:
1) Authors already impacted by creative-obstruction (10%), and
2) Romance Writers of America (RWA) (90%) as a general donation intended for their Advocacy Fund.
LATEST BOOK SALES
UPCOMING BOOK RELEASES
BOOKWORM STORE
WHAT KIND OF BOOKS ARE YOU LOOKING FOR?
__________________________________
Let me know if there are any other books you're loving right now too!!
LET'S STAY CONNECTED
To get these lists sent to you every week, subscribe by email.
FOLLOW THE BLOG
Facebook | Twitter | Instagram | Pinterest | BlogLovin' | Google+ | Goodreads