NIGHT OWL FANS!!!!
To celebrate the upcoming paperback release of Night Owl on July 1st, I have a special signed giveaway for you here as well as an exclusive sneak peak teaser from the sequel, Last Light.
In case you're new to this awesome series, the first book, Night Owl, was one of the hottest, most addictive, and well written books I've read. I was hooked from the first page and pretty much squeed and fanned my way through most of the book!! I didn't want to put it down, didn't want to stop reading… It was funny, kinky, a little angsty, a lot sexy!! I totally LOVED it and highly recommend it for anyone who loves hot romance with a fantastic story!! Here's my review and my husband even read and loved it too so if you want a male perspective on this book, check out Mr. Aestas' review too 😉
Oh, also… Night Owl's eBook price will be going up very soon. Right now, it's on a limited time lowered price of only $2.99 so if you haven't read it yet, be sure to grab a copy now before the price increases!
And don't forget to enter the signed giveaway at the bottom of the post 😀
❤  NIGHT OWL (BOOK #1) ❤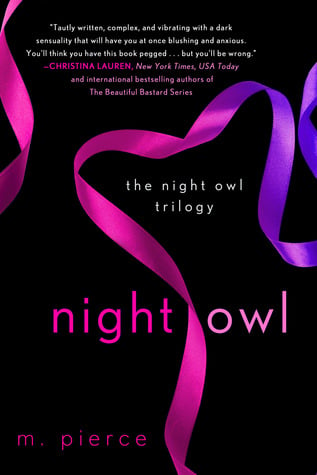 From bestselling ebook author M. Pierce comes Night Owl, the first novel in a provocative erotic trilogy where an anonymous online writing partnership turns into an uncontrollable, passionate obsession
At twenty-eight, Matt Sky has the perfect life. He has a beautiful girlfriend, a massive inheritance, and four national bestsellers — all penned under his airtight alias, M. Pierce.
At twenty-seven, Hannah Catalano is a train wreck. Her boyfriend is a deadbeat and her job is abysmal.
Matt and Hannah meet online as writing partners. Their relationship is safe, anonymous, and innocent…
Until Matt sees a picture of Hannah. Hannah's picture sparks an attraction Matt is powerless to ignore. When circumstance brings Matt and Hannah together, the strangers begin a love story that's passionate, poignant, unforgettable, and unstoppable.
❤  EXCLUSIVE TEASER — LAST LIGHT (BOOK #2) ❤
Release date: October 28, 2014
Simple longing filled Matt's voice, and just like that, the tension between us faded.
"I have to see you," he said. "Soon. I'm fine. Food's fine. No word on Night Owl. I put out some feelers, posted questions on forums. No replies."
"When I'm back, I'll drive out."
"Yeah, when you're back. Soon as you can. It's been so fucking long. I'm going crazy, bird." Matt's breath quickened. He hesitated, and then went on in a rush. "I want to be with you. I want to be inside you. For hours. Here, by the fire. I need you like that…"
The cold of the phone booth disappeared. I pictured Matt in nothing but his skin, and I could practically feel his breath on my lips.
"I need you, too." I lowered my voice. "Like that. In… inside me."
"God, you're so good. So good to me. Hannah…"
Matt was probably touching himself. I heated at the thought. How unfair, his unimpeded access to that beautiful body. And how strange, that our romance reverted to this: furtive phone calls, lonely nights, waiting, touching ourselves.
Were we moving backwards, or was this new and exciting?
"How," he said. "This thing with us—how is it still so—"
"Intense," I murmured.
 ❤ SIGNED GIVEAWAY ❤
Open Internationally. Void where prohibited by law.
Must be over 18 to enter. 1 winner will a signed copy of Night Owl.