TOP RECOMMENDATION: Most Of All You: A Love Story by Mia Sheridan (Read my Review)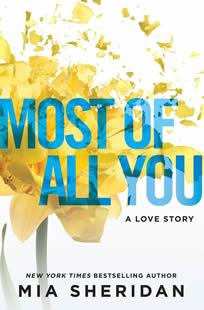 It's here!! HOLY WOWWW!!!! *wipes happy tears* This was one of the most CAPTIVATING, BEAUTIFULLY written and HEART-FELT books of the year!!! I've loved so many of this author's books over the years and can confidently say this is one of her BEST!!! It's a DEEPLY HEALING, slow-burning LOVE STORY about two incredibly damaged people who fall unexpectedly into each others' lives and help mend each other's broken pieces. It's a story about never giving up on the ones you love and holding on to that that love even in the darkest of times. And even though Most Of All You is a completely unrelated standalone, I'd say if you LOVED Archer's Voice (my review), you will also LOVE this book!!!! It's a TOP FAVORITE I never wanted to stop reading so be sure to grab a copy as it is finally live!

BOOKWORM NEWS:

KRISTEN ASHELY NEWS:
WEEKLY NEW RELEASES RECAP

NEW RELEASES (NOW LIVE):  
DETAILED LIST: NEW RELEASES
Most of All You by Mia Sheridan — New Release!!
FAVORITE!! Standalone: "She learned long ago that love brings only pain. Feeling nothing at all is far better than being hurt again. She guards her wounded heart behind a hard exterior, and carries within her a deep mistrust of men who, in her experience, have only ever used and taken…
Then he walks into her life. Despite the terrible darkness of his past, there's an undeniable goodness about him. And even though she knows the cost, she finds herself drawn to him. His quiet strength is wearing down her defenses and his gentle patience is causing her to question everything she thought she knew…"
Maverick by Karina Halle — New Release!!
Can standalone: Forget playing it safe. A crucial member of a search and rescue team, his brash and bold attitude means he's the first one to ascend into danger, no matter the risk… When it comes to women, though, he errs on the side of caution. Hot, wild sex? He'll tell you there's no better way to spend a cold, wintry night. Relationships? He'd rather freeze.
That is until he lays his eyes on her. She's the newest member of their search and rescue team and the only woman on the job, which means spending a lot of time with him in adrenaline-pumping situations…
Ruthless King by Meghan March — New Release!!
New series: "You don't know my name, but I control everything you see—and all the things you don't. My reach knows no bounds, and my demands are always met. I didn't need to loan money to a failing family distillery, but it amuses me to have them in my debt. 
To have her in my debt. 
She doesn't know she caught my attention. She should've been more careful. I'm going to own her. Consume her. Maybe even keep her…"
Once a Charmer by Sharla Lovelace — New Release!!
Can standalone: "By day, she stays busy with her family diner, and keeping tabs on her teenage daughter. What's really exhausting her, however, are the nights. Not that she minds him unbuttoning her naughty desires—if only in her dreams. But what was he doing there at all? He's her best friend, and a father figure to her girl. Talk about awkward. And now, when she needs him as a friend more than ever, logic doesn't stand a chance against his lips and irresistible blue eyes…
Sure, he has fantasized about her, but there's no way he'd act on it. She and her daughter are the closest thing to family he's ever known. With the exception of one drunken moment fifteen years ago, they have stayed on this side of the line—until that impulsive kiss of hers…
Slap Shot by Kelly Jamieson — New Release!!
Can standalone: "After my wife died, sex was the last thing on my mind. Same with hockey, the other love of my life. Now, after fifteen months of drinking too much and generally just feeling sorry for myself, I'm facing a steep uphill battle to get my ass in shape and play…
So I'm not looking for a relationship. Just sex. The truth is, I'll never love another woman the way I loved my wife. When I meet a sexy bridesmaid at my teammate's wedding, I decide to scratch that itch. A fling in her posh hotel room could be just what the trainer ordered. We agree to keep things casual, no strings attached. The arrangement is perfect… until one of us falls in love. And it's not me.
Misadventures of a Backup Bride by Shayla Black — New Release!!
Can standalone: An Overnight Billionaire Concocts a Fake Bride… When he inherits a confectionary that rakes in billions but is too cash-strapped to last another sixty days, he agrees to take a loan from his late father's rival. There are two catches: he has to sign over a permanent stake in the company and marry the man's daughter.
Two weeks before the wedding, he gets cold feet and claims he's in love with someone else. The investor says he'll still hand over the cash if he takes a stroll down the aisle—with the woman who owns his heart. Since he isn't even dating anyone, he panics. Where is he going to find a bride willing to jilt him at the altar on such short notice…?
In Too Deep by Kimberly Kincaid — New Release!!
Can standalone: As the Station rookie, he knows his fire and EMS training will be both rigorous and risky, but he never imagined having to partner up with the one woman he wants to keep at arm's length most of all.
She is as wide-open as he is reserved. He has no interest in letting the sweet and sexy paramedic rock his control. But the need for composure becomes the need to survive when they find themselves in the crosshairs of a brutal gang leader on their first shift together…
The Company by JA Huss — New Release!!
Some people are above the law. Those people are called COMPANY.

He has been an assassin since he was sixteen. He's amassed debts and favors from countless Company brothers and participated in hundreds of Company jobs. But there are not enough favors in the world to clear his debt and make him worthy of the only girl he's ever wanted.
She is the girl who doesn't exist. Born and raised in a tropical paradise, she was destined to be a secret until now. Now she must choose between two Company men; The one she loves or the one chosen to give her the world…
Holding Onto Forever by Heidi McLaughlin — New Release!!
Can standalone: The road for him has been carved out for him, long before he knew who his father was. Making sure he worked hard to deserve the opportunities provided to him, he is where he's dreamed of being [as] quarterback. Life can't get much better. Except that standing in his path is his life-long friend and the one woman he can never have.
She always knew her future would be in football and dreams of having a successful sports journalism career once she graduates college. After being given the assignment to cover a professional game from the sidelines, she believes that everything is going to plan. Until one fateful night changes her life… Harsh reality sets in for them. One could lose everything, while the other struggles to keep the families together.
Puck Me Baby by Lili Valente — New Release!!
Standalone: "You're going to be a daddy." Looking up into his dark eyes as I break the news, I'm scared out of my mind. This man is the most terrifying defender in the NHL, and if it weren't for my sporty new baby bump, I probably wouldn't believe we hooked up that night.
But the guy who goes to my doctor appointments, moves me into his guesthouse, and cooks me so many gourmet meals I look like I'm carrying twins? He isn't scary at all. He's sweet. And intense. And so sexy I want to smear him with honey and lick it off every inch of his powerful, protective, oh-so-swoony-worthy body. But that's not a part of our relationship anymore. We're friends who intend to raise a child together. That's all… Right?
Bountiful by Sarina Bowen — New Release!!
Can standalone: "Once upon a time a cocky, copper-haired tourist sauntered into her bar. And even though she knew better, she indulged in a cure for the small-town blues. It was supposed to be an uncomplicated fling—a few sizzling weeks before he went back to his life, and she moved on.
Until an accidental pregnancy changed her life.
Two years later, she's made peace with the notion that he will never be found. Until one day when he walks into her coffee shop, leveling her with the same hot smile that always renders her defenseless…
LATEST BOOK SALES
UPCOMING BOOK RELEASES
BOOKWORM STORE
WHAT KIND OF BOOKS ARE YOU LOOKING FOR?
__________________________________
Let me know if there are any other books you're loving right now too!!
LET'S STAY CONNECTED
To get these lists sent to you every week, subscribe by email.
FOLLOW THE BLOG
Facebook | Twitter | Instagram | Pinterest | BlogLovin' | Google+ | Goodreads