"What does any of this even mean?"
He touches my cheek. "It means I didn't want you to leave. It means I like having you next to me. It means the next time you're in my bed with your blonde hair on my pillow, you should stay there. It means I want you to stay.
AWWWW, this was such a good book!! It had a surprising twist and a whole lot of SWOOON!! I really thought the book was going in one direction but it totally switched on me and went in another!! The hero and heroine's lives are suddenly entwined in a way they never anticipated when they receive unexpected news that turns their world upside down and now he has three months to convince her that where she belongs most is with him… If you're looking for a sweet, heart-warming romance that'll break your heart at times, but will mostly make you swoon, this is a great new book to try!! Oh, and it has a beautiful epilogue!
There's no way I'll fall for Wyatt Hennington.

He can keep his Southern drawl, irresistible smile, and those pick-up lines all to himself. I made the mistake of sleeping with him not once, but twice. I'm not stupid enough to give him round three, especially after he left me in the middle of the night so I could see myself out. I vow to return to Philadelphia and forget him.

It proves easier said than done.

When the doctor informs me I'm the winner of door prize number two, I put my life on hold and head back to Bell Buckle. Three months and if we can't make this work, I'm gone.

The problem is—when the cards are stacked against us, and I can't bring myself to leave him, I'll finally know if he truly loves me or if all my fears were real…
You know… I started out so sure what this book was going to be about, and I even had some review notes written with the direction the story was originally going in but then that 'twist' I mentioned really changed the whole direction in such a way where I feel it would be misleading to tell you the original direction alone, but I don't want to tell you the twist either because I don't want to ruin the story for you. At the same time, prior to read the book, I was looking around trying to figure out what it was actually about and nobody was mentioning anything (which frustrated me) so now I'm just seriously torn over how much to tell you.
Lol. So, yeah.
I can tell you it's really good!
I can tell you there's no illness.
I can tell you that, true to Romance style, there's a gorgeous ending.
I can tell you that there's a lot of swoon.
I can tell you to be prepared for some heart-break.
I can tell you not to worry too too much though because there's also healing.
Is that enough? I hope it is! I'll put in a hidden spoiler here for those readers (and I know you're out there) who just really need a firmer idea of what to expect. I don't recommend reading the spoiler. I recommend diving into this book blind. But I'm providing it in case you need it.
The heroine definitely had a lot of understandable concerns. I felt that the things she was worried about made sense and even though I wanted to push her in his direction more, I definitely understood her wariness and why she was trying to protect herself from getting hurt again.
Once upon a time when I believed in fairy tales, I was the girl who wanted to be married and have a family. I believed that would happen, yet it never seemed right. No man seemed worthy of my time. No prince ever showed up, and I learned the hard way that lot of men would treat me like shit, so I let go of that stupid dream and lived in reality. I built my own damn castle with really high walls. It was a fortress, sturdy enough to ensure I could never be hurt. Now, here Wyatt is with his cannon, finding ways to break my armor…
The hero was really such a genuinely GOOD guy — kind-hearted, loyal, oh-so-swoony, and I loved the way he really stood by her side so strongly when their worlds were turned upside down and how he always knew the right thing to say. The only thing that frustrated me was that there were two bouts of stupidity on his part in the second half of the book that just made me want to shake him. But overall, I was really happy with the way things turned out! And that epilogue was such a wonderful ending for their story!
"Wyatt has a very different way of thinkin'. He's kind, loyal, and always puts the needs of others first. I know the stories, believe me, I'm not blind. He may have been sowing his oats, but deep down he was searchin' for someone… Wyatt's the kind of man that once you earn his love, you'll have it forever. He'll never betray you or desert you. It's very special to have someone in your life like that."
You can read this book as a completely separate standalone without reading any other book first. However, this can also be read as the second standalone following Say You'll Stay (my review) that is one of my favorite books of the year and tells the story of Wyatt's brother. You also meet this hero and heroine in the first book so in a perfect world and for the most complete reading experience, you'd read Say You'll Stay followed by Say You Want Me. But either one can be read completely separately. It's totally up to you.
So yeah… everything else I was planning to tell you about the book kind of can't be said now because I don't want to mislead you about the direction of the story. Even all the swoony quotes I'd saved can't really be used anymore either. So I kind of think you should either dive in blind, or read the spoiler and then dive in. But either way, I do recommend reading this if you're looking for a sweet and swoony friends-to-lovers romance about following your heart, overcoming heart-break, and finding love in unexpected places.
Rating: 4 – 4.5 stars! Can standalone (contemporary romance).
standalone
Purchase
Read Review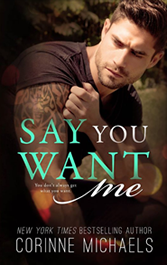 standalone
Purchase
Read Review