I can't tell you if you're ready. I can only tell you that I've always loved you. I've always closed my eyes and seen you beside me. It was never over.
OMG!! This was one of the most gorgeous second chance romances I've ever read!! It had all the emotional intensity of a passionate love story, mixed in with deep feels that made me tear up, and even hilarious moments that made me laugh out loud too. It was sexy, swoony, and utterly addictive. I loved every word!
One of the things I specifically loved most about this book was that this couple genuinely talked through their issues in an open, functional way that made me truly believe in their relationship. It felt real. Everything they went through and did, even their mistakes, made sense or were explained in a way that you could understand where each character was coming from logically and because of that, their story was truly a joy to read.
Oh, and THE EPILOGUE WAS PERFECT!!!!!! ALL THE SWOON!! If you're looking for a heart-warming romance to make you swoon, I highly recommend this as a top favorite! But first, let me tell you a bit about the story…
When her loving, caring, supportive husband commits the ultimate betrayal (not cheating) with no apparent cause that she can see, Presley's life is shattered and thrown into chaos. Everything she'd built with him came crashing down. The man she planned to grow old with and the father of her twin boys removed himself permanently from their lives leaving her alone to raise their children and support their home. When she loses their house shortly after, she has nowhere left to go but to return to her hometown to be with her family while she gets back on her feet.
She'd been avoiding going back home for almost two decades, ever since she left for college, because everything about that town reminded her of Zachary, the boy she'd loved in her childhood, who she'd been engaged to, with whom she was planning to spend the rest of her life, and who'd ripped out her heart when he left her.
What she didn't count on was that he'd actually still be there. And even more, she certainly didn't count on the chemistry between them being stronger than ever. He'd left her, abandoned her, and after everything she'd gone through since then, she was done putting her heart out on the line. And this time it was up to him to convince her that their broken relationship could be healed and that it was possible to give their love a second chance.
I've never stopped loving her. I knew I never had, but now there's no way I can deny it. I've moved on in some ways, but Presley… she's everything.
Ahhhhhhh THAT MOMENT when their eyes first met again after all those years apart gave me SHIVERS! My spine tingled!! There were so many feels between them that passes even in that moment. ALL THE SPARKS!
Before I can respond, my eyes look toward the bar. Everything stops. My heart. My breathing. My entire world stands still. Zachary Hennington stands there staring at me. He doesn't move and neither do I. A tsunami of memories flood the room. Our first kiss, the first time we made love, the promises, the proposal, the love that filled our lives, and the pain when he left me. Not a muscle on him moves as he looks at me. I can see the questions pass between us.

Is that really you?
How are you?
Why are you here?
Why didn't you call?
Why did you leave me?
Why didn't you come with me?
Where have you been?
Do you feel this?
What does it mean?
And even the first time he hugged her — literally just HUGGED her — tears came to my eyes. They just had the kind of connection where you knew in your heart of hearts that no matter what kind of horrible things had happened between them, they were meant for each other.
"I want to see where this goes, and if it works, I want to take care of you. There's a lot of shit we have to work through. This isn't going to be easy, darlin'… I don't ever want to hurt you."
"I know you can't promise that."
"No, I can't. But I can promise I'm not going away easily. I'll wear you down. I'll remind you that something the reward is worth the risk."
I loved watching them reconnect. I loved that it wasn't instant, and yet the moment they saw each other, you could tell that THEY were inevitable. It wouldn't be possible for them not to end up together. They belonged to each other and seeing them work through their past to build back what had broken was beyond heartwarming!
For all his misguided mistakes back in college, I couldn't help but fall in love with Zach. It was clear beyond any doubt that he still loved Presley with everything he had. Not to mention that the way he welcomed her sons into his life with such openness was just gorgeous! Guys, there is a whole LOT of swoon in this book!
When two people loved each other without inhibitions, the way we have, there is no chance of ever being the same again. The connection we share isn't something that can be severed. I learned to love differently, and in this instant, my soul has found it's way back to him.
"Kiss me," I say in a hushed voice…
"Are you sure, darlin'?"
"I've loved you since I was twelve years old. You were my first kiss, my first love, the first man to touch me. I want you to kiss me, and I need to kiss you."
Now I know some of you will be curious about this… When Presley comes back to town, Zach does have a girlfriend. She's the town bitch and he isn't in love with her. As soon as it was clear that they had a shot at trying to rebuild their relationship, he broke up with his girlfriend. I mean, they were separated for seventeen years. As far as he knew, he'd messed things beyond fixing with the girl he loved and she'd married someone else and started a family so it was understandable that he'd be with someone else during that time. But I loved that he openly broke it off as soon as it made sense to. Just the whole way all of this scenario was handled didn't bother me at all.
I mentioned above how wonderful it was that Zachary and Presley really talked through their issues and I have to say that this was really the key element that made their whole story so believable. Good communication is one of the foundations of any healthy relationship and they had some of the most functional and realistic relationship-centric conversations I've ever read. They took the time to be open about their feelings and work through their issues and that's what made their story so genuine. It wasn't just that they fell back in love with each other, it was that they actually took the time to deal with their past in such a way that you believed that their future would be solid.
"We're not a normal couple. We've known each other forever [and] I've been in love with you my whole life. I know you better than you know yourself. Don't you get it, baby? We're made for each other." He releases my hand and cups my face. "I know every part of you, love every part of you, and there's no rush on my part, but I don't think we're doing anything too fast. I think we're just finding our way back to where we always were meant to be."
Also can I just say that I adored Zachary's brother Wyatt. He worked so hard to get them back together that it was achingly sweet. He deserves his own HEA and I hope he gets a book too. I'd read it without question!
Oh, and did I mention Zachary is a cowboy? A gorgeous, sexy cowboy who calls her "darlin'". This was the ultimate swoon-fest. It was everything I could ever hope for from a second chance romance. I loved  the story from start to finish. Once I started reading, I couldn't put it down and I highly recommend it to everyone as a new top favorite!!!
Rating: 4.5+ STARS!! Standalone Adult romance.
standalone
Purchase
Read Review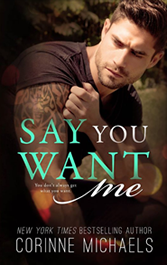 standalone
Purchase
Read Review