Soooo…. 
I've been hinting at a BIG surprise event that's going to take place here in December….
and now is the time to tell you what it is!!!
*drum roll*
I'm very proud to be hosting the

If any of these names make your heart flutter, you will LOVE this event:
* KELLAN * JAKE * BRIAN * RYAN * SIMON * WILL * LUKE * JAMES * CALEB * CASH * HAWK * SHANE * JOSH * MICHA * WILLIAM * T.J. * CHRISTIAN * GHOST * ANDREW * MICHAEL * CARTER * LEE * JUDE * AIDAN * NASH * (another) LUKE *
Okay, here's what the event is about:
Starting December 10th and running every, single day until December 31st, I'm going to be hosting a series of "Author Days".
Each day will feature one of our fav authors and include:
Interviews.
Teasers and snippets for upcoming books.
Cover reveals.
and…

DAILY GIVEAWAYS!!!!


(Signed Copies, Paperbacks, eBooks, ARCS, you name it…) 
You have to check back EACH DAY to enter the GIVEAWAYS. 
Each post will have the Giveaway listed at the bottom.
Don't miss out!!!

Giveaways will be posted at 10:30 AM every day!

And be sure to check the "Interview" section in each post in case your submitted question was answered! 
THE SCHEDULE
(click the author's name to be taken to their post)
From the bottom of my heart, I want to thank each of of these amazingly talented authors for their time and generosity with this event!!
Quite simply, you guys all R.O.C.K!!!!
And thank YOU (yes, you reading this) for participating!!
Please SHARE THIS LINK with every reader you know.
I'd like to get as many people as possible participating so spread the word!!!!
Hugs,
Aestas
.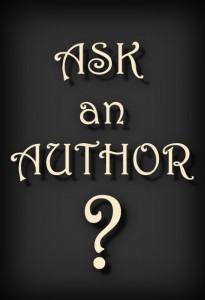 ASK AN AUTHOR GIVEAWAY
.
Readers, this one is for you!!
Do you have a question you'd like to ask your favorite author(s)?
Is there anything you've ever wanted to ask your favorite character(s)?
Now is your chance to submit any questions you have and once you have completed the form, you may enter the Rafflecopter for your chance to win an eBook under $10!!
.
.
.
**** THIS FIRST CONTEST IS NOW CLOSED AND THE FORM HAS BEEN REMOVED ***
 PLEASE CHECK BACK ON MONDAY, DECEMBER 10th
FOR THE FIRST OF THE AUTHOR DAY GIVEAWAYS FEATURING
TARA SIVEC!!!