NEW FAVORITE & EARLY RELEASE: Gentleman Nine by Penelope Ward (standalone)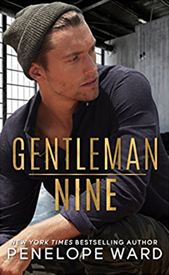 WOOHOO!!!! I just finished reading this ADDICTIVE new in one non-stop sitting!!! It was an ANGSTY forbidden friends-to-lovers romance!! And I'm while I'm usually not a fan of love triangles, I actually thought the one in this book was handled really well and honestly, once I started reading it, I couldn't put this book down!! — "Growing up, the three of us were friends. He was the nerd. I was the playboy. She was the beauty… Deep down, I only ever wanted her. I kept it inside because Rory and I made a pact that our friend, Amber, was off-limits. He lied… I went off to college, and he got the girl. Amber never knew how I felt. They were together for years—before he broke her heart.
Through it all and across the miles, she and I casually stayed in touch. When my job sent me to Boston for a three-month contract position, Amber let me stay in her spare room.
Still reeling from her breakup, she'd sworn off men. One night, I opened her computer to find the shock of my life. She'd hesitantly contacted a male escort company. Afraid to date and get her heart broken again, she was looking for sex with no strings. Every emotion imaginable ran through me: protectiveness, jealousy—curiosity. Amber had chosen Gentleman Number Nine and sent him a message. She opened up to him, confessing, among other things, her physical attraction to her friend—me. But she considered me off-limits—and she thought I was a manwhore. (Ironic, considering the circumstances.)
Eventually, she set up a date to meet Gentleman Nine at a hotel. When she showed up several nights later to meet him, she was stunned to see me standing there—with an offer I hoped she wouldn't refuse." — This is on limited-time release sale price (Price is going up SOON. This will be the ONLY sale.) So be sure to grab a copy!

MY 2018 TOP RECOMMENDATIONS SO FAR:
WEEKLY NEW RELEASES RECAP
DETAILED LIST: NEW RELEASES
The Wrong Kind of Love by Lexi Ryan — New Release!!
Can standalone: "You never forget your wedding day. Or the moment your twin sister pukes on your bouquet and confesses she's pregnant with your fiancé's baby.
I wanted to get away, to hide until my heart mended. I found myself in a strange town with a mysterious stranger whose talented mouth and hands almost made me forget it was supposed to be my wedding night… Afraid to go home to face my broken life, I pretend to be my twin so I can take her job caring for a six-year-old girl. Imagine my surprise when I find out my new boss is my mysterious stranger. I never meant for him to discover my secrets. I never meant for them to matter. But the longer I work with him and his sweet daughter, the harder I fall, and the clearer it becomes that I'm not the only one carrying a secret…"
Brooklynaire by Sarina Bowen — New Release!!
Standalone: "You'd think a billion dollars, a professional hockey team and a six-bedroom mansion would satisfy a guy. You'd be wrong.
For seven years, she has brightened my office with her wit and her smile. She manages both my hockey team and my sanity. I don't know when I started waking in the night, craving her. All I know is that one whiff of her perfume ruins my concentration. And her laugh makes me hard… When she gets hurt, I step in to help. It's what friends do. But what friends don't do is rip off each others' clothes for a single, wild night together. Now she's avoiding me. She says we're too different, and it can never happen again. So why can't we keep our hands off each other?"
The Smallest Part by Amy Harmon — New Release!!
Standalone: "In the end, only three things matter. How much you loved, how gently you lived, and how gracefully you let go of things not meant for you." It was a big lie. The biggest lie she'd ever told. "Are you in love with Noah, Mercedes?" Cora asked. "I mean… I know you love him. You've been friends forever. We all have. But are you in love with him?"
If it had been anyone else—anyone—Mercedes would have stuck out her chest, folded her skinny arms, and let her feelings be known. She would have claimed him. But it was Cora. Brave, beautiful, broken Cora, and Cora loved Noah too.
So Mercedes lied.
And with that lie, she lost him. With that lie, she sealed her fate.
She was the best friend, the bridesmaid, the godmother, the glue. She was there for the good times and the bad, the ups and downs, the biggest moments and the smallest parts. And she was there when it all came crashing down.
This is the tale of the girl who didn't get the guy."
Archer's Voice by Mia Sheridan — New Release!!
Special paperback edition with extended epilogue, bonus scene, and new cover: "I wanted to lose myself in the small town of Pelion, Maine. To forget everything I had left behind. The sound of rain. The blood. The coldness of a gun against my skin. For six months, each breath has been a reminder that I survived—and my dad didn't. I'm almost safe again.
But the moment I meet Archer Hale, my entire world tilts on its axis… and never rights itself again. He communicates with no one. Yet in his whiskey-colored eyes, something intangible happens between us. There's so much more to him than just his beauty, his presence, or the ways his hands communicate with me. On me. But this town is mired in secrets and betrayals, and Archer is the explosive center of it all. So much passion. And so much hurt. But it's only in his silence that we might just find what we need to heal… and live."
Rough Ride by Kristen Ashley — New Release!!
"She put it all on the line for the Chaos Motorcycle Club. Informing to Chaos on their rival club—her man's club—she knows the stakes. But as she drifted away from her man, she's been falling in love with a Chaos brother. He's the biker-boy-next door with quiet confidence and sweet disposition who was supposed to keep her safe and fell down on that job… For him, it's always been her, from the first time he saw her. He's just been waiting for a clear shot. But he didn't want to get it after she was left bleeding on a cement warehouse floor. With her a casualty of an ongoing war, he has to guide her to trust him, take a shot with him, build a them. And fold his woman firmly in the family that is Chaos."
The Lucky Ones by Tiffany Reisz — New Release!!
Standalone: "They called themselves "the lucky ones". They were seven children either orphaned or abandoned by their parents and chosen by legendary philanthropist and brain surgeon Dr. Vincent Capello to live in The Dragon, his almost magical beach house on the Oregon Coast. Allison was the youngest of the lucky ones living an idyllic life with her newfound family… until the night she almost died, and was then whisked away from the house and her adopted family forever.
Now, thirteen years later, Allison receives a letter from Roland, Dr. Capello's oldest son, warning her that their father is ill and in his final days. Allison determines she must go home again and confront the ghosts of her past. She's determined to find out what really happened that fateful night — was it an accident or, as she's always suspected, did one of her beloved family members try to kill her?
But digging into the past can reveal horrific truths, and when Allison pieces together the story of her life, she'll learns the terrible secret at the heart of the family she once loved but never really knew."
More Than Love You by Shayla Black — New Release!!
Can standalone: "For a decade, I've quarterbacked America's most iconic football team… Now I'm transitioning from star player to retired jock—with a cloud of allegation hanging over my head. So I'm escaping to the private ocean-front paradise I bought for peace and quiet. What I get instead is a stubborn, snarky, wild [woman]… I need a steady, supportive "girlfriend" for the court of public opinion, not entanglements. She is merely looking for nonstop sweaty sex. Three months—that's how long it should take for us both to scratch this itch and leave our respective scandals behind. But the more I know this woman, the less I can picture my life without her. And when I'm forced to choose, I'll realize I more than love her enough to do whatever it takes to make her mine for good."
Lake + Manning by Jessica Hawkins — New Release!!
Series finale: "He and I have what happily-ever-after is made of… A home he built us on the unshakeable foundation we fought for. A life of laughter carved out of heartache and betrayal. A love story to stand the test of time.
But between a trust that can't be broken, joy that can't be bridled, and passion that would scorch the sun, the empty spaces are becoming more and more difficult to ignore… Fears that keep him up at night as he slips from our bed. Our complicated relationship with a man he respects and one I don't know how to forgive. And a beautiful home with one small room I'm afraid I'll never be able to fill. He and I have what happily-ever-after is made of… But I'll beg the heavens for just one thing more."

Long Shot by Kelly Jamieson — New Release!!
Can standalone: "Waitressing at a tequila bar may not be what she wants to do forever, but for now it's perfect—other than the flashbacks to the tragedy she caused in Boston. And the fact that one of her bosses is a domineering manwhore who's as stubborn as he is sexy. If he'd just listen to her, she could double his business. But it would also mean getting close to someone, and that's a risk she can't afford.
He's the money man trying to keep [his business partners] afloat. To blow off steam, he's been sleeping around a little. The last thing he needs is business advice from their crazy-hot new waitress. he can't figure her out. She's smarter than she lets on, and she doesn't hide her disgust for his active sex life. But after he recognizes her PTSD symptoms, he is determined to save her… unless she saves him first."
Shot on Gold by Jaci Burton — New Release!!
Can standalone: "Hockey is his life and playing for the U.S. team is a privilege. Then he meets a U.S. figure skater. She's beautiful, ambitious and driven—everything he desires in a woman. He would love to show her how hot life off the ice can be.
She has skated her entire life, sacrificing everything in the hopes of one day winning gold. Now she's competing for the third and final time. She intends to win, and nothing's going to get in her way—until she meets him. He's an irresistible charmer, and before long she is wondering if this sexy hockey player is the perfect guy to show her some moves outside the rink. But after all the medals have been awarded, they will have to decide if what they have together is just a fling or a real shot at true love."
Need You Now by J. Kenner — New Release!!
Can standalone: "With his tousled hair, cocky grin, and surprising abs, [he] is no stranger to the attention of women. He dates, but never gets serious, claiming that he's too focused on his studies. But it's not really school that preoccupies him; it's sensual fantasies of his best friend's sister.
She might be absolutely off-limits because of her overprotective brother and father, but that doesn't stop him from imagining the feel of her in his arms, the brush of his lips over her soft skin, or the sparks that would fly between them if he ever got her into bed. But for him, the bonds of family and friendship are sacrosanct, and there is no way that he'd ever violate his friend's trust. Or would he? Because with love on the line, maybe it's time for him to break a few rules…"
Surprise Me by Sophie Kinsella — New Release!!
Standalone: "After ten years together, Sylvie and Dan have a comfortable home, fulfilling jobs, and beautiful twin girls, and they communicate so seamlessly they finish each other's sentences. They have a happy marriage and believe they know everything there is to know about each other. Until it's casually mentioned to them that they could be together for another sixty-eight years… and panic sets in.
They decide to bring surprises into their marriage to keep it fresh and fun. But in their pursuit of Project Surprise Me—from unexpected gifts to restaurant dates to sexy photo shoots—mishaps arise, with disastrous and comical results. Gradually, surprises turn to shocking truths. And when a scandal from the past is uncovered, they begin to wonder if they ever really knew each other at all…"
Unraveled by Helen Hardt — New Release!!
"Ryan Steel and Ruby Lee are in love, but before they can move forward with a life together, they're determined to bring resolution to the many unanswered questions they still face. To complicate matters, new threats arise with the arrival of two startling figures from their pasts.
As they race against time to find answers, unexpected forces pull them apart. Ryan's brothers rally to help, wanting to end the struggle and finally bring the last perpetrators to justice. But another riddle surfaces, deepening the rift between Ruby and Ryan. Will they salvage their relationship and finally unravel the mysteries surrounding them?"
The Traitor Prince by C.J. Redwine — New Release!!
A dark epic fantasy inspired by The Prince and the Pauper —
"Javan Najafai, crown prince of Akram, has spent the last ten years at an elite boarding school, far away from his kingdom. But his eagerly awaited return home is cut short when a mysterious impostor takes his place—and no one believes Javan is the true prince.
After barely escaping the impostor's assassins, Javan is thrown into Maqbara, the kingdom's most dangerous prison. The only way to gain an audience with the king—and reveal Javan's identity—is to fight in Maqbara's yearly tournament. But winning is much harder than facing competitions at school, and soon Javan finds himself beset not just by the terrifying creatures in the arena but also by a band of prisoners allied against him, and even by the warden herself.
The only person who can help him is Sajda, who has been enslaved by Maqbara's warden since she was a child, and whose guarded demeanor and powerful right hook keep the prisoners in check. Working with Sajda might be the only way Javan can escape alive—but she has dangerous secrets.
Together, Javan and Sajda have to outwit the vicious warden, outfight deadly creatures, and outlast the murderous prisoners intent on killing Javan. If they fail, they'll be trapped in Maqbara for good—and the secret Sajda's been hiding will bury them both."
LATEST BOOK SALES
UPCOMING BOOK RELEASES
BOOKWORM STORE
WHAT KIND OF BOOKS ARE YOU LOOKING FOR?
__________________________________
Let me know if there are any other books you're loving right now too!!
LET'S STAY CONNECTED
To get these lists sent to you every week, subscribe by email.
FOLLOW THE BLOG
Facebook | Twitter | Instagram | Pinterest | BlogLovin' | Google+ | Goodreads