TOP RECOMMENDATION: Bad For You by J. Daniels (Read my Review)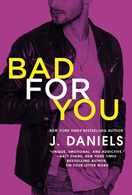 SWOOOOON!!!!! I read this brand new book that I totally LOVED!!!! If you're a fan of TORTURED BAD BOY HEROES, you are gonna absolutely ADORE this book!!! OMG. This hero. His past is absolutely HEART-BREAKING and he's gruff and brooding and totally mysterious but SUCH A GOOD GUY!!! The heroine is the only person who gets past his walls and the way she helps him HEAL is seriously just THE SWEETEST THING EVER!!!!! Ahhhh there are so many FEELS!!!!! And, I don't want to give anything specific away but there are kids in this book too and they will MELT YOUR HEART!!! I read this book in one sitting and absolutely LOVED the story and LOVED the romance!!! If you're looking for something new to read, this can totally standalone and is a NEW FAVORITE so be sure to grab a copy!

TOP RECOMMENDATION: Seek by Mia Sheridan (Read my Review)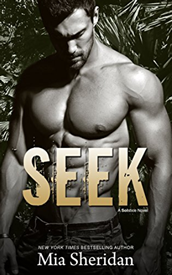 SQUEEEEEE!!!! HOLYYYY!! I just INHALED this awesome new book and I literally didn't put it down for a single moment!!! It was an ADDICTIVE, ADRENALINE-FUELED, FAST-PACED ROMANCE with a sexy, brooding, mysterious and totally badass hero!!!! Omg. Seriously. This was such a fast-paced read. I LOVED IT!!!! And I was also surprised by the TWIST. It wasn't what I expected — and I love when books can surprise me!!! The writing was STRONG, the story was UNIQUE, the romance was HOT, and I highly recommend this if you're looking for a great new read!!!! It's a complete standalone so be sure to grab a copy now because it's at a limited time "introductory" price and it will increase soon!!


COVER JUST ANNOUNCED: All Your Perfects: A Novel by Colleen Hoover (standalone)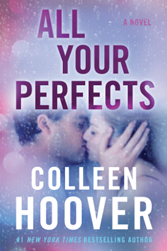 OMG!!! I absolutely LOVE everything this author writes and her next cover was JUST announced: — Quinn and Graham's perfect love is threatened by their imperfect marriage. The memories, mistakes, and secrets that they have built up over the years are now tearing them apart. The one thing that could save them might also be the very thing that pushes their marriage beyond the point of repair… All Your Perfects is a profound novel about a damaged couple whose potential future hinges on promises made in the past. This is a heartbreaking page-turner that asks: Can a resounding love with a perfect beginning survive a lifetime between two imperfect people? — Be sure to pre-order an ebook or a hardcover copy so you automatically get your copy the day it's released! Can't wait to read it!
Dearest Ivie: A Novella Set in the Black Dagger World by JR Ward was just announced!! (full series here) — "The last place she expects to be approached by a devastatingly handsome male is in a crowded, smoky cigar bar rarely frequented by vampires—yet here he stands. He is flirtatious, gallant, and, above all, mysterious. She is anything but. A nurse at the healer's clinic and the daughter of a biker, she is accustomed to speaking her mind. So she does… Despite her guarded exterior, she surrenders to the fierce desire she feels for him. And yet, just as their courtship is heating up, he reveals that it cannot last, for he is bound to return to the Old Country. Their bond only deepens as they make the most of their precious time together. But when she learns the truth, she must find a saving grace—before all is lost…"
WEEKLY NEW RELEASES RECAP

HOT NEW RELEASES (NOW LIVE):  
LATER WEEK RELEASES (PRE-ORDER NOW):  
DETAILED LIST: NEW RELEASES
Seek by Mia Sheridan — New Release!!
Standalone: "She never imagined her fiancé would disappear on a routine business trip. She's even more heartbroken and confused when a hired private investigator tracks him half a world away, to a seaside town in Colombia [recently] ravaged by a deadly tsunami, making travel all but impossible. Still, she is determined to to find the answers she so desperately seeks. What she needs is a guide—a mercenary…
The man named Thomas arrives in shadows, an unmistakable air of danger about him, promising to help lead her through the ruined, crime-infested country. But when they find themselves fighting an undeniable attraction, danger takes on a whole new meaning… all the rules are different and they are about to discover that sometimes the thing you seek, isn't necessarily the thing you find…"
Ryan's Bed by Tijan — New Release!!
Standalone: "I crawled into his bed that first night by accident.
I barely knew him. I thought it was his sister's room. It took seconds to realize my error, and I should've left… I didn't. I didn't jump out. I didn't get embarrassed. I relaxed. And that night, in that moment, it was the only thing I craved. I asked to stay. He let me, and I slept. The truth? I never wanted to leave his bed. If I could've stayed forever, I would have. He became my sanctuary.
Because—four hours earlier—my twin sister killed herself."
Very Irresistible Playboy by Lila Monroe — New Release!!
Can standalone: "Hot bachelor Max Carlisle is heir to a media empire, tabloid catnip, and… wants to hire me to be his fake fiancee. I know what it takes to keep a billionaire in line, but signing up for seven days in close quarters with this irresistible playboy? It's just asking for trouble. The kind of thrilling, reckless trouble I could use a little more of since my career is currently ass-backwards in a mud bath with six shih-tzus (don't ask).
So do I:
a) Take the job, and bicker wildly every step of the way?
b) Embark on a mad-cap treasure hunt to claim his billion-dollar inheritance?
c) Try my hardest not to fall head-over-heels in love with him and wind up having the best sex of my life?
d) All of the above?
Something tells me I'm about to be way out of my league… and under the most handsome, infuriating man I've ever met. But with a fortune on the line, can we beat out his crazy relatives to win the prize? And will our fake relationship be game over at the finish line?
Find out in this new sexy, hilarious romantic comedy…"
Don't Go by Alexa Riley — New Release!!
Can standalone: A virgin-hero insta-love contemporary romance! — "I've spent the past ten years convincing myself that what I felt for her was teenage infatuation. That love so consuming couldn't be real. Then everything went to shit, and in an instant, she was gone… She's mine. She always has been. I've waited this long for her…but time's up. I'll use all my power, all my connections, to convince her she's the one."
She knew returning to New York meant running into him. The way her heartbeat picked up at just the thought was nervousness—not anticipation. Oh, no. She never expected to find him on her doorstep looking as handsome as ever. She ran from a boy, but a man of power and persuasion now stands in his place."
A Touch of Cinnamon by Bethany Lopez — New Release!!
Can standalone: For the past year, she has thrown herself into her catering business, but she's been keeping a secret. The hot, moody owner of Prime Beef, is the only man she ever loved. The man she left behind in college, and thought she'd never see again, until he showed up across the street.
For the past year, he has been waging a war with himself. Did he want to know why she had broken his heart and left without looking back, hell yes. But he'd found himself paralyzed by the glimpses he'd gotten of her and knew he wasn't ready for a confrontation… Neither of them are content with their lives, but so much has happened in the time that has passed. Can the right amount of spice remind them of the love they'd shared?
Bad for You by J. Daniels — New Release!!
Can standalone: "He didn't want to be bad. He just didn't have a choice… She isn't the kind of girl who makes the same mistake twice, especially when it comes to him. So when he gives her the world's biggest rejection, that's it—she's done. Until the sexy, silent, unavailable Sean makes her a very personal offer. Of course, it still doesn't mean he's interested in her. Or does it?
He has done things in life. Bad things. And he's paid the price. All he wants now is to make up for his past by doing good in the present. And no one deserves more good than her. She is the kind of woman who should be cared for and protected—especially from a man like him…
Keep Her Safe by K.A. Tucker — New Release!!
Standalone: Noah Marshall has known a privileged and comfortable life thanks to his mother, the highly decorated chief of the Austin Police Department. But all that changes the night she reveals a skeleton that's been rattling in her closet for years, and succumbs to the guilt of destroying an innocent family's life. Reeling with grief, Noah is forced to carry the burden of this shocking secret.
Gracie Richards wasn't born in a trailer park, but after fourteen years of learning how to survive in The Hollow, it's all she knows anymore. At least here people don't care that her dad was a corrupt cop, murdered in a drug deal gone wrong. Here, she and her mother are just another family struggling to survive… until a man who clearly doesn't belong shows up on her doorstep.
Despite their differences, Noah and Gracie are searching for answers to the same questions, and together, they set out to uncover the truth about the Police Department's dark and messy past. But the scandal that emerges is bigger than they bargained for, and goes far higher up than they ever imagined.
xo, Zach by Kendall Ryan — New Release!!
Standalone: "The first time we met was at a party. Your ex arrived to show off the person he'd left you for last month, and you asked me to pretend to be your date. I was more than happy to help. You were attractive, smart and witty—and that kiss we shared? It left me wanting you for days.
The second time we met was in my office on campus where we were both surprised to discover you were the new master's degree student in poetry that I would be working with. You promised to be professional. I did no such thing. The late nights and intense study sessions spent alongside you majorly throw me off my game. I want you, and I fight with myself daily over this fact.
I know I'm crass, that my sexual innuendos and dirty mouth annoy you, but I live for those two bright spots of color in your cheeks. If that's the only reaction I can get out of you, I'll gladly take it.
You hate Mondays so every Monday I slip an anonymous poem into your bag and your smile gets me through the week.
I think I'm falling for you, and I know it's wrong. I know that I'm only supposed to be the adviser to your program and nothing more, but here's the thing. I think you're falling for me too.
xo, Zach"
Here Comes the Sun by Marie Force — New Release!!
Can standalone: "One look, one conversation, one weekend, and he knows who he wants. Except, she is not free to return his affection. In fact, he suspects she's in an abusive marriage, but she never confirms that, and he has no choice but to mind his own business where she's concerned…
Two years after they first met and a year after he last heard from her, she shows up half-frozen, bruised and beaten on his doorstep, needing something only he can provide. He's determined to make it work, no matter the cost…"
Unlocking Fear by Kennedy Layne — New Release!!
"A chance mishap with a sledgehammer was the sole reason a chilling nightmare was unleashed in Blyth Lake.
Noah Kendall's grisly discovery left him in the middle of a murder investigation and a neighbor who knew more than she was willing to say. Reese Woodward had returned to town with dark secrets, and he was determined to unravel them. While evil lurks in the darkness, seduction burns between them… only time was their enemy. Will her secrets destroy what they've built, or can he earn her trust before the killer strikes again?"
About That Kiss by Jill Shalvis — New Release!!
Can standalone: "When sexy Joe Malone never calls after their explosive kiss, she shoves him out of her mind. Until she needs a favor, and it's a doozy. Something precious to her has been stolen and there's only one person with unique skills that can help—Joe. It means swallowing her pride and somehow trying to avoid the temptation to throttle him—or seduce him.
No, he didn't call after the kiss. He's the fun time guy, not the forever guy. And after all she's been through, she deserves a good man who will stay. But everything about her makes it damned hard to focus, and though his brain knows what he has to do, his heart isn't getting the memo.
As they go on the scavenger hunt of their lives, they discover surprising things about each other. Now, the best way for them to get over "that kiss" might just be to replace it with a hundred more"…"

Judgment Road by Christine Feehan — New Release!!
Can standalone: "As the enforcer of a motorcycle club, he lives for riding and fighting. He's a killer who turns his wrath on those who deserve it. Feelings are a weakness he can't afford—until a gorgeous bartender gets under his skin…
She's desperate to hold on to her job at the biker bar, even if the scariest member of the club seems to have it out for her. But his imposing presence and smoldering looks just ratchet up the heat… Her touch is everything he doesn't want—and it brands him to the bone. But when her secrets catch up to her, he will have to choose between her and his club—his heart and his soul."
Respect by Aleatha Romig — New Release!!
Can standalone: "The Godfather meets Love Story… Standing at what I believe is the precipice of my life, I was too young to understand that it wasn't and too old to imagine that it couldn't be…
Angelina Costello was my dream and now my reality. I'd worked diligently to move beyond the actuality of being a dockworker's son to becoming a self-made, successful entrepreneur, all in an effort to earn the right to call her my own. I'd overcome servitude to others, collecting their paychecks and lowly praises, to being the one who signed the paychecks and offered the accolades when they were rightfully earned.
The world was my oyster and walking toward me on the arm of her uncle was my pearl. I'd found her amongst the empty shells life had offered. There was no need to pry open another possibility. She was all I wanted. Yet my path was uncharted. There was more for me to earn, lose, and willingly give. The top of that list was respect…"

She Asked for It by Willow Winters — New Release!!
Standalone: "Don't judge a book by its cover. You'll tell me you don't… but you already think you know what my story's about. You have no idea.
Just like the people sitting in this courtroom.
She asked for it. That's what they keep saying.
And no, it's not because my skirt was too short or I was drunk at a party.
It's nothing like that. It's because of what I like and how I like it.
They're judging me as I sit in the front row, my eyes drawn to the man on trial. If I'd known it was going to end like this, I never would have gone home with him. But he's the type of man I just can't say no to.
I wanted to feel his lips kiss down my neck.
I dreamed of running my fingers along the rough stubble on his jaw.
I craved his hands on me, pinning me down.
I needed to whisper his name in the dark, late at night.
You still think you know what happened? You don't.
He's innocent and I enjoyed every second I was with him.
Let me tell you my story, all about how I asked for it."
Buried in Lies by T.L Smith — New Release!!
Standalone: "His lips told me he knew me.
His hands touched like we were old lovers.
His eyes held secrets of a past I'd never known. I was lost, you see.
Lost as the flowers that grew in the meadow.
The devil told me he knew me.
But lies had a way of unraveling, even if we didn't want them to.
The devil had a trick…
A devil made you sin. And my devil was the worst.
But now that devil wanted my last kiss, and it wasn't one I was willing to give…
I was keeping my heart even if I died trying."
Run To Me by Cynthia Eden — New Release!!
Can standalone: "He is a tech billionaire [who] thinks he can buy anything…but he can't buy her. One look at her and he is a goner. He wants to give her anything she desires, but he's the man responsible for [her] pain in her life, and getting close to her [won't] be easy.
Her life is a nightmare that she can't escape… She woke up in a research facilities. She now has increased strength, incredible speed, and some scary psychic bonuses. Because of the danger associated with her new gifts, she's afraid to touch anyone. One touch from her, and a man's darkest fears will seemingly turn into reality. But he isn't afraid of her touch. Instead, he seems to…crave it. To crave her. She can't trust him, and he won't let her go."
Angel's Halo: Fallen Angel by Terri Anne Browning — New Release!!
Can standalone: Him: "When I lost her, I lost everything. Her father ripped her away from me, and I didn't see her again for three long years. Now, she is back in my life, and I'm not about to let anyone take her away from me again."
Her: "My heart stopped the second I heard about the explosion, and it didn't beat again until I knew he was safe. But even as my prayers were answered, my heart hurt for him. While I couldn't stop his pain, maybe I could stop my father from destroying the MC."
This Love Story Will Self-Destruct by Leslie Cohen — New Release!!
Standalone: This is the classic tale of boy meets girl: Girl goes home with someone else… Meet Eve. She's a dreamer, a feeler, a careening well of sensitivities who can't quite keep her feet on the ground, or steer clear of trouble. She's a laugher, a crier, a quirky and quick-witted bleeding-heart-worrier… Meet Ben. He's an engineer, an expert at leveling floors who likes order, structure, and straight lines. He doesn't opine, he doesn't ruminate, he doesn't simmer until he boils over… So naturally, when the two first cross paths, sparks don't exactly fly. But then they meet again. And again. And then, finally, they find themselves with a deep yet fragile connection that will change the course of their relationship—possibly forever…
The Wife by Alafair Burke — New Release!!
From New York Times bestselling author Alafair Burke, a stunning domestic thriller in the vein of Behind Closed Doors and The Woman in Cabin 10—in which a woman must make the impossible choice between defending her husband and saving herself.
When Angela met Jason Powell while catering a dinner party in East Hampton, she assumed their romance would be a short-lived fling, like so many relationships between locals and summer visitors. To her surprise, Jason, a brilliant economics professor at NYU, had other plans, and they married the following summer. For Angela, the marriage turned out to be a chance to reboot her life. She and her son were finally able to move out of her mother's home to Manhattan, where no one knew about her tragic past.
Six years later, thanks to a bestselling book and a growing media career, Jason has become a cultural lightning rod, placing Angela near the spotlight she worked so carefully to avoid. When a college intern makes an accusation against Jason, and another woman, Kerry Lynch, comes forward with an even more troubling allegation, their perfect life begins to unravel. Jason insists he is innocent, and Angela believes him. But when Kerry disappears, Angela is forced to take a closer look—at both the man she married and the women she chose not to believe…
Love Me Like This by Bella Andre — New Release!!
Can standalone: "Eight years have passed since he first laid eyes on her and fell head over heels in love, even though she could never be his. He's tried everything he can to get over her—including moving to another country—but she's still the only woman he'll ever want.
Eight years is a heck of a long time to secretly love someone. She knows all too well how impossible it is to forget a man as sexy, sweet, and brilliant as him. So when he turns up on the doorstep of her Napa Valley bed and breakfast, she can't help but long for the happily-ever-after of her dreams.
As they spend beautifully romantic mornings together watching the sun rise over the vineyards [and] fall into each other's arms on wickedly sexy nights, it looks like they might finally get their chance at the love they've been waiting for. But will the secret she has been keeping shatter everything in the end?"
Diamonds and Dirt Roads by Erin Nicholas — New Release!!
Can standalone: A pretend relationship… within a pretend relationship. Attorney Evan Stone knows every crazy stipulation in billionaire Rudy Carmichael's will. After all, he wrote it. And he's determined to make sure each one is fully met by Rudy's triplet daughters. Even if that means dating the workaholic CEO, Ava. Or pretending to at least. And even if it means resisting the so-right-for-him-she's-totally-wrong party girl, Cori.
But stepping in for her sister when it's clear that Ava and Evan aren't fooling anyone with their "romance" isn't really dating. And falling for her sister's pretend boyfriend while pretending to be her sister…well, that's ridiculous. No matter how real things feel whenever she and Evan are together.
LATEST BOOK SALES
UPCOMING BOOK RELEASES
BOOKWORM STORE
WHAT KIND OF BOOKS ARE YOU LOOKING FOR?
__________________________________
Let me know if there are any other books you're loving right now too!!
LET'S STAY CONNECTED
To get these lists sent to you every week, subscribe by email.
FOLLOW THE BLOG
Facebook | Twitter | Instagram | Pinterest | BlogLovin' | Google+ | Goodreads