"Say I'm yours," he demands.
I don't hesitate. "You're mine."
"Say you're mine."
"I've only ever been yours."
What a wonderfully ANGSTY and HEART-WARMING romance!!
While this could technically be considered a second chance romance, the story was actually a little more complicated than that. Grace and Trent had been in love with each other for over twenty years. They were everything to each other, but their relationship had been through some rough patches. For reasons he couldn't share with her, Trent shied away from ever telling her he loved her, even though he felt it in his heart and showed her through his actions. He'd never looked at another woman and had always only loved Grace but was held back because of the things that haunted him. She wanted a love like her parents had — she wanted marriage, a family, and the kind of commitment that his demons wouldn't allow him to reach for. When things got rough enough to push them to a breaking point, she left. For good. And tried to move on with someone else. He knew he'd made mistakes but losing her like that showed him that no matter what he had been worried about with regards to their future, nothing could possibly be worse than losing her and he also realized that this was his last chance to make things right. He knew that and acted on it by doing absolutely everything in his power to win back the heart of the only woman he had ever loved.
I'm going to really honest with you, for reasons that I'll explain more in depth in a minute, I frankly really disliked the first half of the book. However, the reason this book is still a favorite of mine and even truly a whole-hearted top recommendation is that I absolutely LOOOOOOOOOOOOOOVED the second half. Like LOVE LOVE LOVED IT!!! It was filled with SWOOON, DEEP FEELS, and absolutely everything I crave reading in romance. Just GORGEOUS!! So overall, I'd easily call this book a new favorite. However, I will explain everything in more detail…
Basically, the reason I disliked the first half of the book was that it was exactly the kind of angsty drama I least enjoy. Like literally the moment that Grace broke up with Trent in hopes that he'd come to his senses, everyone in her life pushed her to start dating this other dude, Cooper, who among other things was one of Trent's close friends. I found this wrong on so many levels. First, I don't believe in walking away from a relationship to show to the other person what they're missing. And second, I feel like the advice that everyone (especially her friend Angie) kept giving her to date Cooper was very gender hypocritical — Grace was being encouraged to leave Trent to show him what he was missing and make him fight for her and also being encouraged to sleep with another guy. If the gender roles had been reversed and the guy left the girl to show her what she was missing and then immediately went out and slept with another girl, that would just solidify his status as a complete asshole. So the whole thing was unfair. And even Trent pointed out that in all their years of good and bad, he'd never even looked at another girl so like… WTF?
"I thought that maybe you'd see it. See what is right in front of your face. But I guess I was wrong… You've known me a long time. Have I ever been with another woman?"
Shame creeps into my stomach and I drop my eyes to my hands. "No."
"No." Trent repeats. "Not one other woman has been in my heart or my bed. It's only ever been you."
Now, I'm not saying he was a saint because he certainly had his share of failures and mistakes but I was actually fully on Team Trent for the first half of the book. Perhaps if we had seen flashbacks to scenes in the past where he'd done her wrong, then I would have understood her position more but I generally I just felt that what she did was unfair and wrong and I didn't agree with the way she handled her relationship. He actually had a genuine reason for why he'd held back from the type of commitment she wanted and I feel like she really should have dug harder to get that.
"I've missed you, Gracie."
"You only miss me because you don't have me," I somehow manage to say.
He lets out a low chuckle before his mouth brushes against mine. "I miss you because I hate bein' away from you."
And finally, the main reason I hate love triangles is that I don't like spending half the book building up a relationship with the wrong guy when you as the reader knowwww without a doubt who the real hero of the story is. It's like… what's the point? AND again with the hypocrisy where lets be honest, if he left her and immediately started dating someone else, there's no way she'd take him back. So just UGH. I disliked the first half of the book. HOWEVER. At 55%, the tides turned AND I FREAKING LOOOOVED THE SECOND HALF OF THE BOOK!!!!!!! Totally LOVED IT!
"I'm going to fix this," he promises. "I'm going to show you how much we belong together. I know I've messed up. I've given you every reason to walk away. But I can't lose you."
"Why?" I ask… "Why now?
Trent's hand brushes me cheek. "Because you're mine. You're my girl."
As I mentioned above, it was hard for me to know exactly what it was that Trent did wrong over the years (other than not commit in a marriage-y way) because we didn't get to see their fights first hand but, despite his mistakes, from what I could see of him, I absolutely LOVED him!!! When he knew everything was on the line to win back her heart, he jumped in full throttle. He was SWEET, LOVING, CARING, SWOOOOOOOONY, and willing to fight like hell for the woman he loved and always had loved. He was a protector by nature and I genuinely adored his character.
"Do you love me?" I ask.
His hand stops moving, and his eyes lock with mine. "I love you."
"I need to hear it. I need you to mean it. I'm going to be needy. I'm going to question you. I've had almost twenty years of doubting us, can you handle that?"
Trent's hands move to my face. His eyes are sad and full of regret. "I did this to you. I hate that I did. I hate that I put any doubt in your head. You've going to have to forgive me and I'm going to have to earn that. I know this, and it isn't anything less than I deserve. I won't do that to you again, Gracie. I won't hurt you like that. I plan to tell you that I love you every day, because I do."
The second half of the book was completely my kind of story! Like all the freaking way!! It was everything I love to read most in romance. I loved watching Trent win back Grace's trust, show her that the love she'd always felt for him was not only returned but cherished. I swooned over and over again over how sweet and wonderful he was, and especially appreciated how much it was reinforced that if one of them faltered, the other would always have their back.
But their new-found trust in each other was put to the test when a long-kept secret rocked Trent's world and brought him to his knees. It was intense, it was shocking to him, and it changed everything he thought he knew about his world. But I absolutely loved seeing them work through this crisis together and really take their relationship to the next level with the way they supported each other through it.
If there's one thing I can't resist in my life, it's him. He knows what he's doing and always has. Trent is the one thing I can't quit. My heart has always belonged to him.
Gah. The whole last half of the book was ABSOLUTELY GORGEOUS!! Not only was it a beautiful romance, but it was a HEART-FELT story of deep family bonds that brought tears to my eyes. OH MY GOSH, THE FEEEEEELS!!! My heart never stopped racing and I couldn't read the pages fast enough! It was gorgeous, romantic, a little heart-breaking, but so incredibly fulfilling. It was everything I could have hoped for from this love story!
Rating: 4.5 stars (specifically for the second half of the book).
Adult Contemporary Romance. Can standalone.
______________________________
Series of standalones. Heroes are all brothers.
standalone
Purchase
Read Review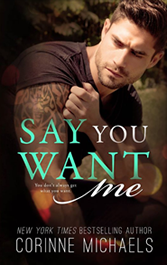 standalone
Purchase
Read Review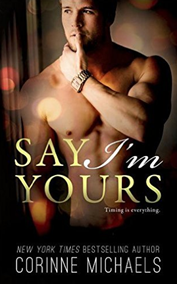 standalone
Purchase
Read Review