This has been an amazing reading year for me and so here's a summary of my Best Books of 2014. Each of these books is a little different — some are more emotional, some are lighter, some are long, some are short, but all of them are ones I'd recommend to anyone looking for a really great romance read…
*** DETAILED LIST ***
**Note: the little 'blurbs' I post with them are the ones I actually write right after finishing the book so they are quite literally my exact reactions to these stories.
Archer's Voice by Mia Sheridan (My Review) 
Archer's Voice was one of the most heartwarming and uniquely beautiful stories I have ever read. Mia Sheridan's ability to convey strong emotions and vivid imagery through her writing is absolutely captivating. This was a gorgeous tale of survival and the healing power of love. I strongly encourage everyone to read it and to meet one of the most wonderful book heroes ever — Archer Hale ♥ 5 STARS!!
"He smiled back and put his lips against mine, mouthing, "I love you, too," against my mouth, as if he was breathing love into my body."
Becoming Calder & Finding Eden by Mia Sheridan.
If you only get one set of books from this whole list, get these #1 Becoming Calder (Review) + #2 Finding Eden (Review). This 2-book series is just BREATHTAKING!!! Absolutely EPIC, unique, and unforgettable. Calder & Eden's intense, passionate, forbidden love story captivated me and had my heart racing from the first word to the very last. 6 STARS!!!! — Click here for FAQs about the series & my reviews.
Ugly Love by Colleen Hoover (My Review)
WOW!!!! This book was absolute, stunning PERFECTION in every way. It was SO unique, and so intensely emotional that it just blew me away!! I almost guarantee that you will cry (seriously, my heart broke for Miles!!!) but I PROMISE you it's worth every tear because the way that it all comes together is just GORGEOUS!!!! Oh and also, it's HOT!! Like really hot!!! I loved every word. 6 STARS!!!!!
"Don't ask about my past," he says firmly. "And never expect a future."
Don't Let Go by Sharla Love Lace (My Review) 
OMG!! This was incredible!! You guys have to read it!!! It had the best, happiest ending ever but tears were pouring down my face at the end. Just pure, emotional overload of the best kind. THIS is the kind of book I absolutely adore. If you're a fan of The Sweet Gum Tree, you will LOVE this. It's of course a different story but had the same intensity to it. The hero + heroine were childhood friends and later young lovers torn apart by a tragedy. Then, he suddenly comes home 26 years (!!!) later and the secrets behind why they were torn apart come out… 5+ STARS!!
Black Lies by Alessandra Torre (My Review)
HOLY WOW!!! This was the most BRILLIANT books I've ever read!! Please just TRUST ME and READ. THIS. BOOK.!!!! It's such a complete love story. The twist is just WOAH. One of my favorites of the year. 5 STARS!!! — "If you think you've heard this story before, trust me – you haven't."
"I will fight for this love. Lie for it. Steal for it. It is worthy of that… This love is worth the unsaid truths. The hidden lies."
Bad Romeo by Leisa Rayven (Read my Review)
SQUEE!! I absolutely LOOOOVED this book!!! It's easily a top favorite of mine. 5 STARS all the way for me!!! It was just this INTENSE "hate-to-love-each-other", dysfunctional-but-can't-stay-away, love-you-forever-no-matter-how-painful type of love story. It just had this SPARK to it that made my heart RACE!! A second chance romance with a moody, brooding, tortured bad boy hero. I highly recommend it!!!
"We've never been over. You know it as well as I do…"
Maybe Someday by Colleen Hoover (My Review) 
Once again, Colleen Hoover has delivered an emotionally charged masterpiece that will capture your heart! Music lovers will also be able to enjoy a soundtrack that accompanies this novel. Maybe Someday is not your typical romance but I promise you, it is one of the most beautiful, deeply passionate, refreshingly unique stories I have ever read. Read this book. Live it. Love it. Allow it to take over your heart. It's an unforgettable journey that every reader should take. 5 STARS!!

The Will by Kristen Ashley (My Review) 
This book was pure GOLD!!!! My heart was racing the whole way through. I was so totally wrapped up in the story!! I love love loved Jake!!!! Talk about ALPHA!!!! Honestly, Jake & Josie are one of my favorite KA couples of all time now. The best way I can describe this book is EPIC — epic emotions, epic story, epic romance!!!  This book reads as a standalone romance so if you're new to Kristen Ashley books, you can start with this and, if you're already Kristen Ashley fans, you'll understand when I say this is "Vintage KA" style!! 5 STARS!!
The Emi Lost & Found Series by Lori L. Otto (My Series Review) 
I was absolutely blown away by this series!! What an AMAZING story. SO powerful. SO emotional. A one-of-a-kind, deeply emotional and unforgettable story that made me cry harder than I've ever cried before over a book. It's an atypical romance — an unconventional story in every way. It steps outside the box, it defies the norm, and it comes out on top. It put my heart through the ringer but having finished it, I can tell you it's one of the best stories I have ever read. 5 STARS!!
Worth The Fall by Claudia Connor (My Review)
Looking for a book that'll make you SWOON?? This is it!! The hero is an injured Navy SEAL vacationing on a beach who falls for a single mom there with her 4 little kids. There's just something about a big, tough, Alpha man who accepts kids who are not his own into his life with complete openness that is HEART-MELTING!!!
He took the front steps two at a time and then he had her. In his arms, in his life… "Never again," he whispered. "Never again will I be away from you like that."
Broken by Lauren Layne (My Review)
Oh, I totally loved this!!! It was exactly the type of book I wanted now: FUN, SEXY, & HEART WRENCHING with kind of a unique modern-day "Beauty & The Beast" twist to it. It had a brooding, tormented & scarred hero (LOVE those!!) and a strong, sassy heroine who did NOT take any of his shit (LOVE that too!!). Definitely a winner!! And, it can be read as a standalone 😀
A girl with secrets, a guy with scars, and a love that could save them both…
Captivated by You by Sylvia Day (My Review)
GIDEON CROSS FANS!! This is the highly anticipated 4th Crossfire book and I absolutely loved it!! The Crossfire series continues to be one of my Top 5 favorite series and this book was another winner!! Both the Kindle and paperback copies are out now. Also, if you haven't read them yet, click here for the first 3 books.
"You'll never be without me. We're going to grow old together. Die together. I'm not going to live a single day without you."
Losing Me, Finding You by Natalie Ward (My Review)
WOW!! I read this book in one sitting and absolutely LOVED it!! Holy hell!!! The intensity of this love story was off the charts!!!! My heart was pounding from start to finish and this book was totally unique. Unlike anything else I've ever read. — The heroine wakes up every four years in a different city, with a different life, and no memory of her previous lives. Each time she has to figure out where she is, who she is, and has to find her way back to HIM. The man she loves and the man who loves her unconditionally. This is their story. (Not paranormal romance)
Come Back To Me by Mila Gray (My Review) 
I absolutely love love LOVED this!!!!! *wipes happy tears* It was SO much more than I ever expected. Deeply emotional, sexy, funny, romantic…. and it had that special heart-pounding intensity to it. Definitely a new top fav!!! 🙂 — It's a forbidden romance about a Marine who's home on leave and drawn to the one girl he can't have… his best friend's sister. But he's only home for 4 weeks before he's sent out again for another 9 months so every second they have together is stolen and precious… — Temporary unavailable for purchase.
Awaken (A Spiral of Bliss #3) by Nina Lane (My Review)  
This was a stunning conclusion to one of the most beautifully written and intensely passionate love stories I have ever read. Dean and Liv's romance is simply breathtaking!! This series stands out because it's about an already-married couple. It begins after the "happily-ever-after" where most romances end and in so many ways this one is about healing, hope, and the beauty of knowing with all your heart that the love you feel for your soul mate is limitless. 5 STARS!!
Kiss The Sky (Addicted Series) by Krista & Becca Ritchie (My Review) 
WOW!! I just loved this book! 
Every single word was brilliant.
This was a fantastic addition to the Addicted series which, without a doubt, is one of the best New Adult romance series out there. It has everything in spades — fantastic writing, an original plot line, and characters you can't help but fall in love with. But just be sure to read the books in order — they are all on my favorites list! (This was 5 STARS!!)
Hothouse Flower (Addicted Series) by K & B Ritchie (My Review) 
Another 5-star addition to the incredible Addicted series. Hothouse Flower had the perfect balance of a hot, sexy romance and a strong, well developed storyline. I adore these characters, I love the writing, and I'm completely ADDICTED to this series. If you're a fan of New Adult romance, THIS is a series you should be reading.  Please note though that this book should not be read on it's own as it is the fifth book in sequence in the Addicted series. (This was 5 STARS!!)
Addicted After All (Addicted Series) by K & B Ritchie (Read my review)
SQUEEE!!! This is the latest Addicted series book (the 7th one) and I absolutely LOVED every word!! — Without a doubt, this is my #1 Top Favorite "on-going" series. It's sexy (I mean really, holy hotness!!), it's romantic (their love story has ALL THE FEELS), it's heart wrenching (I've cried more than once), but also heart warming and funny. The story is totally unique and it's everything I could ever want in a series delivered with some of the best writing I've read. I HIGHLY recommend it for all fans of romance. Click here for more info.
NOTE: This series must be read in order. These are NOT standalones. However, there are no cliffhangers now so you are safe to start reading. They are all full-length novels. Here's the full series reading order: Addicted To You, Ricochet, Addicted For Now, Kiss The Sky, Hothouse Flower, Thrive, Addicted After All.
Room For You (Cranberry Inn #1) by Beth Ehemann (My Review) 
I adored this book and its sequel, Room For More!!!!  It was a sweet, swoony, heart-melting, romance, perfectly balanced with just enough angst to keep me on my toes.
The heroine is a single mom with two little twin girls, and the hero is a famous hockey player (but she doesn't know that) and when a storm strands him at the Inn she runs with her mom and he has to stay a few days…. ok, and just get this — he calls her little girls his Twinkies!!! OMG *SWOON* — 5 STARS!!
The Resurrection of Aubrey Miller by L.B. Simmons (My Review) 
In the same vein as The Sea of Tranquility and Hopeless, this story will have you laughing one moment and wiping tears the next as these endearing characters take you on a heart warming, deeply emotional journey filled with romance, drama, and humour. Truly, this book had it all. A must-read for everyone!! 5 STARS!!
"I'll help you get lost any time, Sunshine. The only deal is you have to promise to come back. I never want to lose you again."
Carnage: The Story of Us by Lesley Jones (My Review) 
This book gave me a 5-day book hangover!! It was a passionate, gut-wrenching love story. A non-stop, messy, emotional, beautiful, devastating roller coaster ride from start to finish and honestly, I LOVED it!!!!! It made me FEEL every emotion. But please note that this is not your typical romance story. It shattered all my book rules but it's still a top fav!! Just go into it with a very open mind. 
"I was eleven years old, but I knew without a shadow of a doubt I was staring into the eyes of the boy I was going to love forever."
Nine Minutes by Beth Flynn (Read my Review)
HOLY HELL. This book. WOAH. I could NOT put it down!!! It was gritty, dark, dangerous, intense, shocking, addictive, raw, emotional, captivating… just everything!!! A complex, multi-layered story with AMAZING writing and surprising twists and turns. If you're looking for an unputdownable book, then this is it!
On May 15, 1975, fifteen-year-old Ginny is abducted from a convenience store by a member of one of the most notorious motorcycle gangs…
Push by Claire Wallis (My Review) 
This book blew my mind!! I LOVED it!!!
Totally brilliant! Check this out
"He's calm, collected, & makes her feel safe but he has a very chilling past: his six previous girlfriends have all disappeared without a trace." <— WOAH, right?? I just had to read it and it was… Addictive. Intense. Unputdownable. Crazy. Twisted. Romantic. Sexy. Just totally unique and unlike anything else I've ever read. There's a cliffy, BUT even me, the most anti-cliffhanger girl ever still loved it!!!!
Coming Home by Priscilla Glenn (My Review) 
This was an amazing standalone. Totally original storyline, amazing writing, and a deeply heartfelt, sexy, and believable romance that filled my heart with every possible emotion. It also took my by surprise with a twist I never say coming! This is the kind of story that grabs a hold of your heart and doesn't let go. Oh, and the hero is a gorgeous mechanic who is hiding a secret… 😉 – 5 STARS!!
"I could suffer through anything if you were my reward."
Changing Course by Aly Martinez (My Review) 
This was a very unique standalone romance and the first one I've read with this plotline. This was also the book that pulled me out of a huge 5-day book hangover. The moment that I started this one, it drew me right into the story and I couldn't put it down!!! It was heart wrenching, angsty, smoking hot, swoony, romantic, funny, emotional… and I totally fell for the hero, Brett. What an amazing guy!! I love protective, tortured heroes… *dreamy sigh* …. They make my heart melt!!!
Come To Me Quietly by A.L. Jackson (My Review) 
With this book, AL Jackson has shown once again why she is one of my favorite authors. Come To Me Quietly was a beautiful, touching story about how one girl's love of a beautifully broken boy could end up saving him. I truly loved it!! If you're a fan of second chance romance and tortured bad boys, you have to check this out!
"I can't remember a day of my life when I didn't love you."
The Driven Trilogy by K. Bromberg (Review #1, Review #2, Review #3)
An emotional, addictive, and scorching hot trilogy that I would highly recommend for fans of Fifty Shades and Crossfire. Trust me, you want to meet Colton Donavan — think reckless bad boy race car driver with a heartbreaking past falling in love for the first time in his life 😉 #1 Driven, #2 Fueled, #3 Crashed

"I bet he fucks like he drives — a little reckless, pushing all the limits, and in it until the very last lap." 
Nowhere But Here by Renee Carlino (My Review) 
This is a standalone with a beautiful story, beautiful writing and a beautiful message!! It's about a reporter who goes to interview a reclusive tech genius turned winemaker in the Napa Valley, and instead finds love in the most unexpected of places…I laughed, I swooned, I wiped happy tears away, and I fell in love. This book warmed my heart and left me with the most wonderful feeling. I highly recommend it for all fans of romance!
Lovely Trigger (Tristan & Danika #3) by RK Lilley (My Review) 
A beautiful ending to Tristan & Danika's tumultuous, heart wrenching, and passionate love story!! If you love second chance romance, this is a must-read series! In this final instalment of the Tristan & Danika trilogy, R.K. Lilley truly brought this love story full circle. Be sure to read these books in order: #1 Bad Things, #2 Rock Bottom, #3 Lovely Trigger. — "You were not responsible for making me worse. But I'll tell you one thing, it's a fact that you were responsible for making me better."
Me Before You by Jojo Moyes (My Review)
** SOBS ** What an incredible story!! It was powerful, heart-breaking, and bittersweet but also oddly heartwarming. Absolutely unforgettable for sure. I think it's impossible to come away from this without an overwhelming sense of gratitude for all the blessings in your life. I'm SO glad I finally worked up the courage to read it! *sniff* — "I had a hundred and seventeen days in which to convince Will Traynor that he had a reason to live."
Make It A Double by Sawyer Bennett (My Review) 
This was a really sweet book with a very unique twist to it. The hero had just spent the last 5 years in prison and the heroine was this really awesome girl who wanted to help him heal. It was just a really gorgeous, sweet, sexy romance and it had a really wonderful balance of an intriguing storyline, a SWOONY romance, crazy hot sex, but also really great character development, and a nicely paced relationship (no insta-love). Just my kind of read!!
Stepbrother Dearest by Penelope Ward — (Read my Review)
I loved this book!! It hooked me right from the start and I couldn't put it down til the end!! An angsty, unconventional love story and such a roller coaster!! — It's a standalone and you get both a forbidden love story and a second chance romance.
"You're the only girl in the entire world that's forbidden, and fuck me if that doesn't make me want you more than anything."
Gravity by LD Cedergreen — (Read my Review)
*SOB* This was SUCH a good book! Those emotions just hit me SO strongly!!!! I honestly don't know how to describe the story without it being misleading because there is a HUGE TWIST that changes EVERYTHING you know!! Like, really — woah!! I'll admit that I actually knew the twist before I started and there's hidden spoiler section in my review in case you want to know too. It's totally unconventional but a really great story!! It started a little bit slow but the impact of the whole story on my heart was just… WOW!!
Deacon (Unfinished Heroes) by Kristen Ashley (Read my Review)
ALPHA MALE FANS!! I loved this book!! A badass Alpha with a dark past, a strong heroine, and a gorgeous slow-burning love story in the Mountains. Another KA winner and definitely a new favorite!! It can be read as a standalone, but here are all the books in the series: Knight, Creed, Raid, Deacon
"He looks at you like you're the only reason he's still breathing."
Rules of Protection by Alison Bliss (Read my Review)
LMAO!! This book was hilarious!!! It was a laugh-out-loud romantic comedy between a sassy heroine in Witness Protection and the badass Special Agent assigned to protect her. But when the location of their safe house is compromised, he takes her with him deep in the Texas backwoods to hide…
The banter between these two had me smiling and laughing non-stop. If you're looking for something FUN, this is it!!! — This is a standalone.
Nocte (Nocte Trilogy #1) by Courtney Cole (Read my Review)
WOAH. I could NOT put this down!!!! It hooked me from the beginning, kept me flipping pages like crazy right through to the end… and now I'm desperate for the next one!! I went in totally blind and honestly, I suggest you do the same. Just dive in and let the story happen!! — This is 100% contemporary, NOT paranormal.
"I love him. More than anything… He has the power to destroy me. Why? Because of a secret… I never see it coming. You won't either."
Clipped Wings by Helena Hunting Read my Review
I loved this!! It's a contemporary romance (not paranormal) about two broken people falling in love. The hero was tall, dark, mysterious, and tattooed guy who ran a tattoo parlor and was intrigued when the girl from across the street came in and showed him the hauntingly beautiful, intricate tattoo she wanted him to ink onto her. It's was sexy, sweet, and funny, but also edgy and a little angsty. Highly recommended!
Bait by M. Mabie (Read my Review)
FUUUUUUUCKKKK!!!! Yes, I'm swearing. I need to. This book put my heart through the wringer. I hated it. I loved it. I hated that I loved it. But I FELT so much for it!!! If you want pure, heart-wrenching, addictive ANGST, then throw your judgments out the window and read this book!!!
My review is spoiler free, but if you want, there's a hidden spoiler link too.
The Pact by Karina Halle (Read my Review)
If you're looking for a standalone to fall in love with, this friend-to-lovers romance was fun, hot, a little angsty, and kept me glued to the page!!
The hero is a ruggedly handsome helicopter pilot. The heroine is an ambitious businesswoman. They've been best friends forever. Back in their 20's, they made a pact to marry each other if neither one of them are in a serious relationship by the time they hit thirty… And as they get closer, their pact is put to the test!!
Unravel by Calia Read (My Review) 
Unravel left my mind spinning!! It hooked me right from the start, kept me guessing the whole way through, and both shocked and impressed me with the way all the intricately woven layers came together at the end. If you want a really 'different' read that'll mess with your mind a little, try this one!!
"…everyone thinks I'm insane. But, I know he's real, and I know he needs me. Do you believe me?"
Brutally Beautiful by Christine Zolendz (My Review) 
Fast-paced, witty and intriguing, Brutally Beautiful was a dark and twisted yet delightfully gripping book that hooked me from the start and kept me flipping pages long into the night. It was SO well-written. The dialogue was snappy, the plot was kept me on my toes, and the story was raw and emotionally intense. I have quotes highlighted on almost every single page. If you are a fan of dark, tortured heroes and strong heroines, you should definitely add this book to your reading list.
Rule (Marked Men #1) by Jay Crownover (My Review) 
What an awesome book!!! My first thought after finishing it was: WHY DID I NOT READ THIS SOONER????? WHYYYYYY?? The best word I can use to describe this book would be 'addictive'.  This is definitely a must read bad boy romance. It's fun, flirty, and sexy, but also has a lot of depth and a great core group of characters!!
"It's always been you even when I didn't want it to be, even when it broke my heart over and over again. It's just always been you."
Reclaiming The Sand by A. Meredith Walters (My Review) 
This was often a tough read because of the subject matter (the hero is Autistic and the heroine bullied him in school six years before the start of the book) but it was a beautifully written story. A. Meredith Walters has shown us once again that she has an extraordinary ability to take difficult topics and present them in a candid, yet deeply respectful manner.
"You will hate me. You will love him. I love him. He has changed my world."

Deliver by Pam Godwin (My Review) 
If you're a fan of dark romance, Deliver is definitely a book you should add to your list!! It's dangerous, suspenseful, erotic, and at it's heart, it's a love story. It definitely made me uncomfortable at times but that's kind of what you should expect from a darker romance so really, in every way, this book delivered 😉 And it also had a cool twist to the captivity-theme where the woman was the captor!
"You will always own me and I will walk through hell to keep it that way."
Black Box by Cassia Leo (My Review) 
This was a unique, captivating standalone romance about a protective boy saving a broken girl — bringing her back to life and showing how wonderful life could be when she'd lost all hope for it — and a girl who had everything taken from her unknowing saving him in return.
"Three fateful encounters… Two heart-breaking tragedies… One last chance to get it right." 
Mud Vein by Tarryn Fisher (My Review) 
Please note: this is not a romance (but it is awesome!) ➜ When reclusive novelist Senna Richards wakes up on her thirty-third birthday, everything has changed. Caged behind an electrical fence, locked in a house in the middle of the snow, Senna is left to decode the clues to find out why she was taken… and her kidnapper is nowhere to be found. With her survival hanging by a thread, Senna soon realizes this is a game. A dangerous one. Only the truth can set her free.
The Husband's Secret by Liane Moriarty (My Review) 
Please note: this is not a romance. However, when you read this line from the blurb, I think you'll understand why I just had to read it ➜ "Imagine that your husband wrote you a letter, to be opened after his death. Imagine, too, that the letter contains his deepest, darkest secret—something with the potential to destroy not just the life you built together, but the lives of others as well. Imagine, then, that you stumble across that letter while your husband is still very much alive."
53 Letters For My Lover by Leylah Attar (My Review) 
This standalone was a sexy, daring, and powerful debut novel that told a beautifully written forbidden romance spanning three decades. But it was also very different than I was expecting — it was actually more "Women's Fiction" than full Romance but with a very intense love story running throughout it. So at first, it took me a while to adjust to that genre difference but my gosh, the writing was stunning and Troy & Shayda's love story will stay with me for a long time.
Say The Word by Julie Johnson (My Review
This standalone was just amazing!!! It was a gorgeous, intense second chance romance mixed with a suspenseful subplot. I LOVED IT!!
"I think that if two people are meant to be together, nothing can ever truly separate them. Time, distance, other people — it doesn't matter. They'll circle back around to each other eventually."
Puddle Jumping by Amber L. Johnson (My Review
This was a beautifully written mature YA standalone romance about two childhood friends who are reunited in high school and fall in love. The hero has Asperger's and the heroine loves him unconditionally. This is their love story.
"When you love someone, their differences fall away. I don't look at him and see anything but HIM."
Loving Mr. Daniels by Brittainy C. Cherry (My Review) 
This was such a beeeeauituful story!! It took me by surprise in the best of ways. It was so much MORE than just a forbidden student-teacher romance. It was a love story and it was a life story. All kinds of love, all kinds of life. I laughed, I cried and I totally loved it!! It's a standalone romance and I highly recommend checking it out, especially if you were a fan of Slammed!!
Burned by Tara Sivec (My Review) 
This erotic standalone second chance romance hooked me right from the prologue and I literally read this whole book in one sitting. It was fast-paced, emotional, addictive, and SCORCHING H-O-T!!!!!! Also, it was bit shorter than most (180 pages) so great for when you don't have time for a long book. No cliffhanger!
"I would have sacrificed everything to make your dreams come true."
Within These Walls by J.L. Berg (My Review)
This was a really sweet New Adult standalone romance! If you're looking for something that'll make you smile, try this! ➜ The heroine is a survivor. She was born with a damaged heart and has spent most of her life in the hospital. The (tattooed) hero is broken inside, grieving the death of a woman he'd loved. But when he sees her, something changes and he makes it his mission to try and bring happiness into her life…
Calmly, Carefully, Completely by Tammy Falkner (My review)
What a gorgeous book!! So many feels, so much swoon!! You can read it as a standalone (I did) even though it's part of the Reed Brothers series. This story is about Pete Reed. He's covered in tattoos and fresh out of jail but he's a good man with a good heart, one of the Reed Brothers… And that's when he meets HER. Again. Two and a half years ago he saved her and she's been wanting to thank him ever since…
Among The Echoes by Aly Martinez (My Review)
Sexy boxer, anyone?? 😉 This story is a complete standalone but there's a little twist that connects it with the two books posted above (if you've already read those books, you'll totally *squee* when you read the twist 😉 ) This book was a sexy, suspenseful romance about a woman in witness protection who catches the eye of a celebrity boxer!! If you like strong, ALPHA, protective heroes, you're going to LOVE Slate Andrews!! That man made me SWOOOOON!!!
Broken Course by Aly Martinez (Read my Review)
Oh gosh, I totally loved this!! It's the final book in one of my favorite series!!! — "Seven years ago, my life changed forever. Then fate led me to Leo James. He taught me that crazy could be perfectly normal and it shouldn't hurt to breathe…"
Full series (all standalones but I recommend reading them in order because the stories are connected): Changing Course (My review), Stolen Course (My review), Among The Echoes (My review), Broken Course (My review)
Darker Water by Lauren Stewart (Read my Review)
This standalone was UNIQUE, FUN, & SEXY!!
The banter was awesome and the chemistry was sizzling. It was almost the opposite of a traditional romance — the hero and heroine were both openly set on NOT falling in love. He was all tortured and damaged but also cocky and charming (and loaded with tattoos!!) … It was a great read!!!
And again, in case you missed the previous years' lists….
*** LOOKING FOR MORE RECOMMENDATIONS ?? ***
Click the image below.

Also, even though I read them a while ago, I also want to add in my top favorite series of all time. They are just breathtaking — the most epic love story I've ever read. I can't recommend them highly enough!!
The Bronze Horseman trilogy by Paullina Simons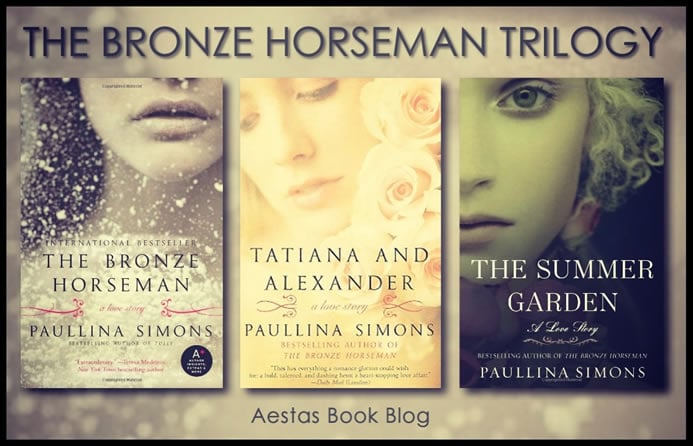 ♥ ♥ ♥
I'd love to hear from YOU now!! 
What have been your favorite books you've read this year so far??
Just comment below and let me know!
♥ ♥ ♥